Adult Christian Education and Small Groups
Adult Christian Education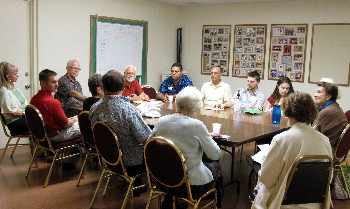 The Adult Forum continues with adults gathering in the Boardroom during the Christian Education hour each Sunday morning around 10:30 AM following morning worship. Beginning September 1 we resume our regular Sunday worship schedule, and the Adult Forum returns to their usual time at 9:30 AM, between morning worship services.
Here are the topics through mid-November:
August 4 through September 1—"Healthy Kids, Healthy Churches, Healthy Communities" led by Pastor Angela Freeman

August 25—Healthy Churches: Making our Churches Safer (at 10:30 AM, following 9:15 AM worship service)
September 1—Healthy Communities: Mapping our Communities (at 9:30 AM, between worship services)

September 8—ELCA celebrates 25th Anniversary of ELCA with service-to-community projects
September 15—Introduction to the life and writings of famed theologian Søren Kierkegaard
September 22—Further discussion of Kierkegaard, including his "leap of faith"
September 29 through October 27—Dr. Steve Miller presents five weeks of "The Five Love Languages—Deepening your Relationships with God and with Others"

September 29—"If you really loved me...." and Words of Affirmation
October 6—Quality Time
October 13—Gifts
October 20—Deeds of Service
October 27— Physical Touch

November 10—A discussion of the life and times of famed German-American theologian Paul Tillich
November 17—Continued discussion of Tillich, including his concept of God as our "Ground of all Being"
All are welcome to join this friendly and stimulating group.
Aloha Jam
Aloha Jam is an opportunity for musicians of every level to enjoy playing music in a relaxed, fun atmosphere. Bring an instrument, your voice, or just come and listen while we trade songs, stories, and laughter. Guitars, flutes, drums, mandolins, 'ukulele, or anything you can fit through the door are welcome!
We generally go around the circle of musicians and play whatever anyone has on hand. Bring sheet music if you have it; otherwise we will follow along! Aloha Jam is hosted by Pastor Jeff and Seth Lilley, and additional information is available from Pastor Jeff at pr.jeff@lchwelcome.org.
Aloha Jam usually meets the second Monday of most months in the Boardroom, but check the online calendar to confirm.
Book of Faith Bible Study
As part of the Book of Faith initiative to increase familiarity with the Bible, the first language of our faith, Pastor Jeff Lilley will offer a daytime Bible study Thursday mornings from 10:00 AM to 11:15 AM in the Boardroom. (Please check the online calendar as there are occasional Thursdays when Pastor is out of town.) This is not a lecture course, but a true reading Bible study. Everyone is welcome!
The group is currently discussing the Gospel of Luke. Schedule of current topics | Index of past topics
Food for Thought
An occasional gathering for shared food and stimulating discussion. Call the Church office at 941-2566 for details.
In Stitches
In mid-2002, about twenty parishioners began working on needlepoint projects for the beautification of our worship space. This was the beginning of what became In Stitches. New pew cushion covers were first exhibited on February 16, 2003, when LCH celebrated Arts and Faith Sunday, and they were dedicated on Pentecost Sunday, June 8, 2003. We continue to add new cushions to our collection as they are finished. Pictures and descriptions of many of the completed pew cushion covers.
The last few years we have taken on the making of the ribbon lei that we give each of our visitors as part of our Aloha greeting. We also are the go-to group for any small-crafty task that needs to be done around LCH. But most of all, we are a place where members of our congregation who enjoy craft can come together and share their work or get help on a thorny project. The name "In Stitches" reflects the laughter which is part of our gatherings.
During the summer (June 2 through August 25, 2013), we meet Sunday mornings following worship in the Hörmann Courtyard. All are welcome to come and learn, or work, or just enjoy each other's company.
Read the article on In Stitches in the February 15, 2003, edition of the Honolulu Star-Bulletin.
Mary Magdalene Society
Mary Magdalene Society, a social group of lesbians and gays in the congregation, gathers periodically for Sunday brunch, for picnics, barbecues, etc. In June, we frequently participate in Pride Festival. For this latter activity we invite all members of the congregation to join with us.
Mary Magdalene is an informal group. We do not have dues nor formal membership list. We welcome anyone associated with LCH even loosely to join with us. Partners are welcome whether they participate in the Church or not.
Mary Magdalene meets the fourth Saturday evening of even-numbered months in Isenberg Hall for potluck and game night. Check the online calendar to confirm the date and time.
Pastor's Inquiry Class
An occasional class for individuals interested in learning more about the church or becoming members. If you are interested in attending the next Inquiry Class, please speak to the Pastor or call Church office at 941-2566.
Writers' Workshop
This group is for everyone who wants help putting their thoughts on paper. The meetings are supportive. Bring something you have written and share it with the group. The group meets once a month, with spring meetings scheduled for February 21, March 14, and April 18. Writers' Workshop meets in either the Boardroom or the Rainbow Room. Please call the Church office at 941-2566 to get in touch with the group's facilitator.
Read poetry and prose by members of the Writers' Workshop shared with the congregation on Faith & Arts Sunday, April 21, 2013. (Writing from previous years: 2004, 2006, 2007, 2008, 2009, 2010, 2011, and 2012)
---

Copyright © 2013 Lutheran Church of Honolulu
1730 Punahou Street, Honolulu, HI 96822 • 808-941-2566
Comments welcome at webmaster@lchwelcome.org