LCH Youth at Camp Wapogasset
On Thursday, July 13, a group of 23 youth from four ELCA congregations (LCH, St.John's, Joy of Christ, and Calvary), Pastors Karla Lundgren and Tim Mason, our own Peggy Anderson, and two more adults left Honolulu for their adventure at Lake Wapogasset Lutheran Bible Camp in Wisconsin. Peggy reports that it was "exciting enough—with a plane full of Lutheran youth—none really knowing just what lay ahead."
They arrived in Minneapolis at 5:00 a.m. on Friday morning and were greet by the director and some staff from Camp Wapo, who had gotten up at 3:00 just to take them to camp. The Hawaii group were on their own for Friday and Saturday since the previous camp session ended Friday afternoon. They enjoyed their time in a huge air-conditioned rec room—a nice escape from the 99 degree weather outside. The only problem was that it didn't get dark until very late—and they were very tired.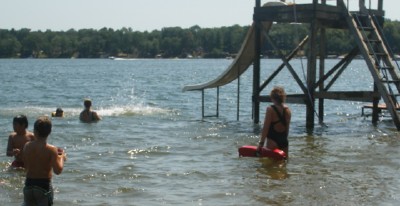 On Saturday, they enjoyed more time to themselves and the beautiful landscape, the lake, and all the animals—squirrels, chipmunks, bunnies, bees, and more. With the hot weather, they were melting, so they were given a special dispensation to swim. None of them had ever swum in a lake. Peggy writes, "What an experience! The bottom was yucky, and you could see the fishes swimming around, but it was cool."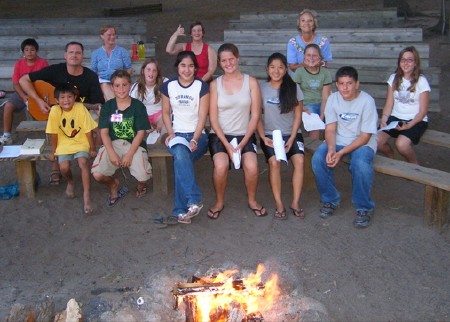 That evening, the Hawaii held their own campfire group because here was nobody else in camp! Pastor Tim lead worship, they sang, and then made S'Mores—the first time for many.
When the other campers arrived on Sunday, our youth were assigned to their permanent lodging, and the action began. The theme for this summer was "Surprising Grace" and each day was spent addressing:
| | | |
| --- | --- | --- |
| | Monday | Grace Offered |
| | Tuesday | Grace Acted |
| | Wednesday | Grace given |
| | Friday | Grace Shared |
Afternoons were spent in large group activities—fun and crazy games.
Evenings were highlighted by rousing campfires and upbeat songs with motions added. Peggy says, "The synergy was explosive and contagious, especially looking out over the beautiful lake and sunset."
---

Copyright © 2006 Lutheran Church of Honolulu
Comments welcome at webmaster@lchwelcome.org