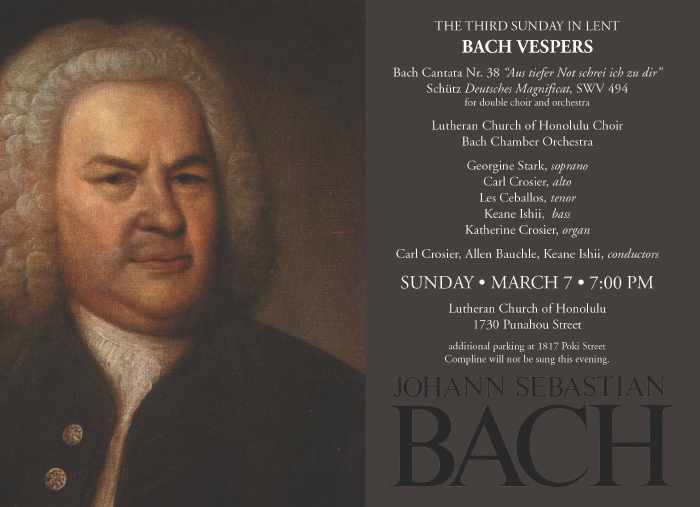 Everyone is invited to Lenten Vespers on Sunday, March 7, at 7:00 PM.
This Lenten Vespers Service will feature the beloved chorale "Aus tiefer Not schrei ich zu dir" (From the depths of woe I cry to you) based on Psalm 130.
Two of Johann Sebastian Bach's masterful settings will also be offered: the first, his chorale cantata BWV 38; and the second, the large organ setting in 6 voices BWV 686 (with the melody played in canon by both feet in the pedal). The cantata also uses a trombone quartet added to the usual strings and winds. An expressive tenor aria and a brilliant trio for the other soloists complete this wonderful work.
For the Gospel Canticle, Heinrich Schütz's final church work, Deutsches Magnificat, SWV 494, for two choirs will be sung. We will perform this as it would have been in Schütz's time, with two organs, a string choir, and a trombone choir doubling the vocal parts. Psalm 6 from his Becker Psalter will also be sung.
Please join the Lutheran Church of Honolulu Choir, the Compline Choir, vocal soloists, and the Bach Chamber Orchestra for this very special service. And do invite your friends.
Carl Crosier
Cantor