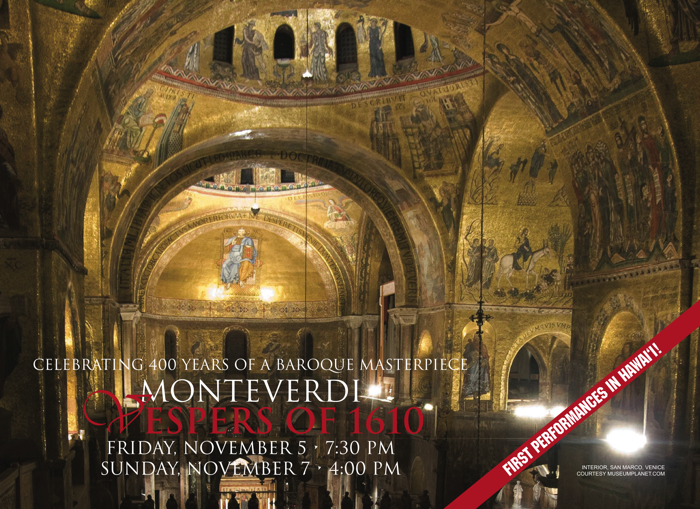 Interior, San Marco, Venice. Photo courtesy of MuseumPlanet.com
Claudio Monteverdi's Vespers of 1610
Friday, November 5 • 7:30 PM St. Teresa's Co-Cathedral
Sunday, November 7 • 4:00 PM St. Andrew's Cathedral
The Whole Noise, period brass ensemble • Bach Chamber Orchestra
St. Andrew's Cathedral Choral Scholars • Bach Chamber Choir
Derek Chester, Matthew Tressler, Joseph Z. Pettit, tenors
Georgine Stark, Mihoko Ito, sopranos
Nicholas Walters, Keane Ishii, basses • Richard Savino, theorbo
Carl Crosier, conductor
Join in the worldwide celebration of 400 years of Monteverdi's Vespers. This first-ever Hawai'i performance of this monumental work features:
A grand choral, solo, and orchestral tapestry of sonic splendor
Virtuoso singing and playing from celebrated artists of early music from Hawai'i and the mainland, including a leading Baroque brass ensemble
High drama from the composer of the first full operas
Sublime devotion from a pioneer of Baroque sacred music
Concert performances in reverberant cathedral acoustics
Tickets: Preferred seating $35; General seating $25
Ian Capps, the host of HPR's The Early Muse, will give a two-part presentation at the Atherton Studio, October 27 and 29 at 7:00 PM. A donation of $75 for the talks will include one preferred seating concert ticket.
Information and tickets at
www.earlymusichawaii.com
Phone (808) 729-4485