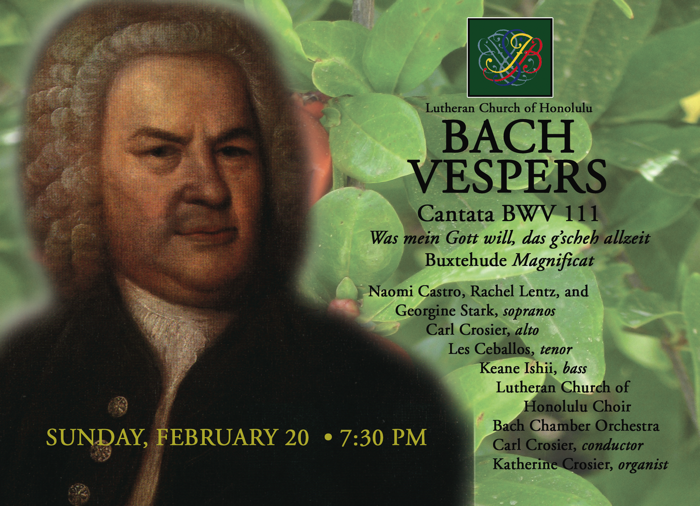 Bach Vespers • February 20, 2011
Despite the fact that the opening chorus is in a minor key, Cantata BWV 111 is one of the most joyous and extroverted in Bach's oeuvre. Written for the Third Sunday after Epiphany 1725, this work is based on the chorale "Was mein Gott will, das g'scheh allzeit" by Markgraf Albrecht von Brandenburg, a tune still popular today. It opens with a bracing and energetic chorale fantasia which features concertato oboes and strings over a striding and purposeful bass line. The centerpiece of the cantata is a heroic duet for alto and tenor featuring volcanic eruptions of string arpeggios and a thundering dotted bass line unique among Bach's works.
The Magnificat in D major, long attributed to Buxtehude, will be sung. It is scored for 5-part string, 5 vocal soloists and 5-part choir. This charming work has enjoyed much popularity in recent years but has not been done at the Lutheran Church of Honolulu since 2003.
Organ works by Bach and Buxtehude will also be featured.
Please join us for this very special service celebrating the Time after Epiphany.