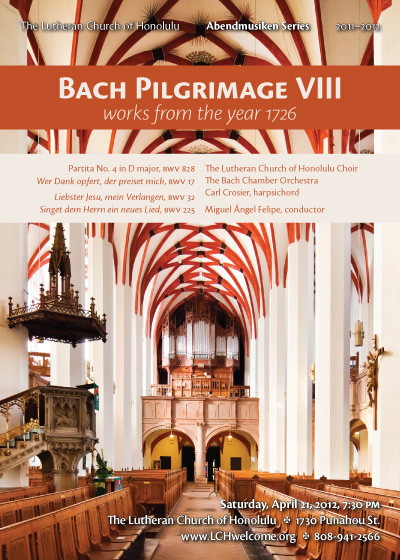 Bach Pilgrimage VIII
Saturday, April 21, 2012, 7:30 PM
at the Lutheran Church of Honolulu, 1730 Punahou Street
What's Happening...
Our chronological stroll through the music of Bach continues this year as we explore works from 1726. To highlight the year, we welcome back Carl Crosier to perform Partita No. 4 in D major, bwv 828, on the harpsichord. The LCH Choir then joins the Bach Chamber Orchestra to perform the monumental motet Singet dem Herrn ein neues Lied, bwv 225. The program is rounded out by two cantatas from the year, Wer Dank opfert, der preiset mich, bwv 17, and Liebster Jesu, mein Verlangen, bwv 32.
The Musicians...
The LCH Choir & Bach Chamber Orchestra
Georgine Stark, Renson Madarang, and Keane Ishii, soloists
Carl Crosier, harpsichord; Miguel Ángel Felipe, conductor
How Much?
$25, general admission | $15, full-time students with ID
available online or at the door