January 2009—In this Issue:
View the entire issue as a full-color PDF via the link below:
January 2009 HeartBeat (PDF)
Index of other issues of The HeartBeat
The HeartBeat
A Message from Pastor Jeff
Glory to God in highest heaven,
Who unto man His Son hath given;
While angels sing with tender mirth,
A glad new year to all the earth.
—Martin Luther
A new oath holds pretty well; but...when it is become old, and frayed out, and damaged by a dozen annual retryings of its remains, it ceases to be serviceable; any little strain will snap it.
—Mark Twain
New York City, 31 March 1885

In my youth, I often attended New Year's parties along with most of my friends. We would gather to eat, drink, laugh, and reminisce about the previous year. In more philosophical moments we might think about the future, plan for the coming year, and resolve to do great and wonderful deeds. This would be the year we would...(fill in your own promise). One year I ended up in a conversation with two friends whose approaches to the upcoming New Year could only be described as polar opposites. Ken, a theology student, bubbled on about how thankful he was to have the opportunity to serve God in this New Year. For him the pages of the book were clean, white, and anxiously waiting for God's missional story to written on their pages. Dennis, also a theology major, seemed morose. Hunched over his drink, he surveyed the silly hats and pointless frivolity with disdain. "What is the point?" he asked to no one in particular. "Nothing will change with a New Year. Liars will still lie; jerks will still be jerks; the poor will still be poor. The Big Ball will drop on Times Square into the same darkness from which it rose. What's the point?" He wandered off to a chair in the corner and sat down by himself.
In the end, each observation about the New Year holds both a grain of truth and a share of deception. Ken approached the New Year in the Spirit of Martin Luther's Christmas poem quoted, in part, above. God is calling us to sing a new song, live in a new hope, and share a holy optimism rooted in God's deep and abiding grace. Despite our shortcomings, pain, injustice, and apathy, God's mission is moving forward in the world. People are doing amazing work and sharing God's love in extraordinary circumstances. But without Dennis's perspective, Ken's bubbly optimism can ring hollow. Change is difficult, and many of life's more difficult realties seem more powerful than the efforts to relieve them.
This morning's news brought word that a high percentage of woman in relief camps in the Congo are raped. Over forty percent of the rapes are committed by the government solders charged with protecting them! How can we praise God over the screams of dying children and rape victims? Is this how our hopeful New Year should begin?
Mark Twain is right; some of our most ardent resolutions can wear out. But the truth and grace of the Gospel are even more powerful. One of the great strings of biblical theology and living is the recognition that the human person is both sinner and saint, optimist and pessimist. The ball dropping on New Year's Eve doesn't change that, but our hope doesn't lie there anyway. As we turn our face to the dawn of this New Year our hope lies in a manger. That, of course, is the point of Luther's poem: That God has come into the world in a new way, that peace, justice, and love might rule. We believe that love can and does change people.
May God bless us with grace and love in this New Year. May we be filled with God's unquenchable Spirit to bring God's message of hope through the ministry to which we have been called. And may we have the will to share God's love-in-Christ with our neighbor and our world.
Hau'oli Makahiki Hou,
Pastor Jeff Lilley
pr.jeff@lchwelcome.org
LCH December Council Meeting Highlights
Mary Fastenau, Council Secretary
The LCH Council met on December 16, 2008. Here is a brief recap of the items discussed.
Finances. Roy Helms, LCH treasurer, noted that LCH is showing a $19,216 deficit through the end of November. The hope is that December donations will make up for the deficit.
Possible plan for energy conservation. im Sullivan has volunteered his time to look at energy alternatives for the church. The plan he presented focused on using photovoltaic cells to help generate power. The Council expressed their appreciation for Jim's time and expertise. The plan will be sent to the Finance Committee for further review.
Thanks to the retiring Council members. All of LCH is grateful for the wonderful leadership shown by the retiring members of the Council. Please join the remaining council in thanking Michael Burnett, Roy Helms, Francisco Barajas, and Crescent C.

A big mahalo to everyone who stepped up to the Honu challenge and turned in a pledge card for 2009! Now we would like you to consider how you can use your spiritual gifts in service to LCH and its ministries.
In 1 Corinthians 12: 4–11, Paul writes about the gifts of the Spirit, but have you ever wondered about the gifts that the Holy Spirit has given you? Maybe you don't even think you have any gifts, or you just don't know how you might share the ones you are aware of.
In the coming weeks, your Stewardship Team will be sharing a Spiritual Gifts Inventory that we hope everyone will complete. It is a self-assessment tool. There are no right or wrong answers, nobody fails, and there's no studying either! It just requires a few minutes of quiet self-reflection to answer some questions about yourself.
From your answers, the Spiritual Gifts Inventory identifies your own spiritual gifts. Although some people think "spiritual gifts" is just another way of saying "talents," they really are not the same. So taking the Spiritual Gifts Inventory may help you to understand the difference.
The goal of this process is for each of us at LCH to identify our gifts and then match those individual gifts with the ministries of LCH. When our gifts and responsibilities line up, everything works better.
We look forward to learning together so that we may better understand the glorious gifts that God has given to each of us.
Happy New Year from your Stewardship Team,
Jeanne, Pam, Bill, and April
Angel Network In-Gathering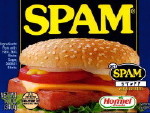 Gather in giving! The December in-gathering for the Angel Network was satisfying. A shopping cart with saimin, canned goods, Spam, and personal care items was collected for the Angel Network located at Calvary by the Sea Lutheran Church. Thank you all for your support. In-gatherings are scheduled for the first Sunday of every month, so your next opportunity to participate is January 4.
Leadership Roundtable
Sunday, January 4, at 11:45 AM (and on the first Sunday of every month), the chairperson or another representative of each committee will meet in the Pastor's office with Pastor Jeff Lilley and the Council President Brian Weis. This is to enhance communications between all committees. See you all there!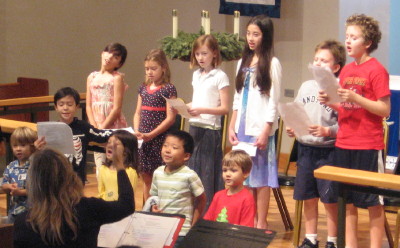 On the four Sundays of Advent, the F.R.O.G.S. Chorus used the Jesse Tree Liturgy to tell the story of our ancestors in faith who "waited for the coming of Emmanuel."
Committee/Interest Group Chairs
Committee/Group
Leader
Aloha Jam:
Pastor Jeff Lilley
Archives:
James Cartwright
Audit:
Shannon Liston
Concert:
Carl Crosier
Communications:
Carol Langner
Council:
Brian Weis
Fellowship:
Jeanette Hanson
Finance:
Roy Helms
Food for Thought:
Kathryn Klingebiel
Game Night:
Stephanie Miller
Garden Club:
Carol Langner
In Stitches:
Linda Miller
Learning Ministry:
Fred Benco
Lunch Bunch:
Stephanie Miller
Mary Magdalene Society:
Francisco Barajas
& Robert Zimmer
Ministry Plan Task Force:
Jim Niermann
Mutual Ministry/Transition:
Olivia Castro
Process Theology:
Fritz Fritschel
Property:
Jean-Paul Klingebiel
Scholarship:
Fred Benco
Social Ministry:
Ray Herradura
& Robert Zimmer
Stewardship:
Pam Buckley
& Jeanne Castello
Sunday School:
Laurie Leach
& Linda Miller
Worship & Music:
Linda Miller
Writers' Workshop:
Kathryn Klingebiel
Youth:
Sean D'Evelyn
In Stitches
In Stitches, LCH's craft group, gathers the second and fourth Saturday of each month in the Boardroom from 9 to 11 AM. We work on projects or on our own crafts. A good time is had by all. The next two sessions are January 10 and 24.
Writers' Workshop
Writers' Workshop will meet for our first meeting of the new year on January 19, from 7:00 to 8:30 PM in the Boardroom (or the Rainbow Room) at LCH. All are welcome. Additional meetings in 2009 have been scheduled for February 15, March 16, April 13, and May 11. For information, please contact Kathryn Klingebiel through the Church Office (941-2566).
Food for Thought
Food for Thought will meet for our first potluck supper and discussion at the home of Irmgard Hörmann on Saturday, January 10 at 6:30 PM. All are welcome. For directions or information, please contact Kathryn Klingebiel through the Church Office (941-2566).
Poetry and Process Thought II

Why not try a little poetry and philosophy? They can stimulate each other and the participants. Come to the next Process Forum, when we will continue our discussion of "Poetry and Process Thought." Keep the second Saturday of the month available for this discussion: Saturday, January 10, 9:30–11:00 AM, at the Lutheran Church of Honolulu. (A repeat session will be offered on Sunday, January 11, about noon.)
Below is a list of selected poems and poets, all of which are available on the web. (Just type the title and author into your favorite search engine.) Some poems illustrate "process" ideas; others may offer an alternative view. If you have any difficulty, contact Fritz.
"To the Rose Upon the Rood of Time," William Butler Yeats; "The Idea of Order at Key West," Wallace Stevens; "O sweet spontaneous," e.e.cummings; "Musee des Beaux Arts," W. H. Auden; "Evening on Calais Beach," William Wordsworth; and perhaps a few others.
Member Inquiry Opportunity
Are you interested in becoming a member of Lutheran Church of Honolulu, or would you just like to learn a little more about faith? Join Pastor Jeff in January for a two-part inquiry class. We will learn more about the Lutheran expression of the Christian faith, the Evangelical Lutheran Church in America, share stories about our lives and faith, and meet some of the leaders and key volunteers in the congregation. We will also cover the basics of Lutheran theology and liturgy and share information about the many opportunities available to live out your faith here at LCH. The two-session class is open to anyone interested in exploring membership at LCH or anyone curious about the topic
Meetings will be two consecutive Sunday Afternoons, January 11th and 18th, 2:00–4:00 PM. Please indicate your interest in the class by checking the appropriate box on the visitor card in your pew or by dropping a note to the church office.
Punahou Carnival Parking
February 6 & 7
The New Year is here, please remember to "pencil in" Punahou Carnival Parking on your new calendars! Sign up sheets will be posted in January, so please save the dates to help the youth with this annual fundraising event.
OYEA Upcoming Events
Adam Burke, OYEA Coordinator
On January 3, we have an Ice Palace event from 6 to 9 PM. OYEA will meet outside Ice Palace at 6 PM sharp. Then, we will set up a meeting area at the bleachers inside. Each church is responsible for their own entrance fees. General admission is $8.50. Entertainment books offer 2-for-1 coupons. Chaperones do not pay admission. OYEA will order pizza for a snack later in the evening.
On January 17, we have Youth Council Meeting from 3 to 6 PM. The Youth Council will next meet at Kaka'ako Waterfront Park for Ice Blocking, a potluck, and our next planning session (the upcoming Movie Lock-in). Just a reminder: the event date was changed from Friday to Saturday.
On January 23–24 (Friday and Saturday), we have Movie Night Lock-in at Joy of Christ. The action will start at 8 PM on Friday night and last until Saturday morning at 8 AM. Youth are asked to bring a food item/snack to share with the group at the Midnight Potluck!
On January 25 (Sunday), OYEA is scheduled for Joint Confirmation at LCH.
End of year contributions
As specified in IRS regulations, all donations made in person at church through Wednesday, December 31, or postmarked by December 31 will be counted as part of your 2008 contributions for tax purposes. Any contributions received (or postmarked) after December 31—no matter what the date on the check—will be credited to 2009 for tax purposes.
What's New on the LCH Website?
Bill Potter, Webmaster

Thanks to the cooperation of the folks at GIA Publications (who manage the copyright to the Jesse Tree Liturgy) and Pastor Jeff's perseverance, we were able to add another YouTube video to our website. You can see excerpts from the Jesse Tree presentation on December 14 on the Congregational Life page for October–December 2008 and on the Jesse Tree page in the Children section of the LCH website, or you can find it on YouTube by using their search feature.
The permissions folks at GIA said this was their first request to post on YouTube, so we had to exchange a few emails to work it out, but in the end they gave the OK. Thanks to Sabina L. Lilly, assistant editor/permissions, for all her help.
Pastor Jeff had a lot more to do. Not only did he shoot the video, but he then edited it together and after something like nine tries came up with a version that satisfied the YouTube guidelines.
I would love to have a lot more video on the site. Wouldn't it be wonderful to share examples of our choirs, Sunday School or youth activities, and congregational activities such as LutherFest? Putting video up on the web with YouTube is easy. Even the production part is not terribly difficult. It just takes some time, the right equipment, and a bit training or experience. That's where all of you come in.
First, we need video footage. For best results, an HD video camera with a good microphone or input jack for an external mic would be very helpful. If you have a quality camera and are willing to video tape some events, that would be great. If you would like to lend or donate a quality camera, we will find someone to shoot the video.
Second, we need someone to prepare the video so it can be uploaded to YouTube. Our limited expertise in this field makes it hard to share our ministry effectively, so a person with knowledge of video editing/conversion would be a godsend. But even if you don't have a lot of experience, if you want to develop this skill, the tools are available on our church computer, and Pastor Jeff has agreed to share what he knows to get you started.
There's a wide world of people hungry for the Good News of God's love that we experience every time we gather. If you already have a video camera or got a new one for Christmas and would like to use it to spread the good news of what God is up to at LCH, or even if you just have the time and desire to get involved, we've got a ministry for you. Just let Pastor Jeff or me know.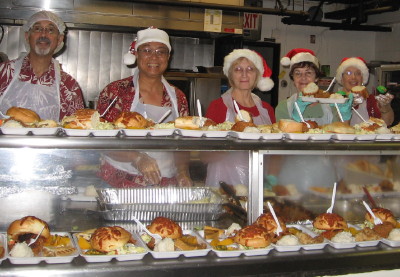 The LCH IHS crew donned Santa hats to serve dinner at IHS—Honolulu's homeless shelter—on the Friday before Christmas.
Mahalo to Our Poinsettia Donors
Fred Benco and Carolyn Ishikawa—In memory of Bhanu Rana, Ray Ishikawa, Tokinori and Kimiko Ishikawa
Robert Tellander—In memory of Helen Tellander and Phine Feldbrugge
Don and Barbara Rudd—In memory of Mr. and Mrs. J.L. Sim, Mr. and Mrs. M.B. Rudd, Mr. Bernie Rudd
Craig and Adriane Clissold—In memory of Fem A. DeMello, Eliot A. DeMello Sr., Mary DeMello, Orson Clissold, Marie Pots, Florence DeMello
Dot Lee—In honor of family and friends new and old
Randy and Jeanne Castello—In memory of John E. Castello, Gilbert G. Sylva
Vicki, Mike, Mitchell, and Niell Gorman—In memory of Jane Pfluger
Irmgard Hörmann
Troy Seffrood—In honor of Ann; In memory of Anne Seffrood
Ilse Layau—In honor of her Husband; In memory of a Parent
Eric and Linden Doescher—In memory of Waldemar and Althea Doescher; In memory of William and Natsuko Teramoto
Betty and Ernie Petersen—In memory of grandson Paul
Jane Kaeo—In memory of Donald Shibuya and Fumiyo Ishibashi; In memory of Claire and Junior Kaeo, David and Dottie Martin
Stephanie Burnham—In memory of mother Dorothy whose birthday is December 25th
Joe Allen and Janelle Hanson—In honor of Jeanette Hanson; In memory of Erhardt Haar
Billie Jean Ries—In memory of parents Bill and Leah Ries
Jeanette Hanson—In honor of D.J. Hanson; In memory of Erhardt and Leota Haar
Jean and Jeff Lilley—In honor of Meghann and Seth
Castro Family—In honor of Vincent Rambeck; In memory of Olympia and Alberto Castro, Elin Rambeck
Laurie Leach—In honor of Crescent and Sophie Cheng
Lori Nishimura—In memory of Mary Takamiya
Carl and Kathy Crosier—In memory of William G. Crosier, Ina-lill Runquist, Kitman Au, Mary Granaas, James Holloway; In honor of Dorothy Au and Stephen Crosier
Attendance and Offerings for December
Date
Worship Service
Attendance
Offering Fund
Offering Amount
December 7
8:00 AM Service
62
Offering
$3,831.50
10:30 AM Service
79
Seasonal Offering
$100.00
Compline
23
Learning Ministries
$5.00
Total
164
Social Ministries
$30.00
IHS Meals
$30.00
fasting & feasting
$838.00
Music Fund
$100.00
Music—Instruments
$5.00
Capital Improvements
$70.00
December 14
8:00 AM Service
41
Offering
$4,924.20
10:30 AM Service
83
Sunday School
$0.60
Compline
18
Social Ministries
$35.00
Total
142
Music Fund
$100.00
December 21
8:00 AM Service
44
Offering
$2,432.00
10:30 AM Service
71
Sunday School
$0.25
Compline
14
IHS Meals
$1,500.00
Total
129
Archives
$1,500.00
Social Ministries
$30.00
Benefit Concerts
$697.00
fasting & feasting
$25.00
Attendance and Offerings for Christmas Services and Sunday, December 28, 2008 were not available at time of publication.
Prayer Requests
Amalie
George
Kathy
Anita
Hanna
Ken
Audrey
James
Linda
The Buckleys
Janae
Lori
Christine
Jerry
Paige
Dan
Jim
Rosemary
Emelda
Joe
Shane
Gary
Theresa
January Birthdays
Date
Name
1/01
Biz Person
1/03
Jeanne Castello
1/05
Fred Benco
1/06
Angie Niermann
1/06
Matthew Sato
1/12
Allen Bauchle
1/12
Mary Kubota
1/12
Michael Okikawa
1/15
Dennis Rike
1/17
Palmyra Hethcote
1/20
Robert Raasch
1/22
Chuck Huxel
1/23
Jim Niermann
1/29
Annelore Yakabi
LCH Worship Participants
LECTOR
Michael Formby
Carolyn Koehler
Jimmy Castro
Linda Miller
COMMUNION
ASSISTANT
Laurie Leach
Bob Tellander
Peggy Anderson
Ken Bauchle
Laurie Leach
Crescent C.
Stephanie Miller
Chuck Huxel
ACOLYTES
Kyra Ann T.
Crescent C.
Sophie C.
Colin B.
LAYING ON
OF HANDS
Stephanie Miller
USHERS
Fred Benco
Fred Benco
Fred Benco
Fred Benco
LECTOR
Angie Niermann
Peggy Brandt
Vicky Gorman
Peter Flachsbart
DEACON
Bob Zimmer
Charlotte D'Evelyn
Mary Fastenau
Sean D'Evelyn
SUBDEACON
Karyn C.
Ray Herradura
Bob Tellander
Sylvia Hormann-Alper
COMMUNION
ASSISTANT
Randy Christensen
Jeanette Hanson
Randy Christensen
ACOLYTES
Ray Herradura
Jordan M.
Mary Fastenau
Bob Zimmer
Karyn C.
Mitchell G.
Mitchell G.
Jordan M.
LAYING OF HANDS
Bob Zimmer
USHERS
Peter Flachsbart
Jean-Paul Klingebiel
Chuck Pearson
Peter Flachsbart
Jean-Paul Klingebiel
Chuck Pearson
Peter Flachsbart
Jean-Paul Klingebiel
Chuck Pearson
Peter Flachsbart
Jean-Paul Klingebiel
Chuck Pearson
ALTAR
GUILD
Stephanie Miller
Susan Burns
Karen Fay
Marlise Tellander
Stephanie Miller
Susan Burns
Karen Fay
Marlise Tellander
Stephanie Miller
Susan Burns
Karen Fay
Marlise Tellander
Stephanie Miller
Susan Burns
Karen Fay
Marlise Tellander
Heart Beat Deadline
Next Heart Beat Deadline is Tuesday, January 20!
Heavenly Humor
Q. &nbsp:
Who was Adam?
A.
The first man to fall for a woman. (Genesis 3:24)
Q.
Who was Eve?
A.
The only woman whose husband did not ignore her because he was watching a ballgame. (Genesis 1:28)
Q.
What was Noah's biggest mistake?
A.
Not killing the two mosquitoes.
Q.
Who uses God's name in vain more than anyone else?
A.
Politicians.
—Rev. Dr. F. Christopher Anderson
Heidelberg United Church of Christ, York, PA,
New Year's cheer
"I had a vibrant Altar Guild in my church. They would see to it that I always had a glass of water in the pulpit. Before starting a sermon, I would always take a good swallow of water.
"At a New Year's Eve service, there were seven of the Altar Guild ladies sitting in the pew in front of the pulpit—most unusual, I thought. They all had big grins on their faces. "I took my usual big sip of water before preaching. It turned out to be 100-proof vodka. I smiled, tipped the glass in their direction, and took another sip.
"Later, my wife said the sermon still went okay."
—Pastor Donald Hoffman
St. John's Lutheran Church, Lena, IL
Calendar: January 2009
Day
Date
Event and Time
Thursday
January 1
New Year's Day—Office Closed
German Vespers for New Year's Day, 4:00 P.M.
Saturday
January 3
OYEA—Ice Palace, 6:00 PM
Sunday
January 4
Angel Network Ingathering
Holy Communion, 8:00 A.M.
Christian Education, 9:15 A.M.
Choral Eucharist, 10:30 A.M.
Leadership Roundtable, 11:45 A.M.
Pre-Compline Discussion, 8:30 P.M.
Compline, 9:00 P.M.
Monday
January 5
Mutual Ministry Meeting, 6:00 PM
Tuesday
January 6
The Epiphany
Thursday
January 8
Preschool Chapel, 10:00 AM
Saturday
January 10
In Stitches, 9:00 A.M.
Process Thought Forum, 9:30 A.M.
Mary Magdalene Society, 6:00 P.M.
Food for Thought, 6:30 PM
Sunday
January 11
Holy Communion, 8:00 A.M.
Christian Education, 9:15 A.M.
Choral Eucharist, 10:30 A.M.
Process Thought Forum, 12:00 P.M.
New Member Inquiry Class, 2:00 P.M.
Pre-Compline Discussion, 8:30 P.M.
Compline, 9:00 P.M.
Monday
January 12
Aloha Jam, 6:00 P.M.
Tuesday
January 13
Worship & Music, 6:30 P.M.
Wednesday
January 14
Finance Committee, 12:30 P.M.
Joint Confirmation, 6:00 P.M.
Thursday
January 15
Preschool Chapel, 10:00 A.M.
Friday
January 16
IHS Meals—Prepared, 1:00 P.M.
IHS Meals—Served, 5:30 P.M.
Saturday
January 17
OYEA—Youth Council Meeting, 3:00 P.M.
Sunday
January 18
Holy Communion, 8:00 A.M.
Christian Education, 9:15 A.M.
Choral Eucharist, 10:30 A.M.
Social Ministries Meeting, 12:00 P.M.
New Member Inquiry Class, 2:00 P.M.
Pre-Compline Discussion, 8:30 P.M.
Compline, 9:00 P.M.
Monday
January 19
Martin L. King, Jr. Day—Office Closed
Writers' Workshop, 7:00 P.M.
Tuesday
January 20
Heart Beat Deadline, 9:00 A.M.
Executive Committee, 6:00 P.M.
Council Meeting, 6:30 P.M.
Wednesday
January 21
Confirmation—Special Event, 7:00 P.M.
Evening Prayer—Week of Christian Unity, 7:00 P.M.
Thursday
January 22
Preschool Chapel, 10:00 A.M.
Friday
January 23
OYEA—Movie Night Lock-In, 8:00 P.M.
Saturday
January 24
OYEA—Movie Night Lock-In ends, 8:00 A.M.
In Stitches, 9:00 A.M.
Sunday
January 25
RIC Sunday
Holy Communion, 8:00 A.M.
Christian Education, 9:15 A.M.
Annual Congregation Meeting (Part 2), 9:15 A.M.
Choral Eucharist, 10:30 A.M.
OYEA—Joint Confirmation, 4:30 P.M.
Pre-Compline Discussion, 8:30 P.M.
Compline, 9:00 P.M.
Wednesday
January 28
Heart Beat Mailing, 9:00 A.M.
8:00 O'Clock Ensemble, 6:30 P.M.
Thursday
January 29
Preschool Chapel, 10:00 A.M.
---

Copyright © 2009 Lutheran Church of Honolulu
Comments welcome at webmaster@lchwelcome.org