Mary Fastenau
Church Council Co-President, Social Ministries Committee member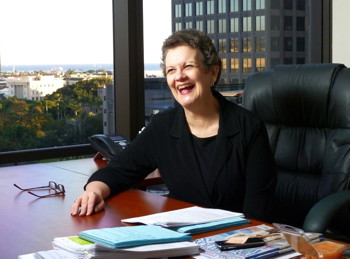 Mary Fastenau at her desk at her "real" job.
My idea of a perfect day is... watching as many college football games as possible with my husband at my side.
My biggest challenge is... finding enough time in a day to do all the things I want to do.
My life verse is... "Make a decision and then make it the right decisoin."
My favorite children's book is... Ferdinand, the Bull by Munro Leaf. It was written in 1936 and is a legacy passed on from my amazing mother.
My last meal would be... my husband's famous beef stew.
My worst habit is... over committing and then feeling guilty.
I am happiest... surrounded by friends and family.
My favorite Bible character is... Doubting Thomas. Maybe not my favorite, but I do relate more than I should.
Transforming experience(s) in my life have been... my confirmation day, seeing God's majesty as I crossed the ocean in a sailboat, the passage of Reconciling in Christ for the Pacific Synod when I was a delegate.
I was born... in Lexington, Nebraska, and grew up in Bertrand, Nebraska, current population 753.
The best advice I could give a 20 year old is... Love every phrase of your life and know it just keeps getting better.
My guilty pleasure is... a wonderful glass of chardonnay.
My favorite sports team is... the Nebraska Cornhuskers.
I stay at LCH because... of the people. It is my spiritual home, filled with people who will ask hard questions and always be there for me.
---
I grew up in rural Nebraska attending Hope Lutheran Church, the church my great grandfather helped found. I started my professional life in the newspaper business and worked in Iowa, Indiana, and California. I sailed to Hawai'i with my husband in 1989 and have been here ever since, much to my surprise and delight. I am a partner in Anthology Marketing Group, a local communications company where I'm allegedly in charge of the Internet division. My actual job is to be a human bulldozer to let an amazing team of people do great work.
---

Copyright © 2011 Lutheran Church of Honolulu
1730 Punahou Street, Honolulu, HI 96822 • 808-941-2566
Comments welcome at webmaster@lchwelcome.org