Jim Niermann
Youth Sunday School Teacher, Ministry Planning Task Force Member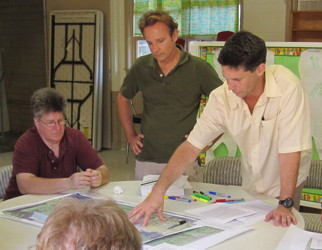 Jim Niermann (right) leading one of the planning charrettes for the LCH campus
When asked what he does at LCH, Jim responded "I attend meetings."
My idea of a perfect day is... a motorcycle ride to an isolated surf break where my family and friends gather to eat and talk story until the sun comes up.
My biggest challenge is... staying focused.
My biggest pet peeve is... bad behavior in traffic—not worth getting into.
My life verse is... "If stupidity got us into this mess, why can't it get us out."—Will Rogers
My favorite children's book is... Flawed Dogs by Berkeley Breathed.
My last meal would be... Grilled steak and beer. I'm taking a cow with me on the way out.
My worst habit is... Good Lord, why would I share that?
I am happiest when... the atmosphere is full of loving vibes.
My favorite Bible character is... too many to pick. Say Noah.
I was born... a PK in south CA, greenbelts all around.
The best advice I could give a 20 year old is... Squander your youth. There's plenty of time.
My guilty pleasure is... burning gasoline riding motorcycles for no purpose.
My idea of a perfect day is... déjà vu.
My favorite sports team is... always the underdog.
The one thing I want to make sure people know about LCH is... it's full of love.
---

Copyright © 2013 Lutheran Church of Honolulu
1730 Punahou Street, Honolulu, HI 96822 • 808-941-2566
Comments welcome at webmaster@lchwelcome.org