Bill Potter
Webmaster and Financial Secretary
webmaster@lchwelcome.org or fin-sec@lchwelcome.org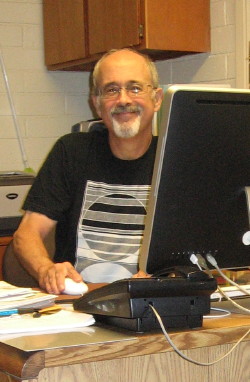 Bill looks up from his work on the LCH website in the Church Office.
I was born... in Warren, PA, but I had sense enough to move to Hawai'i in 1977.
My idea of a perfect day is... sleeping late, not shaving, and working on the LCH website.
My favorite sports team is... yeah, right.
My guilty pleasure is... Bubbies ice cream.
The one thing I want to make sure people know about LCH is... the music is wonderful, but the people are even better.
---
In the summer of 1995 I was looking for a new church home. I had heard about the good music and that LCH was a progressive congregation that welcomed gay folks, so I gave it a try and have almost never missed a Sunday since that time.
The choir was on vacation when I started, but the last week before the full choir returned, they were have a men's choir Sunday, and a friend who was already a regular and sang in the choir asked me to help out. The next Sunday I was singing with the choir.
A couple of years later there was talk about a church website, and one of my good friends at church, Robin Bush (a total web genius), promised she'd help if I had any problems, so I said I'd give it a try. That first website had two different pages, and now look at it.
Then, the person who posted the offerings after they were counted and deposited asked me to help once a month or so, and I said I could. And when he left a year or two later, I got that job.
When I'm not singing in the choir or fixing up the website, I work as associate dean in the College of Humanities and Social Sciences at Hawai'i Pacific University.
---

Copyright © 2009 Lutheran Church of Honolulu
1730 Punahou Street, Honolulu, HI 96822 • 808-941-2566
Comments welcome at webmaster@lchwelcome.org