Shannon Sera
Sunday School Teacher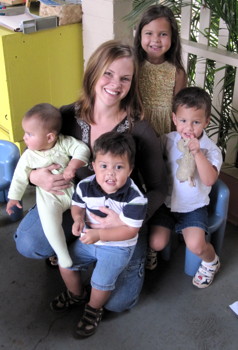 My idea of a perfect day is... waking up before my four children so I have a few moments to center myself, being outdoors and remaining mindful and open throughout the day.
My biggest challenge is... asking for help (and remembering the sunscreen).
My favorite children's book is... The BFG by Roald Dahl.
The one thing I want to make sure people know about LCH is... still and quiet waters run deep! I am amazed by everyone I have had the opportunity to get to know at LCH.
I stay at LCH because... I have fallen in love with the atmosphere of growth, acceptance and humility that this church has created. I find it a wonderful place to nurture my children's (and my own) spiritual growth.
---
I am Navy wife and mother of four small children. I have been attending LCH for nearly a year. The congregation has helped me cope with the deployment of my husband as well as a pregnancy. I am delighted to have the opportunity to serve as a Sunday School teacher to third and fourth graders this year. I enjoy the inquisitiveness and honesty of the eight to ten year old set and look forward to not only teaching the class, but learning from them as well!
---

Copyright © 2010 Lutheran Church of Honolulu
1730 Punahou Street, Honolulu, HI 96822 • 808-941-2566
Comments welcome at webmaster@lchwelcome.org