April Smith
Church Council Member, Musician, Stewardship Team, Property Committee Co-Chair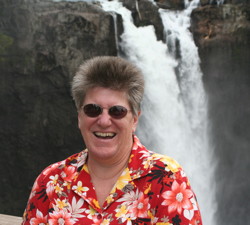 April Smith on vacation in Seattle.
I enjoy being involved in various "jobs" in the congregation, many of which don't take place on Sundays.
My idea of a perfect day is... starting with a couple cups of 100% Kona coffee.
My biggest challenge is... not reacting.
My last meal would be... a really good steak, cake, and ice cream.
My worst habit is... nagging those I love.
I am happiest when... I am not using technology (except maybe TV).
My favorite Bible character is... Jesus is always the right answer!
Transforming experience... coming to terms with my homosexuality.
I was born... in Syracuse, New York and have a twin brother, Alan.
The best advice I could give a 20 year old is... stop complaining. This is real life!
My favorite sports team is... usually losing! Go Mets!
I stay at LCH because... I am loved, I am accepted, and I am blessed to share my gifts with this wonderful church 'ohana.
---
I served 6 years as a US Army musician (flute), 20 years as an Army wife, 6 years as an accounting clerk and currently work as the sexton for the Parish of St. Clement where I am responsible for the cleaning and maintenance of the church buildings and grounds.
---

Copyright © 2011 Lutheran Church of Honolulu
1730 Punahou Street, Honolulu, HI 96822 • 808-941-2566
Comments welcome at webmaster@lchwelcome.org