Georgine Stark
Sunday School S.K.I.T.S. (Scripture Kids Interpret Through Skits) Coordinator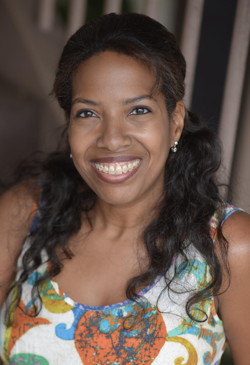 Georgine Stark leads a new program, S.K.I.T.S. (Scripture Kids Interpret Through Skits), for the LCH Sunday School. Several times a year the LCH children will learn a skit to perform for the congregation as the Sunday sermon.
I am originally from... Buffalo, New York where yes, it is dreadfully cold six months out of the year! I knew at an early age that I wanted to live in Hawai'i. That all came true in 1994 when I moved here from Baltimore, Maryland. No more cold winters for me!
My idea of a perfect weekend... hanging out at the beach with my family, sailing, horseback riding, having a BBQ with family and friends, laughing and playing with my two wonderful kids, and finally squeezing in a performance with me as soprano soloist and my husband, Darel, as concertmaster.
Why I came to LCH... the music is what drew me here. It moves me in such a deep and spiritual way. I was searching for a place where I felt as if I "belonged," and I have found such at place at LCH.
Outside of LCH... you can find me teaching voice at the 'Iolani School, homeschooling my children, going to kung fu and Tahitian dance classes, and of course singing.
---
This marks my first year as the S.K.I.T.S. Sunday School coordinator, and I couldn't be more excited. I have always enjoyed performing skits with my own kids, so I am looking forward to helping the children of LCH utilize their voice to deliver insightful sermons to the congregation. Let the sermons begin!
---

Copyright © 2012 Lutheran Church of Honolulu
1730 Punahou Street, Honolulu, HI 96822 • 808-941-2566
Comments welcome at webmaster@lchwelcome.org