Anna Womack helps with the Sunday School Music program, leading singing, teaching Orff instrument parts, and coaching string ensembles.  Our children enjoy performing in the church service 3 or 4 times a year.
Do not use data from this site for unsolicited e-mail marketing.
Anna Womack
Sunday School Music Teacher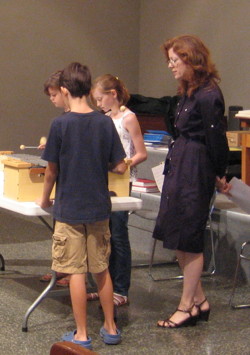 I was born... in Rome, GA and moved to Hawaii in 1994. Of the 6 different cities I've lived in, Honolulu is my favorite!
My idea of a perfect day is... a hike or tennis game on a beautiful Hawaii morning and then a delicious dinner at home with family and friends.
I came to LCH... to give my 2 children the experience of good music and Sunday School. I stay at LCH because the people are generous, fun and open-hearted and because the services are an oasis of calm in a busy world.
---
Currently, I am serving on the Church Council and have been a part of various other committees throughout the years. One of the great things about committee work at LCH is that the meetings usually include food and drink!
My secular job is violist with the Honolulu Symphony and viola lecturer at the University of Hawaii, and I feel extremely lucky to be a musician and teacher.
---

Copyright © 2010 Lutheran Church of Honolulu
1730 Punahou Street, Honolulu, HI 96822 • 808-941-2566
Comments welcome at webmaster@lchwelcome.org