Congregational Life at LCH
Two Youth Confirmed
The people of LCH joyfully welcomed two youth into full membership through the Rite of Confirmation as part of the 10:30 worship service on November 3, All Saints Sunday.
The two young women had completed several years of study in Confirmation classes to prepare for this important transition from youth to full adult membership. The curriculum included the Bible, Lutheranism, and the wider Church, and other faith traditions, as well as discussions about their own personal faith in Christ. At the end, each one wrote her own personal faith statement, and both statements were made available to the congregation on the morning of their confirmation.
At left, the two new members respond to questions before they are received into full membership.
Following worship, the new members, their families, and the entire congregation celebrated with cake in the Hörmann Courtyard.
Food, Fellowship, Frivolity, and Fun at LutherFest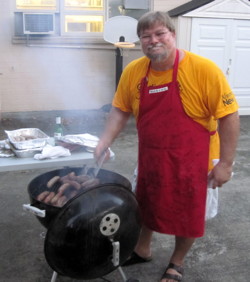 A near capacity crowd of about 85 filled Hörmann Courtyard for LutherFest, our annual celebration of our heritage as Lutherans and members of LCH.
LutherFest has become know for food, fellowship, frivolity, and fun, and there was plenty of all four elements. As usual, members filled the serving table with their potluck dishes, and Pastor Jeff fired up the grill just outside so he could cook up lots of brats. Fellowship was evident in the lively conversation during pupus in the Courtyard and around the dinner tables.
As for frivolity, how about the green jello contest? There were eight entries ranging from a bundt cake and a pecan pie with green jello as ingredients to "On the Mount of Olives" (with sauerkraut and olives) and a sailboat on a green jello sea. When all the voting was done, there ended up a being a tie for the grand prize of an evening sail with Pastor Jeff. Jean Lilley's "Charity" and Carolyn Koehler's "God's work. Our hand(s)" (portrayed by a single green jello hand) had exactly the same number of votes. But since Jean Lilley will be crewing the sail, the cruise will go to Carolyn Koehler.
If that wasn't enough fun, we had Reformation Carols, a visit from a joke-telling "Brother Martin," and Sisters Merry Margarita and Merry Merlot.
At right, Pastor Jeff grilling up brats for dinner. Additional photographs from LutherFest are available on the LCH Facebook page.
Annual Children's Sabbath
Again this fall, the people of LCH observed Children's Sabbath by having children participate in worship as ushers and readers by asking them to provide special music at both morning worship services.
At 8:00 AM, brothers played pieces by J.S. Bach on the violin and cello for the prelude and offertory, and a brother and sister sang "Pie Jesus" from Andrew Lloyd Webber's Requiem during communion. For the later service, a young girl played piano pieces by Haydn and Bach for the offertory, and the brother and sister reprised "Pie Jesus" during communion.
Many thanks to all the children who made Children's Sabbath a success, and their parents and teachers who provided support and guidance.
At left, the brother and sister sing "Pie Jesus" by Andrew Lloyd Webber. Additional photos are available on the LCH Facebook page.
Blessing of the Pets
Again this year, LCH held a Blessing of the Pets on October 6, the Sunday closest to October 4, when we remember Francis of Assisi. Members of the congregation and their pets gathered in the Nave Sunday afternoon for the liturgy or scripture readings, hymns, prayers, and an individual blessing for each pet.

Following the brief liturgy, all present—both human and animal—adjourned to Isenberg Hall for refreshments and conversation.

At right, Pastor Jeff blesses his and Jean's dog as part of the Blessing of the Pets. Additional photos are available on the LCH Facebook page.

---

Copyright © 2013 Lutheran Church of Honolulu
1730 Punahou Street, Honolulu, HI 96822 • 808-941-2566
Comments welcome at webmaster@lchwelcome.org