Celebration of Irmgard Hörmann's 90th Birthday
In many ways, the history of LCH is bound up with the family of the Rev. Dr. Arthur Hörmann, our pastor from 1916 to 1949, so it was only natural that the congregation join together in a joyful celebration of Irmgard Hörmann's ninetieth birthday. (Read more about Irmgard and the Hörmann family in this press release announcing the celebration.)
The celebratory weekend began with a birthday party hosted by the Hörmann family on Saturday evening.
Guests were welcomed to the festively-decorated by the sounds of Puamana, noted Island trio, who entertained during pupus. In this picture, our Irmgard (in blue) is shown with Mihana Souza (another Irmgard, after her mother, Irmgard Farden 'Aluli) on stand-up bass, Iwalani Kahalewai on 'ukulele, and 'A'ima McManus on guitar.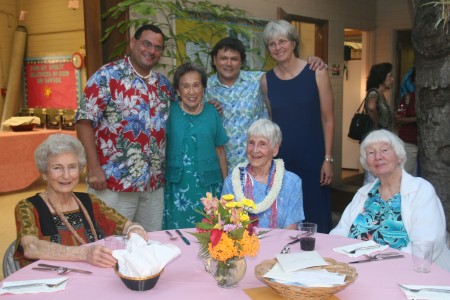 Irmgard was especially pleased that three long-term friends could participate in the celebration. Irmgard met Barbara Dole Larsen (seated, left) when she was just five years old. Irmgard worked with Marion Vaught (seated, right) came to Hawai'i in 1951 to be head art and music librarian with the State Library System, where she worked with Irmgard. Wai Chee Yee (standing, second from the left) have been friends since the 6th grade. Wai Chee has dubbed the three of them "the gay nineties." Joining them for the picture (standing, left to right) are Irmgard's neighbor David Gonzalves, nephew David Hormann, and niece Phyllis Hormann.
Also in attendance were current and former pastors of the congregation. Pictured at left are Pastor Phyllis Hormann (Irmgard's niece), former LCH Interim Pastor Steve Jensen, Pastor Jeff Lilley, and former LCH Pastor David Barber. Former LCH Pastor Don Johnson also attended the celebration but left before this picture was taken.




While most of the food was catered, a lot of work was still required to serve the assembled crowd, and most of that work was done by the Hörmann family. In this picture, niece Pauline Jacroux, nephew David Hormann, grand niece Jennifer Hartl-Davis, and niece Phyllis Hormann make some final preparations for dinner.
Dinner was followed by a varied program, beginning with the reading of "On the Occasion of the Ninetieth: A poem in honor of Irmgard Hörmann" by Fritz Fritschel. Because Fritz could not be present, the poem was read by Irmgard's niece, Sylvia Hormann-Alper.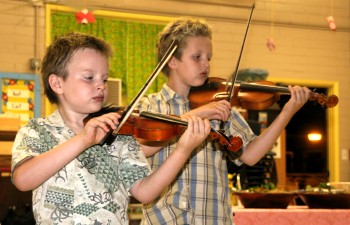 Musical performances included a violin duet by Mitchell and Niell, two youth of the congregation whom Irmgard had taught German. The younger brother also gave a stirring recitation of a humorous poem.





Two sisters, Crescent and Sophie, danced beautiful hula to the accompaniment of Puamana.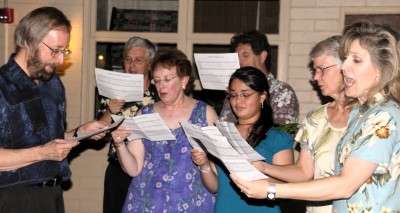 There were plans for a complete Bach cantata, but since the orchestra was not available, the choir sang a birthday song with words in Irmgard's honor by Sylvia Hormann-Alper, accompanied by Kathy Crosier on a small electronic organ.
Celebrations continued on Sunday morning.
Sunday morning began with worship at 9:15 AM.
Since the weekend honored not only Irmgard but the whole Hörmann family. The early years at LCH were brought back with displays of pictures (left) and artifacts (below) from the past.



Following the service, everyone enjoyed a bountiful potluck.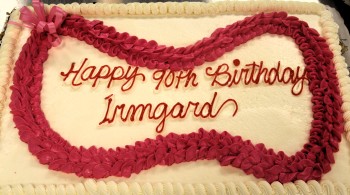 What would a birthday celebration be without singing "Happy Birthday" and eating some birthday cake.
The final event in the celebration was a brief service rededicating the courtyard in honor of the entire Hörmann family. A dedicatory bronze plaque (right) was installed in November, along with a matching sign for Isenberg Hall (below).
---

Copyright © 2007 Lutheran Church of Honolulu
1730 Punahou Street, Honolulu, HI 96822 • 808-941-2566
Comments welcome at webmaster@lchwelcome.org