Renovations of the Boardroom, Sacristy, and Counting Room—November 2007
Preparations
Renovations under the 2004–06 Capital Campaign focused on the Nave and parking lot, but even then it was clear that the Boardroom and adjacent areas needed renovations.
In addition to the clutter in the Boardroom, which is obvious in the picture to the right, the walls and ceiling needed painting, and the flooring needed to be replaced.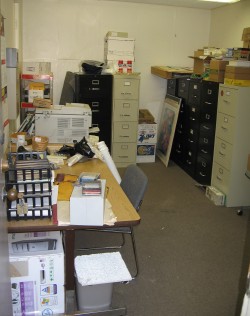 The Counting Room (left) and Sacristy were also both in similar need of work




Preparations got underway immediately following the 10:30 service on Sunday, November 11. Numerous volunteers moved everything out of the areas to be renovated and into one corner of the Nave. In the picture to the right, volunteers work together to move a cabinet full of music.



Finally, everything had been moved into the Nave so that work could begin bright and early on Monday, November 12.
Scraping and Painting




Volunteers gave up their Veterans' Day holiday to work on the renovations. They repaired and prepared the walls for painting, and then they got to work on the ceiling of the Boardroom. The textured surface of the ceiling required spray painting, so it was slow work. In the picture to the right, Lars Tellander took his turn with the sprayer.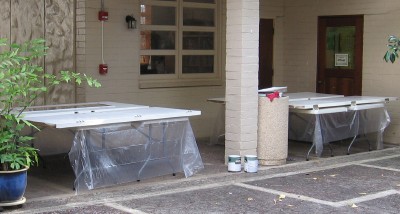 They also removed interior and exterior doors and took them to the courtyard for painting.
The Work Progresses
By the end of the day on Wednesday, November 14, the ceiling and walls had been painted, and the carpet had been removed in the Boardroom (below left), Counting Room (below right), and the Sacristy.
Worshippers on Sunday morning, November 18, found the work nearing completion. The flooring, molding, and lighting fixtures had been installed throughout the work area and most doors (some minus some hardware) had been replaced. New built-in racks were in place for choir robes and vestments in the Counting Room (below left), and some furniture was back in the Boardroom (below right).
Dedication—April 2008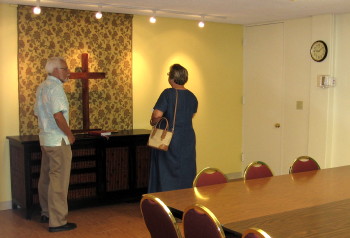 Even though the major work of the renovations was finished up in a week, the finishing touches took a bit more time. Finally, on Sunday, April 27, all was complete and Pastor Lilley said a prayer of dedication at the end of the 8:00 AM worship service. At right, Steve and Linda Miller, major donors to the renovation effort, look over the finished Boardroom.
The other side of the Boardroom (below, left) has a chalk board and a display of historic pictures from the history of the congregation. The old Counting Room (below, right) now doubles as a robing room.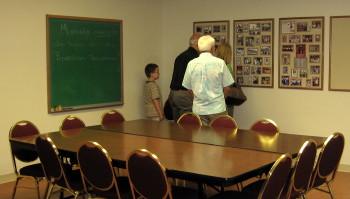 ---

Copyright © 2008 Lutheran Church of Honolulu
1730 Punahou Street, Honolulu, HI 96822 • 808-941-2566
Comments welcome at webmaster@lchwelcome.org