Former LCH Intern Katy Grindberg Ordained—February 23, 2008
Katy Grindberg, Intern Pastor at Lutheran Church of Honolulu during 2004–05, was ordained into the Evangelical Lutheran Church of America on Saturday, February 23, 2008. The ordination took place at a worship service held at Chapel of the Cross, Pacific Lutheran Theological Seminary, in Berkeley, CA. Professor Michael Aune presided, Bishop David Mullen (Sierra Pacific Synod) ordained Katy, and Pastor Jeff Lilley preached at the Eucharist.
At right, Katy is shown right after the service in a new stole—a sign of the office of pastor—presented during the ordination service by Jimmy and Olivia of LCH, Katy's father, Alan, and her brother, Hugh. The stole was designed by Randy Castello and fabricated by Terry Hiller. The design depicts 'ohia flowers rising from a volcano into a dawn sky. The 'ohia is often the first tree that grows through a lava flow and is a sign of hope and rebirth.
Katy received a call as associate pastor of Advent Lutheran Church, Citrus Heights, CA.
Also in attendance were a several LCH members (shown below), along with Hukilau Conference Dean Pastor Ruth Peterson.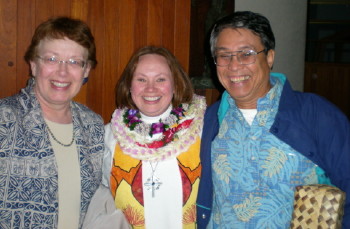 Olivia and Jimmy Castro with Pastor Katy.




Pastor Katy with Jean Lilley.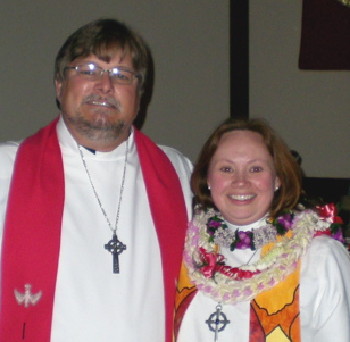 Pastors Jeff and Katy.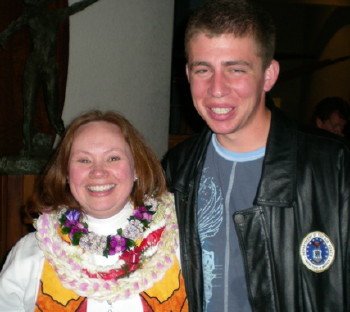 Pastor Katy with Austin Buckley.
---

Copyright © 2008 Lutheran Church of Honolulu
1730 Punahou Street, Honolulu, HI 96822 • 808-941-2566
Comments welcome at webmaster@lchwelcome.org