OYEA Installation—January 27, 2008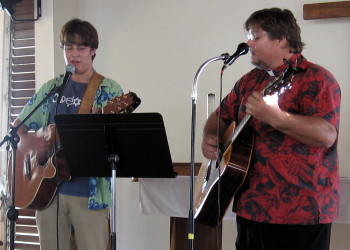 Youth and adults from all six Hukilau congregations gathered at Joy of Christ Lutheran Church at 5:00 PM on Sunday, January 27, to install Adam Burke as OYEA (Oahu Youth Education and Activities) Coordinator. Youth from the various congregations took responsibility for all aspects of the service.
At right, LCH's Seth L. (with help from Pastor Jeff, filling in for another youth who was delayed) led the congregation in the opening hymn.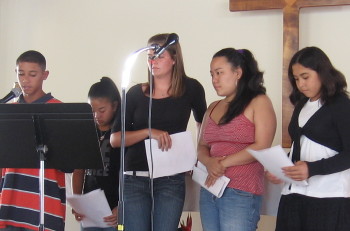 Youth from each of the congregations took turns with the call to worship, opening prayer, and the lessons.





Seth returned to preach the sermon on the story of Jesus in the Temple (Luke 2:41–52).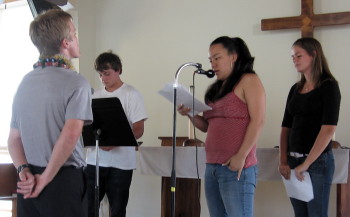 The youth then questioned Adam on his preparation and willingness to commit himself to the work of OYEA Coordinator.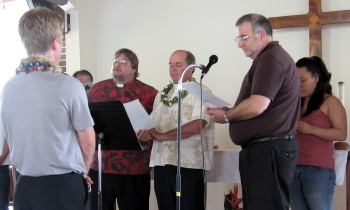 Members of the OYEA Board, representing the congregations, and a member of the Synod staff also participated in the final part of the installation.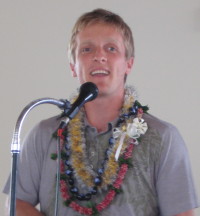 At last, Adam was called on to talk about his feelings on this important day and his vision for this position.


The service concluded with two more rousing hymns, and this time all the accompaniment was provided by the youth.
In good Hawaiian style, the evening concluded with a festive and bountiful pot-luck.
---

Copyright © 2008 Lutheran Church of Honolulu
1730 Punahou Street, Honolulu, HI 96822 • 808-941-2566
Comments welcome at webmaster@lchwelcome.org