Mary Magdalene Society
Description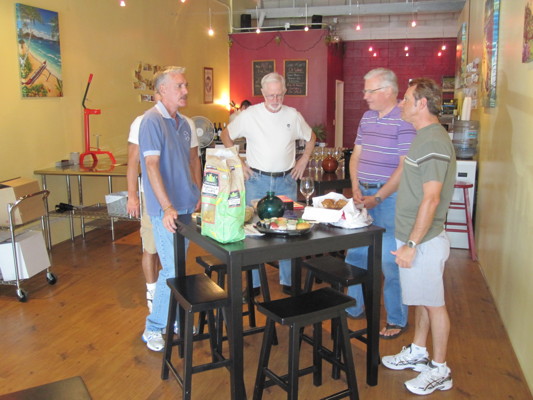 Some members of the Mary Magdalene Society contemplate the snacks for their June wine tasting.
The Mary Magdalene Society is a social 'ohana for lesbian, gay, bisexual, transgender, intersex, and questioning members of LCH. The Society usually meets potluck the fourth Saturday of even-numbered months and has had some service projects for the church as well. Non-LCH partners and friends are always welcome at these activities.
Volunteer Opportunities
Volunteers are welcome to plan individual activities to increase the number of occasions on which they meet.
Members
All are welcome. Participation varies.
Main Contacts
Robert Zimmer or Francisco Barajas
Next Group: Writers' WorkshopPrevious Group: In Stiches
---

Copyright © 2010 Lutheran Church of Honolulu
1730 Punahou Street, Honolulu, HI 96822 • 808-941-2566
Comments welcome at webmaster@lchwelcome.org