Sunday School
Description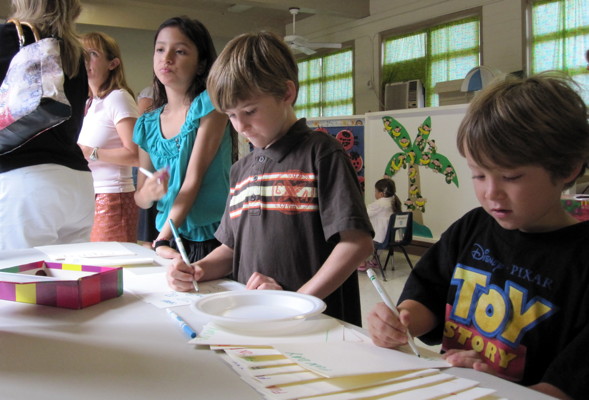 Sunday School children enjoy art projects on the Fun Day which brings the school year to a close.
Sunday School teachers plan and conduct Christian education activities for the young people of the congregation (ages 3–18) on Sunday mornings during the learning ministry hour in the fall and spring. There is a week or two off at Christmas time and no Sunday school during the summer months when we have one service. We currently have two teachers or a teacher and assistant for all of our classes, but we have combined some age groups this year and may want to form more groups in the future as the mix of children changes. We would welcome additional volunteers who could be substitutes or assistant teachers now and who might consider leading a class in a future semester. Itís okay to volunteer for two weeks a month rather than every week. There are volunteer opportunities for assistant teachers at all age levels, for substiutes in case the primary teacher must miss a Sunday, and to be a part of the F.R.O.G.S. Ensemble, Seder meal, or Jesse Tree program, or to set out the snack for students.
Volunteer Opportunities
Teachers

Plan activities for their class (curriculum materials are available for those who prefer to use them) and prepare supplies needed for their lesson plan during the week.
For younger kids: Set up prior to class, read bible stories and do related activities with the children, go with them to singing, oversee their snack, dismiss them to their parents, and clean up the materials after class.
For older kids and teens: Set up if needed for particular activity and lead students in talking about issues of faith, the church, the Bible, service projects, etc. during learning ministry hour.
Participate in special Sunday school activities such as Seder meal, family fun day, Easter Egg hunt and Jesse Tree. These take place during the usual Sunday school times instead of a regular class.

Assistant Teachers

Help teachers assist children with crafts or other parts of the lesson and generally be an extra adult in the room. An assistant need not always work with the same class but could help in whichever class has the most children that morning or the most complex activity planned.
Members
Charlotte D'Evelyn, Sean D'Evelyn, Fritz Fritschel, Wayne Gau, Adam Landherr, Crystal Landherr, Laurie Leach, Marjan Lynch, Stephanie Luuloa, Teresa McCreary, Linda Miller, Shannon Sera, Anna Womack
Main Contact
Linda Miller
Next Group: Heifer ProjectPrevious Group: Benefit Concerts
---

Copyright © 2010 Lutheran Church of Honolulu
1730 Punahou Street, Honolulu, HI 96822 • 808-941-2566
Comments welcome at webmaster@lchwelcome.org