Adult Forum
Description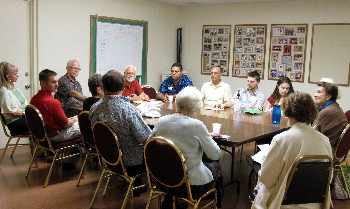 A lively discussion during the Adult Forum.
The Adult Forum group meets every Sunday at 9:15 AM in the Boardroom for interesting studies and discussions at the adult level. Recent studies have included book studies under the guidance of Pastor Jeff, studies of the "Minor Prophets" and the Apocrypha under Fred Benco, and a "Spiritual Development" course under Dr. Stephen Miller. All members and friends are invited to these thought-provoking sessions. Humor is also allowed. Come to the LCH Boardroom on Sundays to sit in and take part.
Volunteer Opportunities
Volunteers are welcome to suggest church topics which they would like to teach/discuss.
Main Contact
Fred Paul Benco
Next Group: Process Thought ForumPrevious Group: Confirmation
---

Copyright © 2010 Lutheran Church of Honolulu
1730 Punahou Street, Honolulu, HI 96822 • 808-941-2566
Comments welcome at webmaster@lchwelcome.org