Aloha Jam
Description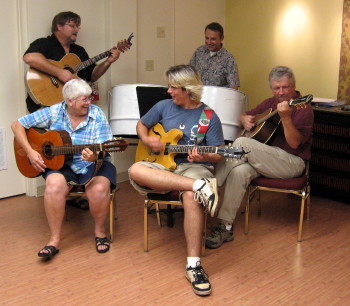 The joy of making music together in the monthly Aloha Jam.
The Aloha Jam is an informal opportunity to share music and singing on the second Monday evening of each month. Led by Pastor Jeff and Seth Lilley, musicians of every skill level are encouraged to bring a tune to share with the rest of the gang as we enjoy Godís gift of song. Even if you donít play an instrument, you are welcome to come enjoy the jam, sing along, or just watch. If you play an instrument, you are encouraged to bring songs or tunes to share with the rest of the Jam.
Volunteer Opportunities
Just show up on the second Monday of the month. Please be sure to check the online calendar before coming.
Members
Jimmy Castro, Carolyn Koehler, Pastor Jeff Lilley, Seth Lilley, Stephanie Luuloa, Steve Miller, April Smith, Jim Sullivan, and a host of others.
Main Contact
Pastor Jeff Lilley
Next Group: Benefit ConcertsPrevious Group: Compline Choir
---

Copyright © 2010 Lutheran Church of Honolulu
1730 Punahou Street, Honolulu, HI 96822 • 808-941-2566
Comments welcome at webmaster@lchwelcome.org