Punahou Carnival Parking
Description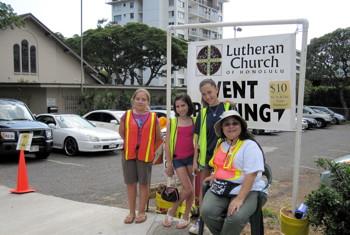 Youth and adults work together parking cars during the annual Punahou Carnvival.
This LCH Youth Ministry fundraiser is held annually the first Friday and Saturday in February. Our church rents out stalls in both parking lots to carnival goers, with all proceeds going to the Youth Group. The youth have made generous donations to a variety of charities, as well as provided scholarships to various OYEA activities and mainland assemblies. This two day event is also a fantastic fellowship opportunity to get to know the youth and other members of the congregation.
Volunteer Opportunities
Friday and Saturday 9:30 AM to 11:00 PM

Staff parking lots in 3 hour shifts
Collect parking fees, issue receipts, and direct cars to available parking stalls
Volunteers with experience close nightly receipts
Members
Thank you to all of the members who have volunteered over the years!
Main Contact
Jereyln Watanabe
Next Group: ConfirmationPrevious Group: OYEA
---

Copyright © 2010 Lutheran Church of Honolulu
1730 Punahou Street, Honolulu, HI 96822 • 808-941-2566
Comments welcome at webmaster@lchwelcome.org