Carl Crosier served the Lutheran Church of Honolulu for 38 years, first as choir master and then as cantor
Carl Crosier, Cantor 1972–2011
Cantor Carl Crosier, bedecked in lei, at his farewell service.
After 38 inspiring years of service, Cantor Carl Crosier, retired on August 21, 2011.
Carl's tenure at LCH was crucial to development of the congregation into the church it is today. And as might be expected from almost four decades of ministry, that tenure is difficult to summarize, but the opening paragraphs of the cover story from the August 2011 issue of Grace Notes (PDF), the quarterly publication of the Association of Lutheran Church Musicians, may do the job as well as any other:
When Carl Crosier was hired as the organist at the Lutheran Church of Honolulu in December 1972, little did he know that he would serve as the leader of the congregation's song for nearly four decades and build a music program greatly recognized and admired.
At the beginning of his tenure the church choir numbered only a dozen people and then grew to four ensembles involving nearly 70 members. The mixed choir sings over 200 works a year, ranging from chant, Renaissance polyphony, Bach cantatas with orchestra, and serious contemporary compositions, including works by Igor Stravinsky, Judith Weir, Aaron Copland, Peter Hallock and Peter Maxwell Davies. There is also a small ensemble which sings informal music, an all-male Compline Choir, and a children's choir and orchestra. During Carl's tenure the church installed a 33-rank Beckerath organ, a 3-rank continuo organ, added a five-octave set and a two-octave set of Petit and Fritsen handbells, a French double harpsichord, and a Grotrian grand piano to its collection of musical instruments.
During these 38 years, Carl led the musical forces of the congregation in numerous major works. While it may have been slightly more ambitious that others, the 2010–2011 season was not completely atypical. (After all, Kathy's blog is called "Another Year of Insanity.") During that year, LCH presented the Monteverdi Vespers, Bach's Mass in B-Minor, five Bach cantatas, Vivaldi's Four Seasons, and Haydn's Lord Nelson Mass.
Carl's contributions to LCH go far beyond the marvelous music performed to bless countless individuals as well as the congregation as a whole. Here are just a few of the statements of thanks at the time of his retirement:
The choir has been the most significant and constant activity of my adult life. Thank you for what you have enabled all of us to achieve together.
What a unique opportunity I was given to learn and perform so many incredible works with you at LCH. I thank God for that musical journey and for your dedication to provide the people of Hawaii with the opportunity to hear and experience truly great, inspiring works.
Singing in your choir has been one of the most rewarding experiences of my life. Thank you for sharing that gift.
What a grand blessing you have been to the Lutheran Church of Honolulu community during your lifetime of ministry with us. You have generously shared not only your splendid musical gifts, but equally your devotion to Christ and His Church, your leadership on the church council, your artistic gifts of composition, choral directing, chamber music conducting, your profound sense of what is appropriate in worship, your parament designs, and the years of nurturing the Sunday evening Compline service. I have memories of you early Sunday morning, climbing through the von Beckerath encouraging the reeds to get their act together. Your musical squibs, seasonal liturgies, and bulletins are a scholarly blessing to all who are willing to follow their lead. Add to that your culinary talents and your willingness to share your musical gifts with the wider community and you will understand our deep sense of gratitude and loss at your retirement.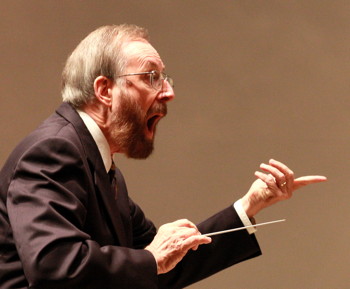 Cantor Carl Crosier conducting Bach's B-minor Mass in May 2011.
Much more about Carl Crosier's final year at LCH can be found in the the blog Another Year of Insanity maintained by Kathy Crosier, LCH organist (and not incidentally Carl's wife). Of particular interest is the posting about the festive retirement worship service on August 21, 2011, which included music from the LCH Choir, the 8:00 O'Clock Ensemble, the Compline Choir, and the F.R.O.G.S. Choir and Orchestra. However, there are many other posts about Carl's tenure at LCH.
Recent events (since March 2006) from the musical life of LCH are documented on this Congregational Life pages of this website. In recent years, additional photos from these events have been posted on the LCH Facebook page.
Repertoire for LCH music since July 2006 is available in the Music section.
Everyone at the Lutheran Church of Honolulu expresses sincere appreciation and profound gratitude to Carl Crosier for his dedicated service to God and this church.
Soli deo gloria.
---

Copyright © 2012 Lutheran Church of Honolulu
1730 Punahou Street, Honolulu, HI 96822 • 808-941-2566
Comments welcome at webmaster@lchwelcome.org