December 26, 2004 (Christmas I)—Children's Christmas Pagent
On this first Sunday in the Christmas season, the children of LCH presented their musical Christmas pagent, "Circle the World with Love!"
The F.R.O.G.S. (Families Revering Our God in Song) Chorus and our teens sing about the "Power in the Children."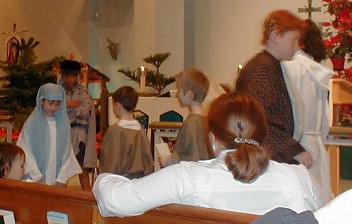 In response to the emperor's decree, the tax collector sings "Line 'em up!" and collects taxes from Mary and Joseph, who have journeyed to Bethlehem.
While in Bethlehem, Mary and Joseph are sheltered in the stable with the animals. The lizard and lamb sing "This is our barn."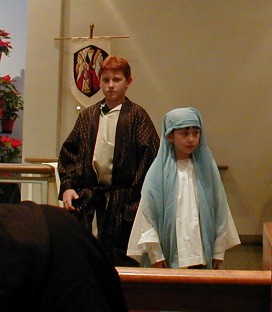 And Mary brings forth her first-born son, wraps him in swaddling cloths, and lays him in the manger.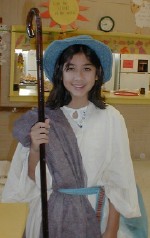 The shepherds in the fields, watching over their flocks, hear the angel say, "To you is born this day as Savior, who is is Christ the Lord." Hearing the angel, the Shepherdess invites all to "Walk with us to Bethlehem."
The three magi follow "This Star" to the stable.
In response to God's great gift of Jesus, all join to sing "Circle the World with Love!"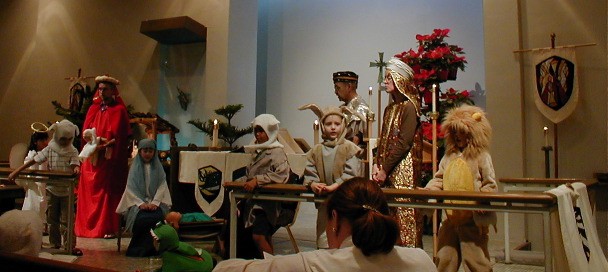 As a part of worship, out children also offered gifts of music.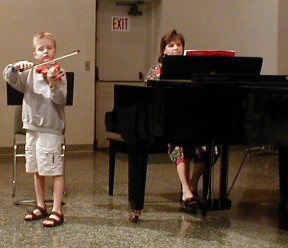 At the Offertory, our young violinist plays "Infant Waltz."
Joey F. shown here with his teacher, Katherine Crosier, played the closing voluntary.
---

Copyright © 2004 Lutheran Church of Honolulu
Comments welcome at webmaster@lchwelcome.org