April 24, 2005 (Easter II/Earth Sunday)
On Earth Day, three members of the congregation give parts of the sermon. Each focused on a different aspect of the theme of the day--"water." Steve Miller spoke about water usage in South India, Joe Zuiker talked about water a project he worked on as a Peace Corps volunteer, and Jonathan Sheuer discussed water usage in Hawai'i. Unfortunately, only we are only able to provide a summary of Dr. Miller's presentation.
Steve Miller gave the children's sermon.
In the children's sermon, Dr. Miller began by saying that each of us needs water every day, yet we throw it away. The water goes back into the natural storage areas of lakes and rivers and underground, and then it comes back to us. In some way this is like love and friendship. We need these every day. We can get love and riendship best by giving them away; then they come back to us.
Steve Miller began the adult sermon with a discussion of the history of water usage in South India.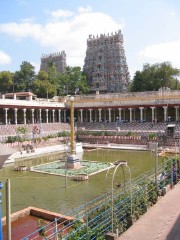 Traditionally in South India, water was allowed to be reabsorbed into the ground by leaving it in temple pools, such as this one pictured at the right. As a result, the water table was high, and there was enough water that people could get it with simple bucket wells.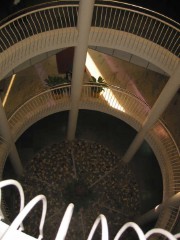 Some people even lived underground around a large well. A similar approach is sometimes taken today, as shown in the picture on the left of a modern building built around a "well."
Then, with the use of "modern" drainage, much of the water was piped to the sea and the water tables fell. Now, people in South India are again letting water be reabsorbed in the ground by restoring temple pools, as shown in this picture on the right.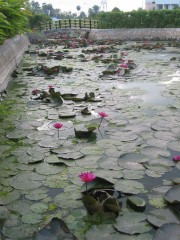 In addition, formal water reclamation plants are providing re-usable water, so there is enough water left over to replenish the ground water and make wet rice farms, lily ponds (left), and ornamental pools for meditation (below).
---

Copyright © 2005 Steven Miller and Lutheran Church of Honolulu
Comments welcome at webmaster@lchwelcome.org