Children's Sabbath (October 14, 2007)
Music before worship was provided by several children of the congregation.
At right, a girl plays J.S. Bach's "Minuet II."



Three of the children performed Shinichi Suzuki's "Perpetual Motion."



One brother performed "Bourrée" by Jean Baptiste Lully.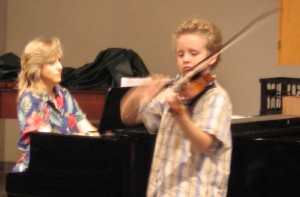 The other brother offered Bach's "Bourrée."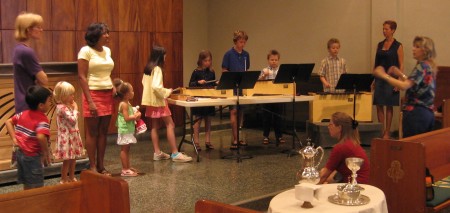 The F.R.O.G.S. (Families Revering Our God in Song) Choir provided both the Gospel Acclamation ("Come into God's presence," a Russian folk song) and a gift of music ("Kum B Yah") before the sermon.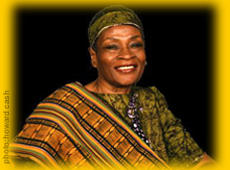 Our preacher was Thelma Ruffin Thomas, a storyteller from New York City, who illustrated the theme of gratitude found in the Gospel lesson of Jesus healing ten lepers. In addition to her stories—some new, some familiar, and some from her own life experience, Thelma involved the congregation in singing during the sermon time. Listen to this sermon (because of technical problems, the sound quality of this week's sermon is poor).
More about Thelma Ruffin Thomas and her storytelling can be found on her website: <http://www.thelmasplace.com>.





Young organist Joey F., a pupil of Kathy Crosier who has played frequently at LCH in the past, provided much of the organ music for the service. Joey played for the hymns and during communion.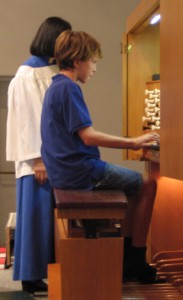 The service concluded with the closing voluntary by Jordan M., another of Kathy's students, who offered "Galéries anciens" by Dennis Janzer.
---

Copyright © 2007 Lutheran Church of Honolulu
Comments welcome at webmaster@lchwelcome.org