Hawai'i Wounded Warriors Program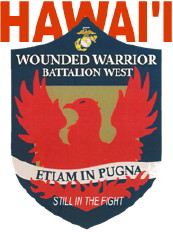 The Hawai'i Wounded Warrior Program assists Marines who have been injured in combat or are seriously ill with the sudden transitions they face physically, mentally, and professionally.
Dad lost his voice box among other injuries. At night, his son hugs his neck, closely inclining his ear to hear Dad whisper bedtime stories.
Who We Are
A wide range of injuries requires a wide range of services, including surgery, therapy, training and education. These Marines and Sailors and their families come to our beautiful islands during a very stressful time, facing new challenges and an uncertain future. While working hard to recover and rehabilitate, much of their time is spent on base involved in the extensive services provided there. Volunteers provide the link to our community by organizing social events, finding career internships, and introducing the program to local businesses and organizations.
Still in the Fight
Getting out in the fresh air and sunshine, despite their injuries, is a great way for our Wounded Warriors to experience Hawai'i and have fun!
Our Marines get to have some much needed relaxation either in the water or riding along in the boat. Activities like this allow our Wounded Warriors to refresh their spirits and provide a special place for families and friend to celebrate life. Your support helps fund group trips to see the islands from land, sea and air. If you or someone you know can help sponsor a trip, please contact Chaplain Steve Jensen.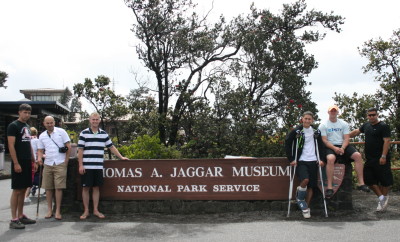 A group of Wounded Warriors visit Hawai'i Volcanoes National Park. Quarterly trips to the Big Island and Kaua'i for warriors with most severe PTSD allows them to unwind and discover the treasures of Hawai'i.
What You Can Do
You can help our Wounded Warriors add relaxation and enjoyment to their list of experiences here in Hawai'i. It's all about connections and opportunities!
Supporting our program helps connect Wounded Warriors and their family to the community by providing opportunities for them to meet people and explore the splendor of our islands outside the barracks. The Hawai'i Wounded Warriors Program connects local community groups and organizations with opportunities to serve and support these men and women and allows local businesses to show their appreciation by providing their services.
Get Us There—We'll do the Rest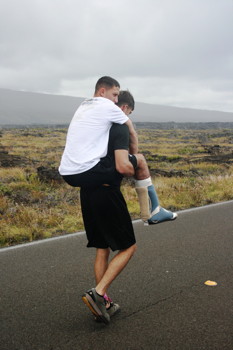 After 12 surgeries to remove shrapnel, this warrior tires with his crutches and a fellow Marine carries him
Whether hiking, sailing, or golfing, these special men and women find ways to make it work. Getting away from the base is as therapeutic as the services on base. Socializing often helps open up people struggling with Post Traumatic Stress Disorder (PTSD), and group trips provide a safe place to begin reaching out again. If you, your organization, or your company would like to donate funds or services, these Marines and Sailors are ready to go no matter how rigorous. Their abilities determine which outings they go on—not their disability—so don't hesitate to offer a group trip. Contact Chaplain Steve Jensen to learn more about how you might be able to assist our Wounded Warriors.
Occasionally restaurants treat a group of Wounded Warriors to a meal.
The Way to a Marine's Heart
Let's face it, Hawai'i's 'ono grinds are unbeatable. Going to restaurants is definitely a fantastic treat for our Wounded Warriors, and local restaurants often generously donate meals at their facility. However, on long therapy days, just relaxing at the barracks on base is preferred, so having a home-cooked or catered meal is the best of both worlds. We coordinate with churches, community groups, and restaurants to bring delicious meals to the barracks, even grilling with the Marines and Sailors. If you, your organization, or your business would like to provide meals, please contact Chaplain Steve Jensen to get the details.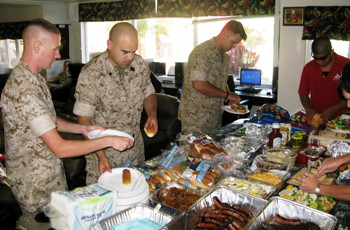 St. John Lutheran in Kailua, the LCH, and other organizations cook BBQ meals each month at the Wounded Warrior barracks.
A group of Wounded Warriors head out on a snorkeling tour.
Offer Your Aloha and Support
Not all Wounded Warriors are male, and not all have been injured by Improvised Explosive Devices (IEDs); some are laid low by cancer and other diseases. As you can imagine, being infirm and away from home can be a lonely time, and our program brings people together. Friendships, mentorships, and other types of support from the community mean a great deal to these Wounded Warriors. Getting involved is a great way to meet these extraordinary people and open their eyes to the possibilities all around them right here in Hawai'i.
Charitable Needs Opportunities

Local community groups and individuals can help our Marines enjoy their time here, learn new skills, and explore career fields by offering their time, resources, and monetary support to our program.

Instruction

Academic Tutors
Weekly cooking class instructor
Guitar instructor
Kite surfing/standup paddling lessons

Recreation

Deep Sea Fishing
Kualoa Ranch events
Sailing
Sea Life Park, Wet & Wild, Polynesian Culture Center, etc.
Dinner cruises and Helicopter Tours
Neighbor island trips
Movie tickets

Gifts and Gift Certificates

Taxi Vouchers
Restaurant Gift Cards
Prepaid Phones
Frequent Flyer Miles
Commissary/MCX/NEX Gift Cards
Build Storage Facility for Recreation Items

Services

Golf Cart Maintenance and Repair of Current Cart
Landscape Maintenance
Interisland Air Tickets for PTSD Groups
Suits for Interviews
Provide Dinners at Barracks (groups/restaurants)
Babysitting

Internships

Law and Law enforcement
Homeland Security
Fire Department
Search and Rescue
Nursing and EMT
Music Production

Volunteer Your Time and Talents

Contact Chaplain Steve Jensen by email at <kaneohesj@aol.com>

Contribute to the Hawai'i Wounded Warriors Program

The Lutheran Church of Honolulu is a certified 501(c)(3) non-profit organization, and your donation is tax deductible as allowed by law. At the end of the current calendar year, a statement for tax purposes will be sent to the address provided when you make your donation.

If you have problems or questions about making a donation via PayPal or a donation that you have made, please contact LCH's financial secretary.
---

Copyright © 2013 Lutheran Church of Honolulu
1730 Punahou Street, Honolulu, HI 96822 • 808-941-2566
Comments welcome at webmaster@lchwelcome.org