Arts and Faith Sunday 2006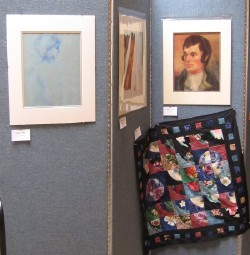 LCH's Annual Arts and Faith Sunday is an opportunity to celebrate the role of the arts in shaping, expressing, and enriching our faith. This celebration on Sunday, February 19, included special music, poetry, drama, displays of visual arts, and even a PowerPoint presentation as we explored the theme "arts and faith."
Over twenty members and friends shared their visual creative work through displays that filled the courtyard, the choir performed special music, and Intern Pastor Josh preached on the creative spirit that fills us because we are made in the image of our creative God. Everyone enjoyed the range of artistic expression—including drawings, paintings, woodwork, photography, and many craft media—selected samples of which are shown on this page.
To the right are "Nude in Blue," a pastel by David Hormann; "Robert Burns," a pastel by Judie Boutá; and an untitled fabric piece by Linda Mizuno.
To the left are "Wahine Nani," a wood sculpture by Irmgard Hörman; an untitled work in gouache and colored pencil by Kathryn Klingebiel; "Sail's End at Lanikai" and "La Pietra," two pastels by Judy Boutá; "Bamboo Sunset," in charcoal by Ray Herradura; "Yellow House, Berkeley, California," an oil on canvas by Kelly Sueda; and a lei, also by Ray Herradura.
To the right, are "Balance" by Ray Herradura; "Monkey Business," a work in clay by Dot Hutchins; and "Snow Storm of 1972, Beatrice, Nebraska," a painting by Arlene Buss. Also show are small items by Sophie C. and Nathalie J. and several watercolors by Randy Castello.
Below and to the left are "Year of the Tiger," a painting in tempera by Carol Langner; "Hawaiian Santa," "Shop 'Till You Drop," two needlepoint stockings, and a traditional Japanese silk embroidery, all by Linda Mizuno; and two pieces by Fritz Fritschel, "Illuminated Hymnal Page" in colored pencil and ink on paper and "Sophia" in charcoal.
Below and to the right are three works by children at LCH: "Polar Bear" by Lillie Jones; "Island of Sodor" by Max W.; and "Black Hole" by Reid W.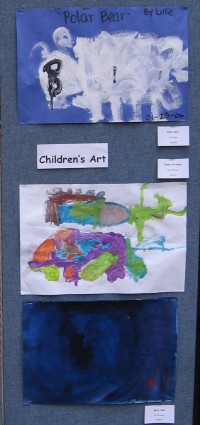 LCH Writers Workshop members shared their work in prose and poetry by posting on the bulletin board. The display included contributions by Peggy Anderson, Arlene Buss, Fritz Fritschel, Jean-Paul Klingebiel, Kathryn Klingebiel, and Gerda M. Turner.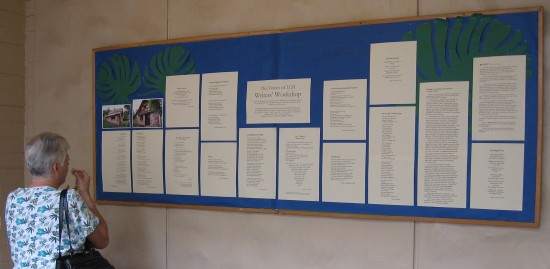 The great variety of needle crafts included felt puppets, rag rug, yarn and ribbon lei, knitting, needlepoint, and quilting (artists: Peggy Anderson, Ray Herradura, Linda Miller, Stephanie Miller, Linda Mizuno, and Biz Person).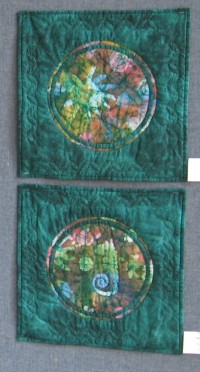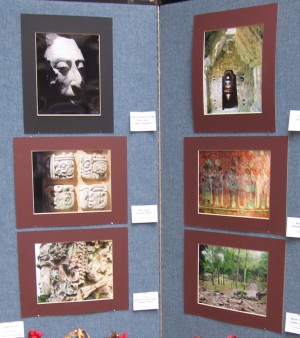 Steve Miller showed a number of his photographs from Mexico and Central America.

Kathy Crosier and Emily Okikawa displayed examples of the scrapbooking.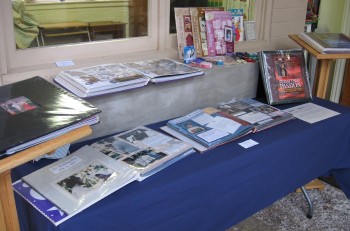 The morning ended with a dramatic reading of a short story by Frances Vigliemo.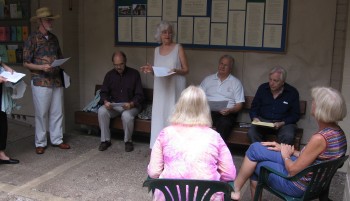 ---

Copyright © 2006 Lutheran Church of Honolulu
Comments welcome at webmaster@lchwelcome.org