Celebration of the Ministry of the Reverend Fritz Fritschel
Sunday, August 22, 2004
An overflow congregation gathered on Sunday, August 22, to celebrate the ministry of the Rev. Fritz Fritschel, assisting pastor of the Lutheran Church of Honolulu since September 1990.



The worship service was filled with joyous music, beginning with a flute sonata...



Moving to the F.R.O.G.S. choir sing and playing instruments...



And including all three adult choirs: the 8:00 O'Clock Ensemble,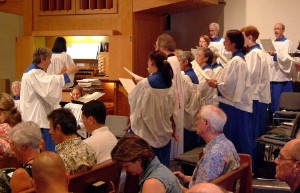 the LCH Choir,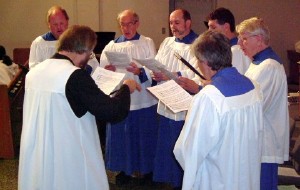 and the Compline Choir.
Fritz engaged the children of the congregation in conversation...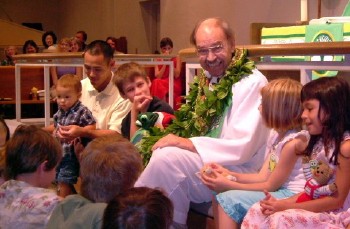 and preached a sermon that described the growth and development of his own theology.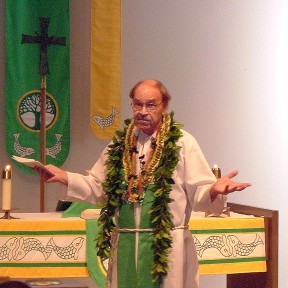 Towards the end of worship, Pastor David Barber led "A Litany of Retirement," releasing Fritz and the assembly from the relationship of pastor and congregation.



Following worship, everyone moved to the courtyard for more celebration. There were displays of frogs and a grand pot-luck...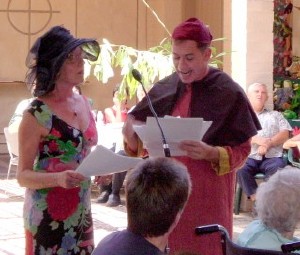 A visit from Martin Luther...



And a delegation of frogs.
Throughout the morning, members and friends filled a book of remembrances for Fritz.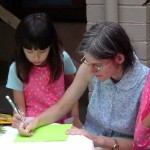 There was a delicious cake...



And Pastor Fritz was presented with a number a gifts, include "bobble-head" dolls of Kate and Martin Luther.
Mahalo, Pastor Fritz.
---

Copyright © 2004 Lutheran Church of Honolulu
Comments welcome at webmaster@lchwelcome.org