LCH Youth
LCH is committed to nurturing the youth of our congregation as they grow to young adulthood. The youth Sunday School class meets between worship services each Sunday morning. In addition, as part of our commitment to developing a sustainable youth program, LCH works together with other ELCA congregations on Oahu on confirmation and other events.
Christian Education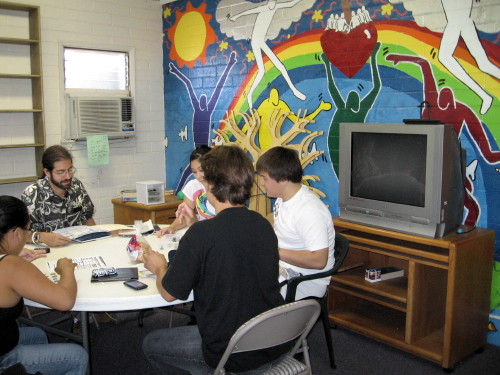 At the Lutheran Church of Honolulu, we take seriously the teaching ministry of Jesus for all ages but especially for the children and youth of our congregation. We know that the values and the life-style of faith, taught and modeled at a young age, will serve as a foundation for their entire lives.
Youth in grades nine through twelve gather in the Rainbow Room each Sunday at 9:15 AM for devotions, group discussions, and/or planning of events. Sean D'Evelyn is teacher for the group. New youth are always welcome.
Confirmation
LCH is again participating in the joint Hukilau confirmation program. The curriculum is entitled "Here We Stand" and is designed as a three-year program, so we are inviting sixth graders to join the class. The new material also has a web-based component that invites students to delve deeper into topics, connect with other confirmands, or to use interactive games and videos.
Given our small numbers and to provide continuity throughout the entire school year, LCH confirmands will combine with the class at Calvary by the Sea in Aina Haina for weekly training. These Wednesdays will begin with pizza or other fun food at 6:00 PM and finish by 8:00 PM.
One Sunday per month, we join with youth from around the island and meet at one of our ELCA churches for a joint activity.
Those youth who have completed confirmation are welcome to join us for a refresher and to participate as mentors. Parents and other adults are asked to assist with meals, leading small groups, and transportation.
Follow this link for a calendar of topics and locations for Hukilau Joint Confirmation 2011–12. 2010–11 Schedule 2006–07 Schedule
OYEA (Oahu Youth Education and Activities)
LCH is a founding member of OYEA (Oahu Youth Education & Activities), a youth ministry designed to positively impact the faith and lifestyles of youth on Oahu.  OYEA is dedicated to supporting our island youth by providing a variety of educational, spiritual and fellowship activities.

OYEA first began as a collaborative social network to serve the 7th–12th graders of seven Lutheran churches (ELCA) on Oahu.  The ministry also shares in fellowship with people of all faith.  OYEA is committed to providing opportunities for all of our island youth to grow and mature in their faith.

OYEA continues to evolve as we increasingly learn more about the challenges facing our young people.  In providing an encouraging hand and voice to the youth, we are committed to the lifelong faith and healthy living of our future leaders.

Everyone is welcome to participate in OYEA activities and events.

Find out more on the OYEA website, which includes information on upcoming events, a photo gallery, and more.

Follow this link for descriptions and pictures from OYEA Events 2006–07
---

Copyright © 2009 Lutheran Church of Honolulu
1730 Punahou Street, Honolulu, HI 96822 • 808-941-2566
Comments welcome at webmaster@lchwelcome.org