February 2010—In this Issue:
Index of other issues of The HeartBeat
The HeartBeat
A Message from Pastor Jeff

By now, many of us have been inundated with images, news, and reports from the tragic earthquake in Haiti. Even from thousands of miles away we are stunned by the scope and magnitude of this disaster. Recent reports estimate over 200,000 dead, over one million homeless, and almost total destruction of what little infrastructure there was before the quake. People are sleeping in the street for fear of aftershocks; children are hungry, thirsty, and losing hope in this battle against time. People around the world are responding quickly and generously with aid to the stricken region.
Celebrities like Wyclef Jean and John Travolta are getting a lot of press for their efforts to raise money. But behind the scenes and out of the news, Evangelical Lutheran Church in America members, congregations, and national office are raising money and providing direct aid to victims. According to John Brooks, ELCA communications director, over 1.2 million dollars have already been collected by the ELCA for relief efforts. It is expected that aid directed through ELCA offices will easily top 2 million dollars. Individuals in the ELCA communion are undoubtedly continuing to support through the Red Cross and other organizations along with donations through ELCA efforts. Thrivent Financial for Lutherans and other pan-Lutheran organizations are contributing huge amounts of money and other assistance in response to the disaster.
Lutheran Services Florida received a large grant from the ELCA to provide placement services for Haitians being airlifted to the US following the disaster. In the next ten days, as many as 30,000 Haitians will enter the US through Florida, needing assistance to resettle. Your church and your church's people will be there to help.
Lutherans are on the ground in Haiti as well. Several members of a group doing mission work in Haiti prior to the earthquake found themselves in need of help. On return to the US, they reported being amazed at the faith and resiliency of the Haitians they encountered. The Rev. Cheryl F. Meinschein, a mission trip participant, said of the Haitians she encountered after the quake, "Their faith is so much closer to the surface than our faith as North American Lutherans. We tend to keep it more private. We don't verbalize it like they do. These folks were praising God and singing, a wonderful strong faith that was right out there."
These are just a few ways your church is reaching out to help the people of Haiti. Lutheran relief groups are also taking the lead in other area of relief.
Worship is the public face most people associate with church, and certainly Lutherans are a church in worship. But we are always a church at work—at work in the world and for the world. But most of all, we are a church at work in love.
Pastor Jeff Lilley
pr.jeff@lchwelcome.org
Many thanks to the ELCA News service for the news stories used to write this article.
Haiti—How can you help?
Lift up the people of Haiti, relief workers and organizations, and donors in your prayers.
Donate money through the ELCA or other organization. ELCA donations may be made online at <www.elca.org/haitiearthquake>.
Contribute via the LCH Calabash each Sunday.
Connecting With the Sacred
Adult Sunday School, which meets each Sunday at 9:15 AM in the Boardroom, has been exploring different ways to connect with the sacred.
Each of us has a preferred way of interacting, and through this class you may discover a new way to put more meaning in your life!
The class is led by Steve Miller, and everyone—of any age—is welcome to join in.
| Date | Topic |
| --- | --- |
| Jan. 17 | When do you feel most connected? |
| Jan. 24 | Physically: posture, gesture, hearing, seeing? |
| Jan. 31 | Hands: by work? |
| Feb. 7 | Heart: by devotion? |
| Feb.14 | Head: by understanding? |
| Feb.21 | Grace: by realization? |
Angel Network—Gather in Giving!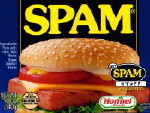 The December in-gathering for the Angel Network was satisfying. A shopping cart with saimin, canned goods, Spam, and personal care items was collected for the Angel Network located at Calvary by the Sea Lutheran Church. Thank you for all your support. In-gatherings are scheduled for the first Sunday of each month, so your next opportunity to participate is February 7th.
Leadership Roundtable
Sunday, February 7th, at 11:15 AM, following the 10:30 service, the chairperson or another representative of each committee will meet in the Boardroom with Pastor Jeff and Council President Olivia Castro. This meeting, repeated the first Sunday of every month, is to enhance communications among committees. See you there!
Please Join Us in Celebrating the 20th Anniversary of Pastor Jeff's Ordination!
Saturday, February 13th, at LCH
Gathering at 5:30 PM. Catered Dinner served at 6:00 PM.
Tickets ($10; children 12 and under free) will be available Sundays at church or by phone at 941-2566. Tickets are required for everyone in order to have an accurate count for the caterer and must be purchased no later than February 7th.
Well wishes are welcome by mail or by email to the Church Office. Calabash at the event in honor of Pastor Jeff to benefit Life Foundation.

Planned Giving
The past year has shown once again what a wonderful group of people we have here at LCH. While it was commonly assumed that most non-profits would be lucky to end up in the black, through the generosity of our members and friends, we were able to end up with a small surplus that can be applied to future activities.
Most of us at LCH give in response to God's love and out of our commitment to the ministry of our congregation. We look at our own personal budgets and decide on our pledge or a weekly/monthly contribution. However, some individuals find an approach called "planned giving" to organize their stewardship.
Depending on your personal financial situation, you may wish to consider one of these possibilities:
If you have a year with large income and high tax rates, you can give one or two year's of donations at once in a high tax year and get a large-enough tax deduction to lower your tax bracket. This ends up being cheaper for you in the long run, and it gets income to the church sooner!
There are also several ways for you to get income during your lifetime, get an immediate tax deduction, and leave a gift to the church after your death. These plans typically involve designating a certain amount of money, real estate, or other asset to the church. This way you can put an asset to work for you, without the taxes that come from selling it. You also get an immediate tax deduction for designating it to the church. The church and a financial institution guarantee you a yearly percentage payment as long as you live. After your death, the remaining value goes to the church. The church eventually gets a bequest; you save taxes and get a guaranteed income.
These plans go by different names (charitable remainder trusts, life income annuities, and so on) and can be set up to benefit the general needs of the church or a favorite program, such as social ministry, music ministry, Christian education, and so on. Your financial advisor or attorney, working with the church and another financial institution, can guide you through the process
If you would like to discuss these possibilities, you are welcome to contact Pastor Jeff or to talk with me.
Steve Miller
Treasurer
Committee/Interest Group Chairs
Committee/Group
Leader
Aloha Jam:
Pastor Jeff Lilley
Archives:
James Cartwright
Audit:
Shannon Liston
Compline:
Keane Ishii
Concert:
Carl Crosier
Communications:
Carol Langner
Council:
Olivia Castro
Fellowship:
Jeanette Hanson
Finance:
Steve Miller
Food for Thought:
Kathryn Klingebiel
Garden Club:
Carol Langner
In Stitches:
Linda Miller
Learning Ministry:
Fred Benco
Mary Magdalene Society:
Francisco Barajas
& Robert Zimmer
Ministry Plan Task Force:
Jim Niermann
Mutual Ministry/Transition:
April Smith
Pau Hana:
Pastor Jeff Lilley
Pre-Compline:
Fritz Fritschel
Process Theology:
Fritz Fritschel
Property:
Jean-Paul Klingebiel
Scholarship:
Fred Benco
Social Ministry:
Ray Herradura
& Robert Zimmer
Stewardship:
Pam Buckley
& Jeanne Castello
Sunday School:
Laurie Leach
& Linda Miller
Worship & Music:
Linda Miller
Writers' Workshop:
Kathryn Klingebiel
Youth:
Sean D'Evelyn
& Crescent C.
Sixth Annual Faith and Arts Sunday
On February 14th, we will have the sixth annual Faith and Arts Sunday, where we will highlight the creativity of our congregation by displaying our artwork, handwork, and writings during the services. Please allow us to show your art or craft item during that day, or to put your poem or short work of prose up on the board.
What we need:
As soon as possible—Your commitment to have an item in the show (sign up in the courtyard or contact Linda Miller).
By February 7th—Detailed information on the item so we can make a label. If you wish to type a longer explanation to be displayed with your item, please do so and give it to us when you give us the item.
By February 11th—The item(s), which will be kept in a safe place until it is put up on the 13th.
Thank you for sharing with us.
You are Invited to Join Us to Plan Our Future at LCH
What is God calling us to in our ministry at LCH? You are asked to prayerfully consider attending the LCH Council Retreat to address that question. Please set aside Saturday February 27th, 2010, from 10:00 AM to 2:00 PM to participate in planning the goals for our ministry at LCH. Our work that day will build on all the feedback received from you over the past several years in our 'Ohana Gatherings, Enrichment Sessions, and Ministry Planning meetings.
In the coming weeks, look for a poster that models our aspirations over-layed on the Sustainability Model and the LCH Mission Statement (yes, this will be explained at the planning retreat). By the end of our planning meeting we will have established goals and the activities to accomplish them that are synergistic with the model, our mission, and our aspirations.
Notify Kanani at the church office if you will attend so that we can get a head count to plan for refreshments and lunch. If you are unable to attend, yet want to provide some input or have some questions, contact Olivia Castro.
I am looking forward to your participation.
Aloha in Christ,
Olivia Castro
Council President
Yeah, More Baptisms

In Stitches can use help embroidering baptismal wipes since we are having so many new little members joining the church.
We are the craft group of LCH and we meet every second and fourth Saturday of the month from 9 to 11 in the Boardroom. Come to learn how to embroider the simple wipes we give out at each of our baptism, or just come for the fellowship and work on your own project.
Calling all Punahou Carnival Parking Volunteers!
February 5th & 6th
Each year the youth group requests your help with their Punahou Carnival Parking fundraiser. This year the carnival begins on Friday, February 5th, and ends on Saturday, February 6th, 2010.
We need up to six adult volunteers for each of the following shifts on both Friday and Saturday:
| | |
| --- | --- |
| 9:30 AM–12:30 PM | 6:00 PM–9:00 PM |
| 12:30 PM–3:30 PM | 9:00 PM–11:30 PM |
| 3:00 PM–6:00 PM | |
Sign up in the Hörmann Courtyard on Sunday or e-mail Jerelyn Watanabe with any questions.
Here are a few reminders to both youth and adult volunteers who have volunteered to work a shift.
Please arrive 15 minutes before your designated shift and check-in with a coordinator in the Boardroom. This will allow enough time to set up the parking lots at the start of the day, as well as allow you to relieve the previous shift worker promptly.
If you'll be parking your car, please pay the parking fee asked of you in order to eliminate any confusion of your identity as a volunteer—you'll be reimbursed.
Wear and bring appropriate clothing to protect yourself from the elements: Sunscreen, hats, rain gear (ponchos, umbrellas), jackets (especially for the shift starting @ 3:00 PM and throughout the night).
Light snacks and beverages will be available throughout the weekend. If you work two or more consecutive shifts, a meal will be provided.
Thank you!
Pam Buckley, Jean Lilley & Jerelyn Watanabe
OYEA Entertainment: Valentine's Day
Oahu Youth Education and Activities (OYEA) will wish the residents of Pohai Nani, the Good Samaritan Retirement Facility in Kaneohe, a Happy Valentines Day on February 14th. We will meet at the retirement center at 2:45 PM.
OYEA will present a puppet show courtesy of the Puppet Ministry at Christ Lutheran Mililani and share whatever talents each congregation's youth group might bring to entertain our friends. The Youth Council will bake cookies at their retreat the day before and bring them for distribution to the residents. Youth groups are encouraged to make cards for the residents and bring them for distribution that day.
Contact Pr. Jeff Lilley at <pr.jeff@lchwelcome.org> for more information about this event.
Early Music Hawaii Festival at St. Andrew's Cathedral
February 5th & 6th
Early Music Hawaii will host the first Early Music Winter Festival at Saint Andrew's Cathedral in Honolulu on February 5th and 6th. Leading artists from the US and Japan will give two concerts and lead master-classes and workshops for local enthusiasts on recorder-playing and techniques for Baroque continuo performance on the harpsichord and viola da gamba. Saint Andrew's Music Director, John Renke, will lead a vocal drop-in class on the subtleties of Renaissance singing, followed by a choral concert in the Cathedral sanctuary.
Japan's leading recorder-player and recording artist, Mutsuyuki Motomura, will be joined by Phebe Craig, acclaimed harpsichordist and teacher at the University of California in Davis, and by Mary Springfels, a leading American performer and specialist in Baroque continuo techniques on the viola da gamba. The introductory concert in the Cathedral, at 7:30 PM on Friday February 5th, will feature music by Bach, Marais, and Abel for viola da gamba and harpsichord. On Saturday February 6th, at 5:30 PM, the visiting artists will be joined by Hawaii's Philip Gottling, a specialist in multiple early wind instruments, in a concert featuring music for recorders, baroque bassoon and continuo by Vivaldi, Corrette, Boismortier, and Purcell. Admission $20, students $10.
The guest performers will also lead master-classes and workshops in Baroque and Renaissance performance on Saturday, February 6th, between 9:00 AM and 4:00 PM.
The fee for each class is $10. For the full Festival schedule, early registration forms and biographies of the artists, visit www.earlymusichawaii.com.
Writers' Workshop
Writers' Workshop will meet next on Monday, February 22nd, 7:00–8:30 PM in the Boardroom (or the Rainbow Room) at LCH. We'll be setting our spring schedule at that meeting. All are welcome. For information, please contact Kathryn Klingebiel through the Church Office (941-2566).
Process Thought Forum

The Process Forum for February will focus on the article "Revolutionary Nonviolence: Doing Justice in Our Time" by Douglas Sturm. The article is not online but hard copies will be available at the church or from Fritz. We have lively discussions, and newcomers are very welcome. Join us on Saturday, February 13, 9:30–11:00 AM or for the repeat session on Sunday around noon. Both sessions in the Rainbow Room. For more information talk to Fritz.
The Aloha Team Needs You!
Help welcome visitors to our worship services with your smiling faces! Our Aloha Team greets visitors and members, presents lei to our visitors, answers questions, and—most of all—embodies our mission of "welcoming to all."
Speak to Peggy Anderson, April Smith, Jeanne Castello, Olivia Castro, or Pastor Jeff if you have any questions about this ministry.
Food for Thought
Food for Thought will meet next on Saturday, February 27th, at 6:00 PM at the home of Irmgard Hörmann, for potluck supper and discussion. All are welcome. For information, please contact Kathryn Klingebiel through the Church Office (941-2566).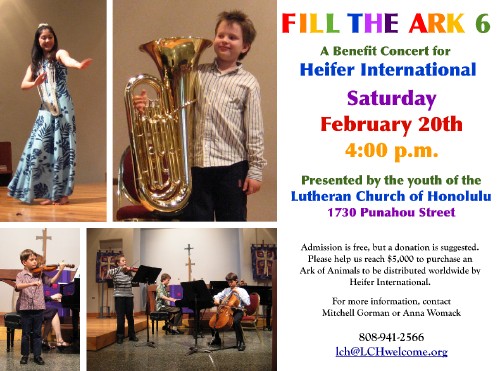 What's New on the LCH Website?
Bill Potter, Webmaster

January 3, KHPR aired a very interesting episode of "Business of the Arts" in which Michael Kaiser, president of the Kennedy Center in Washington, spoke about sustaining and marketing the arts. (Available on the KHPR website.) One of the most fascinating parts for me was his discussion of marketing the arts, particularly using new electronic media. Much of what he said applies to how we get the word out about LCH and all that we do here.
Our traditional strategies (newspaper ads, direct mail, posters, and telephone directories) are becoming more and more expensive while delivering fewer and fewer people to our doors. On the other hand, many forms of electronic marketing cost far less. The problem is figuring out how to make them work for us.
We recently took a first step towards making more use of Facebook to reach out to the larger community. Ray Herradura, Roy Helms, Rusty Walker, and I met to develop our strategy (with the help of some excellent written guidance from Mary Fastenau). We all agreed that Facebook can complement our current outreach via the website and connect with folks who might not otherwise hear about LCH. The group developed a four-step plan for using Facebook:
Increase the number of fans for our current LCH Facebook page. In addition to personal contacts and Pastor Jeff's E-News, Rusty and Ray will be available in the courtyard between services beginning February 7 to help Facebook members who don't know how to become a fan of the LCH page and guide others through the sign-up process.
Recruit volunteers to help with the Facebook page. Our core group will compile a list of LCHers who are already on Facebook so we can recruit about a dozen people to help turn our LCH page into an active Facebook community. This way, each person will be able to contribute to the larger effort with just a few hours a month.
Ensure that our LCH page has a wide variety of new content. We will ask each individual to take on a small part of this job. For example:

Someone might commit to making at least one post every Monday, so with seven volunteers, there will be something new every day. These posts could include celebrations of our members' achievements in the community, links to items of interest (ELCA efforts in Haiti), or comments on current events that reflect the LCH take on the world (fair trade chocolate for Valentine's Day).
Someone else may be asked to take a couple hours in the middle of the month to set up Facebook events for the next month so that others can use those events to invite Facebook friends to LCH.
Two or three photographers might commit to taking candid photographs of events at LCH and posting them to Facebook on a regular basis.

Help the rest of the congregation become comfortable using Facebook for evangelism. Once the page becomes active, we will provide hands-on training for anyone in the congregation who wants to know how to use this tool.
We welcome any suggestions you might have for improving this plan, and we welcome anyone who would like to step forward and volunteer for any of the tasks described above.
St. John's Women's Retreat
St. John Lutheran Church invites you to our Women's Retreat January 29–31, 2010, at St. Stephen's Diocesan Center on the Pali. The theme is "Connect/Reconnect with God," presented by Maxine Pollock.
"Connect/Reconnect" is about the Great Commandment: Remembering our first connection with the Lord and then allowing space within ourselves for reconnection at a deeper level, which ultimately affects all relationships. In other words: Love of God/Love of neighbor.
Maxine Pollock is a certified spiritual director and has more that 25 years in Christian ministry and spirituality. She received her training from Mercy Center in Burlingame, California.
After 20 years as Pastoral Associate at a large parish, Maxine developed her own ministry called the "Scrub Bucket Gospel Ministries." She leads retreats and seminars throughout the islands bringing the message of the Love of God to His people.
The cost is $189, which includes lodging and meals. (In addition, free-will donations for the speaker are encouraged.)
A limited number of scholarships are available based on financial need. To register or to apply for a scholarship, email <mckellars001@hawaii.rr.com> or mail a check made out to St. John Lutheran to 1004 Kailua Road, Kailua HI 96734. Put Women's Retreat on the envelope and on your check.
Attendance and Offerings for January
Date
Worship Service
Attendance
Offering Fund
Offering Amount
January 1
German Vespers
65
Offering
$1,116.00
January 3
8:00 AM Service
60
Offering
$2,345.25
10:30 AM Service
85
Sunday School Offering
$0.50
Compline
25
Learning Ministries
$5.00
Total
170
Facilities
$80.00
January 10
8:00 AM Service
59
Offering
$2,775.00
10:30 AM Service
89
Sunday School Offering
$1.00
Compline
22
Learning Ministries
$50.00
Total
170
Music—Instruments
$50.00
Angel Network
$50.00
January 17
8:00 AM Service
63
Offering
$4,242.00
10:30 AM Service
108
International Relief
$235.00
Compline
25
Social Ministries
$50.00
Total
196
ELCA World Hunger
$50.00
Music Fund
$20.00
January 24
8:00 AM Service
62
Offering
$2,566.00
10:30 AM Service
86
Sunday School Offering
$1.50
Compline
25
Music Fund
$100.00
Total
173
Anniversary Calabash
$25.00
Attendance and Offerings for Sunday, January 31, were not available at time of publication.
Prayer Requests
Carl
Karen
Shane
Gene
Kathy
Stan
Jeanette
Susan
February Birthdays
Date
Name
2/01
Dori Palcovich
2/01
Christina A.
2/02
Lynda Ikehara-Gibson
2/04
Robin Bush
2/07
Cheryl Crozier-Garcia
2/12
Carolyn Koehler
2/14
Raymond Herradura
2/16
Judie Bouta
216
Colin B.
2/17
Jaylene H.
2/19
Nan Wond
2/19
Ronald Murashige
2/21
Don Johnson
2/24
Teresa McCreary
2/27
Elijah Kaeo
2/28
Roy Helms
2/28
Noelani Nitz
LCH Worship Participants
LECTOR
Sean D'Evelyn
Juditha Murashige
April Smith
Bill Hamblet
COMMUNION
ASSISTANTS
Charlotte D'Evelyn
Michael Formby
Bobby Broyles
Stacey Bushman
Laurie Leach
Crescent C.
Ken Bauchle
Bobby Broyles
Bill Hamblet
Stacey Bushman
Peggy Anderson
Sean D'Evelyn
Jim Sullivan
Carolyn Koehler
Kyra Ann Takamiya
Laurie Leach
ACOLYTE
Allison B.
Sophie C.
Emily McIlvaine
Missy H.
LAYING ON
OF HANDS
John Bickel
USHER
Fred Benco
Fred Benco
Fred Benco
Fred Benco
LECTOR
Vicki Gorman
Peggy Brandt
Jimmy Castro
Jim Cartwright
Randy Castello
DEACON
Josie Bidgood
Sue Haas
Bob Zimmer
Mary Fastenau
Jeanne Castello
SUBDEACON
Mary Fastenau
Frank Haas
Sue Haas
Steve Jensen
Ray Herradura
COMMUNION
ASSISTANTS
Vicki Gorman
Randy Christensen
Bob Tellander
Peggy Anderson
Jim Sullivan
Bob Zimmer
Josie Bidgood
Josie Bidgood
Frank Haas
ACOLYTES
Neill G.
Mitchell G.
Savannah M.
Jordan M.
Seth Lilley
Ray Herradura
Nathalie J.
Reid W.
Bob Zimmer
Karyn Castro
LAYING ON
OF HANDS
Bob Zimmer
USHERS
Chuck Huxel
Francisco Barajas
Nan Wond
Chuck Huxel
Francisco Barajas
Nan Wond
Chuck Huxel
Francisco Barajas
Nan Wond
Chuck Huxel
Francisco Barajas
Nan Wond
Chuck Huxel
Francisco Barajas
Nan Wond
ALTAR
GUILD
Linda Mille
Nedra Walker
Lois Watanabe
Linda Mille
Nedra Walker
Lois Watanabe
Linda Mille
Nedra Walker
Lois Watanabe
Linda Mille
Nedra Walker
Lois Watanabe
Linda Mille
Nedra Walker
Lois Watanabe
Heart Beat Deadline
Next Heart Beat Deadline is Tuesday, February 16!
Heavenly Humor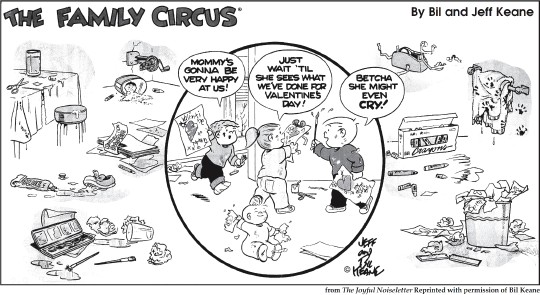 Calendar: February 2010
Day
Date
Event and Time
Wednesday
February 3
Confirmation, 6:00 PM
8:00 O'Clock Ensemble, 6:30 PM
Thursday
February 4
Book of Faith Bible Studies, 10:00 AM
Preschool Chapel, 10:30 AM
LCH Choir Rehearsal, 7:00 PM
Friday
February 5
Punahou Carnival
Saturday
February 6
Punahou Carnival
Sunday
February 7
Angel Network Ingathering
Holy Communion, 8:00 AM
Sunday School, 9:10 AM
Connecting with the Sacred, 9:15 AM
Choral Eucharist, 10:30 AM
Leadership Roundtable, 11:45 AM
Compline will not be sung this evening.
Monday
February 8
Aloha Jam, 6:00 PM
Tuesday
February 9
Worship & Music, 6:30 PM
Wednesday
February 10
Finance Committee, 12:30 PM
Confirmation, 6:00 PM
Thursday
February 11
Book of Faith Bible Studies, 10:00 AM
Preschool Chapel, 10:30 AM
LCH Choir Rehearsal, 7:00 PM
Saturday
February 13
In Stitches, 9:00 AM
Process Thought Forum, 9:30 AM
20th Anniversary Pastor Jeff's Ordination, 5:30 PM
Sunday
February 14
Faith and Arts Sunday
Holy Communion, 8:00 AM
Sunday School, 9:10 AM
Connecting with the Sacred, 9:15 AM
Choral Eucharist, 10:30 AM
Process Thought Forum (Rpt), 12:00 Noon
OYEA Valentine's Day Project, 4:00 PM
Pre-Compline Discussion, 8:30 PM
Compline, 9:00 PM
Monday
February 15
Council Committee Reports Due, 12:00 Noon
Tuesday
February 16
Heart Beat Deadline, 9:00 AM
Executive Meeting, 6:00 PM
Council Meeting, 6:30 PM
Wednesday
February 17
Ash Wednesday Liturgy, 7:30 PM
Thursday
February 18
Book of Faith Bible Studies, 10:00 AM
Preschool Chapel, 10:30 AM
LCH Choir Rehearsal, 7:00 PM
Friday
February 19
IHS Meal-Prepared, 1:00 PM
IHS Meal-Served, 5:30 PM
Saturday
February 20
Heifer Concert, 4:00 PM (Poster)
Sunday
February 21
Holy Communion, 8:00 AM
Sunday School, 9:10 AM
Connecting with the Sacred, 9:15 AM
Choral Eucharist, 10:30 AM
Social Ministry Meeting, 12:00 PM
Confirmation, 4:30 PM
Pre-Compline Discussion, 8:30 PM
Compline, 9:00 PM
Monday
February 22
Writers' Workshop, 7:00 PM
Tuesday
February 23
8:00 O'Clock Ensemble, 6:30 PM
Wednesday
February 24
Lenten Services Begin
Soup & Salad, 6:00 PM
Holden Evening Prayer, 7:00 PM
Bible Study, 7:30 PM
Thursday
February 25
Book of Faith Bible Studies, 10:00 AM
Preschool Chapel, 10:30 AM
LCH Choir Rehearsal, 7:00 PM
Friday
February 26
Downtown Lunch Bunch, 12:00 Noon
Saturday
February 27
In Stitches, 9:00 AM
Council Planning Retreat
Sunday
February 28
Holy Communion, 8:00 AM
Christian Education for All Ages, 9:10 AM
Choral Eucharist, 10:30 AM
Pre-Compline Discussion, 8:30 PM
Compline, 9:00 PM
---

Copyright © 2010 Lutheran Church of Honolulu
1730 Punahou Street, Honolulu, HI 96822 • 808-941-2566
Comments welcome at webmaster@lchwelcome.org