Congregational Life at LCH—July, August, and September 2007
Mmmmm, Meatloaf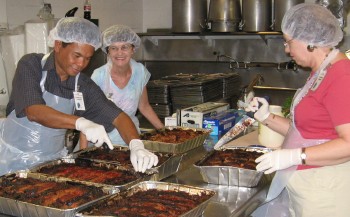 If it's the third Friday of the month, then the guests at IHS, the Institute for Human Services, Honolulu's homeless shelter, know that they have a treat in store for dinner—meatloaf. They always ask, "Is it real meat?" and the crew is happy give them a positive response.
At left, Rudy Riingen and Olivia Castro cut the pans of meatloaf as cook Bille Jean Ries looks on.
LCH serves dinner at IHS the third Friday of each month. Volunteers are welcomed to help with cooking at 1:00 PM or serving at 5:30 PM. Servers also get to share the meal (if it doesn't all get eaten by the guests).
Something for Everyone
Monday evening, September 17, was a busy night at LCH with "duelling" small-group activities. At right, musician gathered in the courtyard to enjoy the second Aloha Jam. A third jam is scheduled for September 24, when the group will decide on future jam sessions.

Below, members of the Writers' Workshop are shown discussing a member's writing. The group meets monthly to share poetry and prose. Future meetings are scheduled for October 15, November 12, and December 10. Follow this link to read examples of the group's work.

LCH Celebrates Another Baptism
Again on September 16, the congregation welcomed another member into our 'ohana through the rite of baptism. Olivia and Jimmy Castro were sponsors for the son of Sean and Charlotte D'Evelyn, born on August 15 in San Diego. Also participating were Sean's parents.
At right, Pastor Jeff Lilley with parents Sean and Charlotte D'Evelyn, sponsor Olivia Castro, grandparents Mark (holding the baby) and Diana D'Evelyn.
HVAE Honors Carol Arnold at Abendmusiken Concert
The 2007-08 series of Abendmusiken Concerts began with "I Have Had Singing," a memorial concert presented by the Hawai'i Vocal Arts Ensemble in memory of Carol Arnold, long-time member of the group. The program included Bach's Cantata 106, with Carl Crosier as guest conductor, Mozart's Litanie Laurentanae, and Brahms' Nänie.
The overflow crowd responded enthusiastically to the excellent performance. At right, chorus and orchestra perform the final chorus of the Bach cantata.
New Year of Process Thought Discussions Begins
Pastor Fritz Fritschel's series of conversations on process thought resumed with sessions on Saturday morning, September 8, and following second service on Sunday, September 9. The topic for the sessions—"Process and its Precursors"—covered theological, scientific, and philosophical strains from ancient Egypt through the early 20th century that shaped the process perspective. In the picture to the left, members of the Saturday morning group share their thoughts.
The Process Thought group will meet again on October 13 and 14, when the topic will be feminism and process thought.
Sunday School Rally Day Kicks off New School Year
On August 19, when we resumed our fall schedule of two morning worship services, parents and children gathered around the table table festooned with balloons to register for the new year of LCH Sunday School (right). Then everyone headed for Isenberg Hall to meet their teachers. After music time, the different age groups dispersed to their individual classrooms.
The Sunday School program provides age-appropriate music and Christian education for children from three years through high school. Parents and guardians are encouraged to register all children for Sunday School, even if they only come to church occasionally.
Watch the Children and Youth pages for more information about the Sunday School curriculum.
Baby Sueda Baptized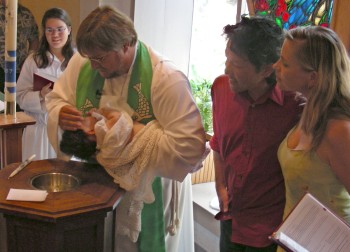 On Sunday, August 26, LCH welcomed the daughter of Kelly and Alexandra Sueda into church family through the rite of baptism. The baby, who was born on March 29, 2007, in Honolulu, is the granddaughter of Stephen and Linda Miller and the niece of Stephanie Miller.
At right, the parents look on as Pastor Jeff Lilley baptizes their daughter.
Intro to the Blues Wraps up "Summer Sundays"
Pastor Jeff Lilley and Seth brought out "Summer Sundays" series of intergenerational events to a close with their introduction to the blues. Pastor Jeff began with a simple explanation, and then the group got down to making music. Several from the congregation had brought their instruments, and others enjoyed the music (and joined in with the singing). At the end, everyone agreed that "we should do this again," so watch for announcement of future sessions.
At left, we can see the range of instruments—including violin and steel drum— that joined the fun.
The fall schedule of two morning worship services at 8:00 and 10:30 AM resumes on August 19.
"Summer Sundays" Continue with Wet-on-Wet Watercolors
"Summer Sundays," our series of intergenerational activities, continued on August 5 with wet-on-wet watercolor painting under the leadership of Randy Castello. The painters got a jump on fall with pictures of pumpkins done with only the primary colors of red, yellow, and blue.
At right, we can see the orange pumpkins beginning to appear as Anna Womack and her son apply yellow paint against the red background.
The series concludes on August 12 with an introduction to singing the blues led by Pastor Jeff Lilley and his son. The fall schedule of two morning worship services at 8:00 and 10:30 AM resumes on August 19.
Voices and Viols Delight
The Rose Consort of Viols and the Bach Chamber Choir (left) teamed up for a delightful concert on Monday, July 31. The large and enthusiastic crowd was treated to church anthems, consort music, and works for consort of viols by John Taverner, Orlando Gibbons, William Byrd, John Dowland, and other masters of the period.
The Rose Consort are in Honolulu for the Pan-Pacific Gamba Gathering at the University of Hawai'i.
Happy Birthday, Irmgard Hörmann
The whole congregation gathered on July 29 for the joyous celebration of Irmgard Hörmann's 90th birthday. "Ingi," who was born into LCH on July 28, 1917—the second year that her father was pastor, was joined for the celebration by family (from as far away as Germany, by way of the UK) and friends from near and far.
As part of the celebration, the courtyard was rededicated in honor of the whole Hörmann family.
In the picture above, Irmgard is shown with (left to right) Pastor Phyllis Hormann (her niece), former LCH Interim Pastor Steve Jensen, Pastor Jeff Lilley, and former LCH Pastor David Barber. Former LCH Pastor Don Johnson also attended the celebration but left before this picture was taken.
Follow this link for more pictures from the weekend of celebration.
Hörmann Family Gathering for Celebration
The congregation was happy to welcome back Pastor Phyllis Hormann (Pastor of Peace Lutheran Church, Southgate, MI, and Irmgard's niece) to worship on Sunday, July 22. She is the first of many members of the Hörmann family who will be journeying from the mainland to join the family here in celebration of Irmgard's 90th birthday next weekend. At left, Pastor Hormann is seen with Irmgard, brother David, and sister Sylvia.
LCH will celebrate Irmgard's birthday on Sunday, July 29, with 9:15 morning worship, followed by a birthday potluck and the rededication of the courtyard as the "Hörmann Courtyard" in honor of former LCH Pastor Arthur Hörmann and the entire Hörmann family.
Find out more about the Irmgard and the Hörmann family in this press release about our celebration.
LCH Members Serve Dinner at IHS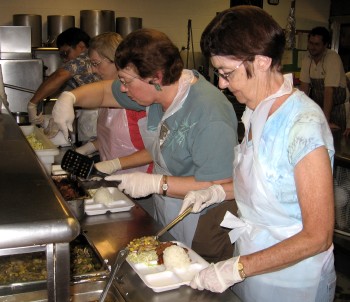 Again this July, members of the congregation provided dinner for guests at IHS (Institute for Human Services, Honolulu's homeless shelter). The regular LCH menu of meatloaf, rice, salad, cooked vegetable, and dessert is always a popular one at IHS. At right, Jimmy Castro, Mary-Jo Estes, Olivia Castro, and Bille Jean Ries serve the food.
LCH provides dinner the third Friday of each month. Contact the Castro family to help with cooking (Friday afternoon at 1:00) and/or serving (Friday evening at 6:00).
Kupuna Honored on Special Sunday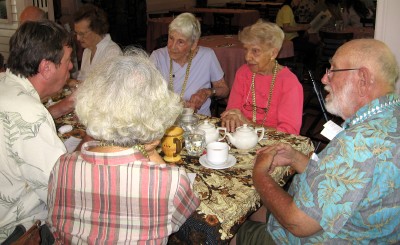 July 8 was a special Sunday at LCH for our "beautifully-aged" members as eight of our kupuna (Hawaiian for "elder") were honored on Kupuna Sunday.

The kupuna, some of whom are only rarely able to attend Sunday worship, were first honored during worship and then hosted for tea and conversation at the nearby Wai'oli Tea Room (left).

---

Copyright © 2007 Lutheran Church of Honolulu
1730 Punahou Street, Honolulu, HI 96822 • 808-941-2566
Comments welcome at webmaster@lchwelcome.org