All are welcome to Exploring Boundaries...and Beyond, and monthly series of fellowship, intellectual exploration, and worship at the Lutheran Church of Honolulu.
Return to the main Exploring Boundaries...and Beyond page
Exploring Boundaries...and Beyond (2012–2013)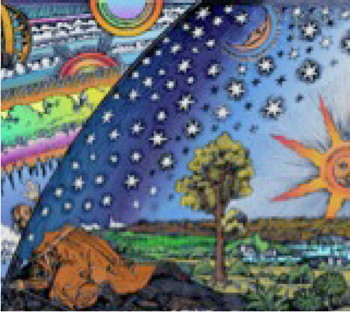 Beginning Sunday, November 18, 2012, a new series of monthly presentations called Exploring Boundaries...and Beyond (EBB) provided an opportunity to explore ideas and values at the boundaries where our faith meets the rest of the world. The range of topics is intentionally broad, reflecting the scope of interests and concerns within our faith community. Our speakers, all recognized in their fields, are drawn from LCH, the universities, and the wider community. Bring your questions!
EBB takes place on the third Sunday of every month during the school year at 6:00 PM. These evenings are free and open to the public. Please invite your friends and family.
Presentation
Each month's presentation and discussion will take place in Isenberg Hall from 6:00 until 7:15 PM.
Scheduled presentations for the next six months include:
Date
Speaker and Title
November 18
"Science and the Christian Church" by Hope Jahren, Ph.D.—During the next two decades, people and governments around the globe will make vital decisions concerning the production of food and the mitigation of natural disasters that will affect the health and wellness of billions of people.  Scientists in many countries work to produce information that is useful and relevant to these decisions, but communication between science and government is fraught with difficulty.  What does history have to teach us about the roots of this difficulty?  What is the proper role for today's church within these issues?

Dr. Jahren is a geobiologist on the faculty of the University of Hawai'i at Mānoa. Her research focuses on living and fossil organisms and how they are chemically linked to the global environment. Her work in the arctic is describe in a recent article from Science News for Kids. Dr. Jahren's professional profile

December 16
"Bridges in Art, Poetry, Philosophy and Theology" by Pastor Fritz Fritschel—The concept of bridges has importance beyond the practical value of carrying people across treacherous physical  straits. Artists, poets, philosophers, and theologians frequently try to find an appropriate crossing between reason and emotions, fact and value, time and and eternity, mind and matter, body and spirit. This presentation explores an attempt at bridge-building across such chasms.

Pastor Fritschel is a retired ELCA pastor.  In addition to parish work, he taught religion at Augustana College in Sioux Falls, S.D., and served as a Hospice chaplain.

January 20
"Japanese Buddhist Temples in Hawai'i" by Willa Tanabe, Ph.D., and George J. Tanabe, Jr., Ph.D.

Dr. Willa Tanabe is professor emerita of art history and Dr. George Tanabe is professor emeritus of religion, both at the University of Hawai'i at Mānoa. In addition of their individual scholarly work, the Tanabes have together curated and written catalogs for exhibits in Japanese Buddhist art, including "Treasures of Mount Koya" at the Honolulu Academy of Arts.

February 17
"The Morality of Climate Change" by Jeffrey Burgett, Ph.D.

Dr. Burgett is a recovery biologist in the Pacific Islands Fish and Wildlife Office in Honolulu. He is the leader of the Recovery Team for the 'alalā (Hawaiian crow) but works on a range of projects including climate change, invasive species and diseases, and coral reef restoration. Dr.Burgett' professional profile (PDF)

March 17
"The Science behind the Star of Bethlehem" by Robert Joseph, Ph.D.—The Star of Bethlehem in the Christmas story told in Matthew's Gospel has fascinated people for two millennia. This illustrated lecture will describe some of the historical interpretations of the Star of Bethlehem and show some of the astronomical events that might have represented the Star. Recent research has led to a completely new understanding of the story of the Wise Men from the East and the Star they followed. The lecture will show how this new interpretation finally makes astronomical, astrological, historical, and textual sense of the events recorded in Matthew's Gospel.

Dr. Joseph is an astronomer in the Institute for Astronomy, University of Hawai'i at Mānoa, , where he teaches the general education survey of astronomy, graduate courses in cosmology, and honors courses in science and religion. Dr. Joseph's professional profile

April 21
"Politics and Change in the Christian Church" by John Bickel

Mr. Bickel has taught world and European history at 'Iolani School for the last twelve years. Prior to that, he taught for in the public schools and at Chaminade and Hawai'i Pacific Universities.

May 19
"Intimate Partner Violence and Reproductive Coercion" by Alexa Miller Sueda, M.D.

Dr. Sueda, an Ob-Gyn physician with Kaiser Permanente and life-long member of LCH, has worked and counseled with people who have been directly and indirectly affected by this issue.  In the face of many  current news stories,  this is an important public and social issue that demands our attention.
Evening Prayer
Following the presentation, you are welcome to join the evening prayer service from 7:30 to 8:00 PM.
Evening Prayer will be a participatory half-hour service of hymns, prayers, readings, and choir music. The atmosphere will be quiet and meditative. Evening Prayer will be offered on the first and third Sunday of each month at 7:30 PM, unless precluded by another event (such as a Choral Vespers service on November 4 or Advent Procession on December 2).
---

Copyright © 2013 Lutheran Church of Honolulu
Comments welcome at webmaster@lchwelcome.org