Children's Benefit Concert 2007
This year's concert began with the F.R.O.G.S. (Families Revering Our God In Song)—made up of all the children—singing together "The Gospel Train" and "Rise and Shine."
Each of the songs involved a variety of instruments, such as the sandpaper blocks and whistles to portray the train, as shown in the picture to the right.
Again this year, we were treated to an original poem by Pastor Fritz Fritschel entitled "Musically on the Bounty." Below are some of the concluding lines. (Full text of the poem)

"See, we can dream of a peaceable realm,
With justice and generosity at the helm.
We can sing that we sail a tuneful bark
And when we alight from our melodious ark,
We can repeat this heifer homily
To care for our earthly, orchestral family."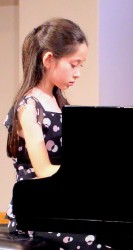 The musical program continued with a wide array of performances on a variety of instruments.
There were two young pianists.
Many children performed on the strings: individual violinists...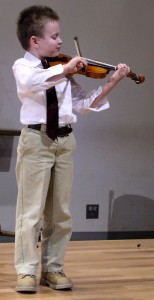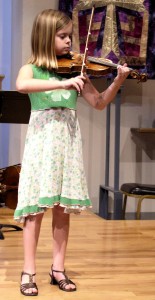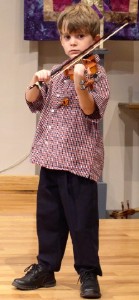 ...a cellist....




...a duet...
...and a quintet playing the chorus from "Judas Maccabaeus."



The large audience was treated to performances by several of Kathy Crosier's organ students. The younger students played practice pieces, and the most advanced student performed J.S. Bach's Fugue in G minor ("Little").




Among the organ performance was a boy who teamed up with his sister on the flute.




Again this year, the child who had originally come up with the idea for the benefit concert performed with piano accompaniment by Carl Crosier.




Two sisters presented contrasting hula performances.
The younger danced Nani Wai'ale'ale.




And her sister performed Aloha No Kalakaua.




Towards the end of the concert, Linda Rich, a local representative of Heifer International, spoke about the work of the organization and thanked the children for their efforts on behalf of children and families around the world.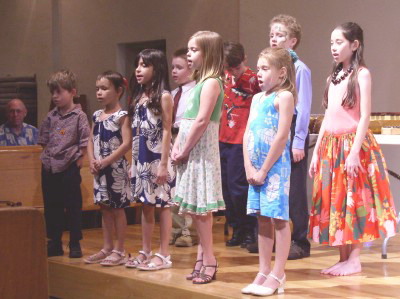 The grand finale was a performance of the Hawaiian hymn Nu 'Oli ("Glad Tidings"), accompanied by the steel drum ensemble.
Audience members showed their appreciation with warm applause and through cash contributions of more than $2,000 (plus additional pledges!) towards the Ark.
---

Copyright © 2007 Lutheran Church of Honolulu
Comments welcome at webmaster@lchwelcome.org