Children's Benefit Concert
The concert began with an original poem by Pastor Fritz Fritschel entitled "Musically on the Bounty." Below are some of the concluding lines. Click here for the complete text.

"See, we can dream of a peaceable realm,
With justice and generosity at the helm.
We can sing that we sail a tuneful bark
And when we alight from our melodious ark,
We can repeat this heifer homily
To care for our earthly, orchestral family."
The musical program began with the F.R.O.G.S. (Families Revering Our God In Song) Choir and the LCH Steel Drum Ensemble, and continued with the smallest child, who has just begun to learn to hold his bow, singing "The Wheels on the Bus" (supported by more advanced children).
Other children performed in solos, duets, and trios on the violin and 'cello.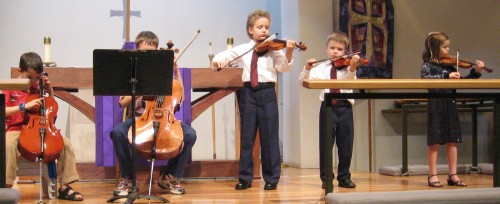 All of the string performers joined as the F.R.O.G.S. String Orchestra to play "O Come, Little Children."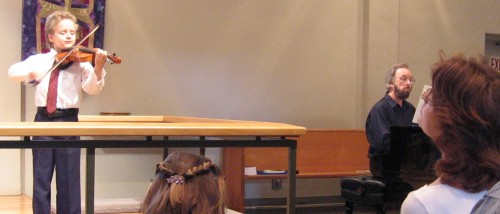 The child who had originally come up with the idea for the benefit concert performed with piano accompaniment by Carl Crosier.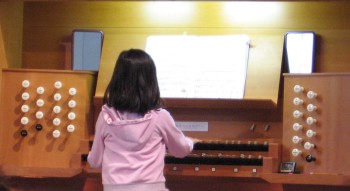 Several children who are studying organ with Kathy Crosier performed. On the right, one of the smallest children performing a beginning instructional piece. The most advanced child played J.S. Bach's Prelude and Fugue in F major ("Little").
One of the older children presented a graceful and energetic performance of A'oia.
The concert ended with everyone singing "All Things Bright and Beautiful" accompanied by Orff instruments and the LCH Steel Drum Ensemble (below).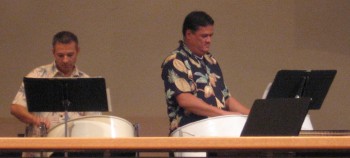 Audience members showed their appreciation with warm applause and through gifts and pledges of $2,000 towards the Ark.
---

Copyright © 2006 Lutheran Church of Honolulu
Comments welcome at webmaster@lchwelcome.org