Children's Benefit Concert 2008
The concert began with a welcome from LCH Cantor Carl Crosier, who connected the children's benefit concert with a number of benefit concerts in the history of LCH.


The first musical offering was "Agincourt Hymn" by John Dunstable. The same performer also closed the concert with "Toccata in A minor" by Jan Pieterszoon Sweelinck.
Again this year, we were treated to an original poem by Pastor Fritz Fritschel entitled "Musically on the Bounty." Below are some of the concluding lines.

"See, we can dream of a peaceable realm,
With justice and generosity at the helm.
We can sing that we sail a tuneful bark
And when we alight from our melodious ark,
We can repeat this heifer homily
To care for our earthly, orchestral family."




The F.R.O.G.S. (Families Revering Our God in Song) Choir, made up of all the children together, sang "One 'Ohana."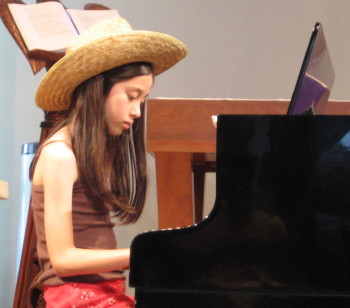 The first piano performance was "Cowboy Blues" by James Bastien.






Another child performed "Inspector Beauregard" and "Island Calypso."






String performances began with "Bourrée" by J.S. Bach.






Three children joined together in "Allegro" by Shinichi Suzuki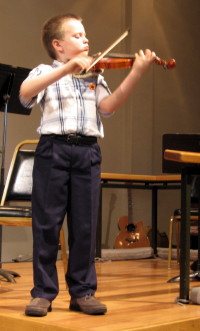 One of the boys presented the familiar "Minuet in G" by Ludwig van Beethoven.






All the string players joined together in the "Chorus" from Judas Maccabaeus by G.F. Handel.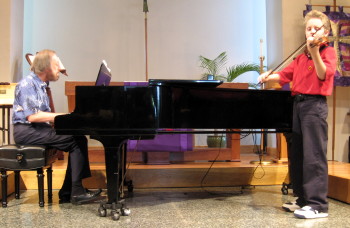 The final string performance was "Concerto in A minor, First Movement" by Antonio Vivaldi.






Two brothers recited poems: "The Yak" by Hillaire Belloc...








...and "The Duke of Plaza Toro" by W.S. Gilbert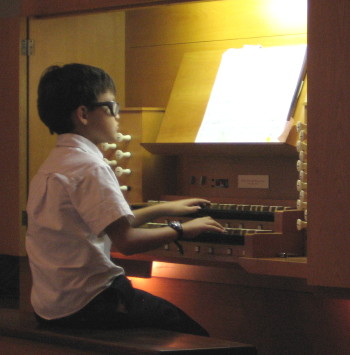 In addition to the organ pieces at the beginning and end of the concert, two other young organists performed.
A boy played "Rondeau" by Jean Mouret and "Carillon on 'Westminster Chimes'" by Alfred V. Fedak.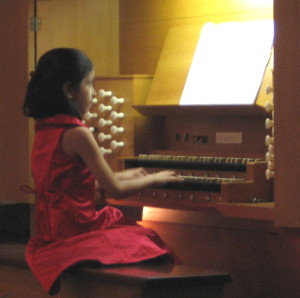 A girl played "How Firm a Foundation " arranged by Randolph Currie.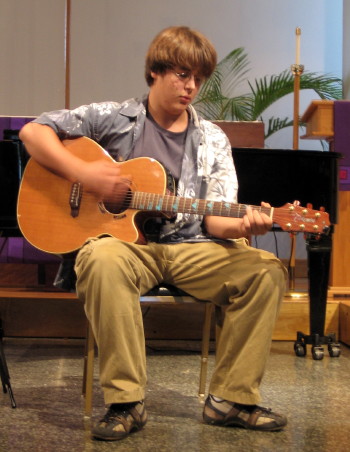 One of the youth played and sang "The House of the Rising Sun."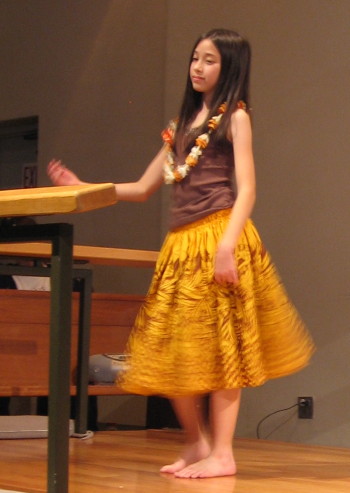 Two sisters presented their hula.
The younger sister danced "Hale'iwa Hula" by Jennie Napua Hanaiali'i Wood and John Noble, choreography by Ka Hale I O Kahala.








Her sister danced "Hi'ilawe" by Sam Li'a Kalainaina, Sr., choreography by Ka Hale I O Kahala.


Just before the end, the F.R.O.G.S. Choir came back and sang "All Things Bright and Beautiful" adapted by Martin Shaw, arranged by Ronald L. Sprunger
Following the performances, Linda Rich, a local representative of Heifer International explained that an Ark of animals—along with the training that goes with them—would help 30 families around the world move out of poverty towards self sufficiency. She also presented the young man who organized the concert with a copy of Bill Clinton's book Giving, which has a chapter about Heifer.
When it was all over, audience members showed their appreciation with warm applause and through cash contributions of more than $2,100 (plus additional pledges!) towards the Ark.
---

Copyright © 2008 Lutheran Church of Honolulu
Comments welcome at webmaster@lchwelcome.org