September 2010—In this Issue:
The HeartBeat
A Message from Pastor Jeff
On Being Present

A couple of weeks ago the Book of Faith Bible Study group finished its rather lengthy study of the Book of Leviticus. We were struck by the constant repetition of the laws, the rhythmic application of ritual for each and every offense, and the severity of punishment for transgression in Leviticus. (If a man lies with woman and her mother, they are all sentenced to being burned alive.) But mixed in with apparent cruelty and intolerance is a sweet grace and acceptance that we did not expect. Care for the stranger, acceptance of God's forgiveness, and legal mechanisms for mercy stand alongside the hardness of the law and rigidity of ritual. But most of all, we were surprised to see words that are usually associated with Jesus, "Love your neighbor as yourself." In the end, that is what the Levitical law is trying to accomplish: love and respect for God and for one another. It seeks to find balance in a rule of law and ritual that preserves community, cares for those in need, and provides justice for those who have been wronged.
While the methods of justice (stoning, death, burning, casting out, etc.) may seem cruel and unusual to us and the ritual sacrifice of bulls and sheep a bit gory, the purpose of the law is to bind people to God and to one another. The problem comes when we try to take the laws and social mores of an ancient people and apply them to a modern society.
Over the past few years, this has come to a particular head in the ELCA in our study of sexuality and in the political arena in gay marriage. Religious people from a more conservative bent have pointed to Leviticus and its laws as the definitive answer in such issues. But doing so puts those texts in the position of answering questions that were never asked of them. In addition, one is left asking, "Why must we enforce Levitical laws around homosexuality while summarily ignoring the much more voluminous material on heterosexual behavior?" It seems unlikely that one would find widespread support in the U.S. for death by stoning for adultery or burning at the stake for blasphemy, yet both are found prominently in Leviticus. Don't even talk about what you would have to endure ritually every time you committed a sin. Let's just say it involves lots of killing and scraping of fat and no end of throwing blood on the altar. So why give the text absolute authority in one arena and dismiss it all together in another?
When we use scripture in irresponsible ways to make whatever argument we choose, we rob the text of its power and ourselves of the God-given gift of reason, faith, and discernment. One of the great lessons of Leviticus is almost never quoted, "Love your neighbor as yourself." If we are looking for a Levitical guide we can sink our teeth into—a rule that will serve the gospel—that might be an excellent place to start. From there we can begin to discern what love is, how to recognize it, how to honor it, and how to give it away so that the whole world can experience the gift of love with us.
Aloha,
Pastor Jeff Lilley
pr.jeff@lchwelcome.org
August Council Highlights
Council met Tuesday, August 17. Here are the highlights of the meeting:
The budget year to date is breaking even. Thank you for your continued support!
The Parking Lot Task Force is actively seeking bids to create a master plan for improvements—not only to the parking lot, but also to surrounding area regarding drainage and other issues.
The Cantor Task Force has completed the job description and names have been submitted for the Call Committee.
A task force is being formed to examine the viability of staff expansion/re-organization, including a call for an associate pastor.
Plans are being made to change the January congregational meeting format to a potluck following the 10:30 service.
Mary Magdalene Potluck
The Mary Magdalene Society, LCH's group of LGBT members and friends, will meet for their regular potluck on Saturday, August 28th, at 6:00 PM at the home of Robert Raasch and Francisco Barajas in Mililani. All are invited to join in the food and fun.
These gatherings are always full of laughter and warm fellowship—not to mention lots of good food. Don't miss it!
Angel Network—Gather in Giving!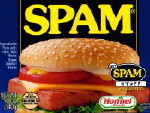 The August in-gathering for the Angel Network was satisfying. A shopping cart with saimin, canned goods, Spam, and personal care items was collected for the Angel Network located at Calvary by the Sea Lutheran Church. Thank you for all your support.
In-gatherings are scheduled on the first Sunday of each month, so your next opportunity to participate is on Sunday, September 5th.
Leadership Roundtable
Sunday, September 5, at 11:45 AM, the chair or another representative of each committee will meet with Pastor Jeff and Council President Olivia Castro in the Boardroom. This meeting is to enhance communications among committees. See you there!
Wine for LutherFest
LutherFest is coming up on Saturday, October 30, and it won't be a party without some LCH wine to enjoy at the celebration. The folks from the Mary Magdalene Society and several of their friends selected the wines in June, and it will be ready soon. The bottling party is scheduled for on Sunday afternoon, September 5, at Oeno Winemaking in Kailua. These parties are always a lot of fun, and you're invited. Talk with Bill Potter if you 'd like to take part.
Process Thought Forum

The monthly Process Forum for September will focus on a general comparison of the thought of Alfred North Whitehead and Carl Jung. Both of these people contributed a great deal to new thought in the 20th century. Their influence continues. Many of their ideas are overlapping, yet distinctive. Sound heady? Yes! But it's fun because of the great group of people that show up for the discussion. Why aren't you there as a newcomer? A handout of the material can be obtained by speaking to Fritz, 545-2636. Saturday, September 11, 9:30–11:00 AM. Repeat session on September 12, following the second worship service.
Downtown Lunch Bunch
Join your LCH friends who work or live downtown for a wonderful time of food and fellowship on Friday, September 24. The September gathering will return to Mei Sum, a perennial favorite at 1170 Nu'uanu, for delicious dim sum.
Because Mei Sum can get crowded at noon, let Josie Bidgood know you are coming so she can reserve a big enough table.
Donor Advised Fund
Did you know that you can maximize your charitable giving to the church and its ministries, receive favorable tax deductions, and annually advise which ministries will receive gifts? Through a Donor Advised Fund with the ELCA Foundation, you can establish a fund with a minimum gift of $10,000, receive an immediate tax deduction for the gift, and each year advise the ELCA Foundation about the ministries of the church you wish to receive distributions from the fund. In addition, your donor advised fund assets have the opportunity to grow in value, thereby allowing you to give more to the ministries of your choice.
For further information, contact our gift planner, Greg Shepherd, by phone at (909) 910-6823 or email him at <gregory.shepherd@elca.org>.
Committee/Interest Group Chairs
Committee/Group
Leader
Aloha Jam:
Pastor Jeff Lilley
Archives:
James Cartwright
Audit:
Bobby Broyles
Compline:
Keane Ishii
Concert:
Carl Crosier
Communications:
Carol Langner
Council:
Olivia Castro
Fellowship:
Jeanne Castello
& Mary-Jo Estes
Finance:
Steve Miller
Food for Thought:
Kathryn Klingebiel
Garden Club:
Carol Langner
In Stitches:
Linda Miller
Learning Ministry:
Fred Benco
Mary Magdalene Society:
Bobby Broyles
Ministry Plan Task Force:
Olivia Castro
Mutual Ministry:
April Smith
Pau Hana:
Pastor Jeff Lilley
Pre-Compline:
The Rev. Fritz Fritschel
Process Theology:
The Rev. Fritz Fritschel
Property:
Jean-Paul Klingebiel
Scholarship:
Fred Benco
Social Ministry:
Ray Herradura
& Robert Zimmer
Stewardship:
Pam Buckley
Sunday School:
Laurie Leach
& Linda Miller
Worship & Music:
Linda Miller
Writers' Workshop:
Kathryn Klingebiel
Youth:
Sean D'Evelyn
& Crescent C.

As we begin the busy fall season, it's wonderful to look back at all we have accomplished as a congregation and say "Well done" to this amazing group of disciples who continue to give of your time and talents and love.
We have been able to help those in need. Each month you cook and serve a delicious meal at IHS and collect a pile of food for the Angel Network. In February, we contributed more than $2,000 to the Life Foundation in honor of the twentieth anniversary of Pastor Jeff's ordination, and we raised $5,000 for Heifer International to purchase our sixth ark of animals. In May we hosted Lutheran night at Hawai'i Public Radio, and in July we gathered food and money for the Hawai'i Foodbank as part of Pau Hana Friday.
We have honored our musical and artistic traditions. In addition to excellent music at all three regular worship services, we enjoyed German Vespers on New Year's Day and Bach Vespers for Lent. We celebrated Faith and Arts Sunday in February, and our children produced another outstanding Fill the Ark Benefit Concert. In July, we hosted the Northwest Girlchoir for worship and a bountiful potluck.
We have cared for our church and our planet. Members have contributed time and energy for congregational work days, and our children led in the celebration of Earth Day in April. We installed a new photovoltaic system to provide most of our electricity from the sun. Planning is moving ahead for landscaping and improvements to our back parking lot.
We have also supported our ministry here and around the world through our gifts of treasure. The August issue of The Lutheran reported that giving to religious groups was down 0.7% in 2009. However, from January to July 2010, giving to LCH was 3.6% greater than budget and 5.4% more than 2009 at the same time. Because of your continuing generosity we are meeting increased expenses and improving our programs. Your steadfast giving has enabled us to be faithful disciples to do God's work, share our blessings and spread Christ's light of love to our neighbors and the world.
Mahalo to everyone who has contributed to LCH with their gifts of time, talents, and treasures. It is through your cheerful giving that Christ's light shines from our Makiki campus and touches so many people!
Q and A on LCH's New Photovoltaic System
So, what is a photovoltaic system?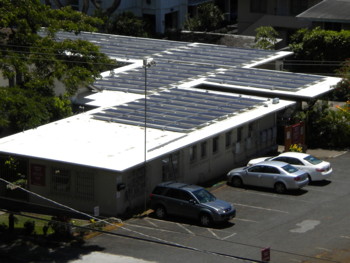 It is a set of solar panels that generate electricity. Because the panels directly convert sunlight into electricity without moving parts, they require essentially no maintenance and have a lifetime of over 25 years. The panels save us from using electricity generated by Hawaiian Electric. In fact, if we generate more than we need (like during weekdays) the electricity goes back into the HECO grid and saves HECO from using oil to generate electricity for other customers.
Currently the state and federal governments give tax credits that amount to about 66% of the cost of the system. The church does not pay taxes, so investors were interested in putting in a free system on our roof for us so they could get the tax credits and become our electricity provider. In addition, the investor pays for all repairs.
The tax credits benefit the investor immediately, so they can offer us a discount on what they charge us for the electricity from the panels. If, over a year, we use less electricity than the solar panels generate, we pay HECO nothing.
Why did we put in a photovoltaic system now?
Before deciding to install the new system, the Council reviewed several different proposals. They decided to contract with Greenpath, a division of Commercial Roofing and Waterproofing, which is a long established Hawaiian company. We got the following advantages:
A free coating on our flat roof, with a 25 year guarantee.
An immediate savings of about $1,800 per year on our electric rates.
A guaranteed low inflation on our electric rates compared to the average of 10% per year recently for HECO. If HECO rates inflate at 10% per year over the next 20 years, we could save more than $100,000 on electricity.
The option to buy back the system at market rates after 10–20 years.
Environmentally friendly energy. The system will generate at least as much power as we use. It is an AC 32kWatt energy system estimated to generate 61,084 kWH (kilowatt hours) per year of power.
All of this was done at no cost for LCH.
Generating that much power from the sun will mean that each year 51.3 tons of carbon will not be sent into the atmosphere. This is the equivalent of:
Saving 5,292 gallons of gas each year, or than 14 gallons every day, or
Planting 1,195 trees each year, more than 3 trees every day!
What are those grey boxes on the parking lot wall?
The photovoltaic panels generate direct electrical current (DC). This needs to be converted into alternating current (AC) so it can be used in normal building wiring. The boxes—which are called inverters—do this conversion. The conversion loses about 20% of the energy—that is why they are warm. The little window on each of the 5 boxes shows, for each part of the system, the daily and total lifetime generation in kWH and in pounds of carbon. Take a look at the meters and admire how much carbon we save, hundreds of pounds a day!
How do we get electricity at night?
True, the panels do not generate electricity when the sun is not shining. When it is cloudy or night time, we get our electricity from HECO. HECO will compare our total yearly generation against our total yearly usage. If we generate more than we use, we pay nothing to HECO. In essence HECO is providing our backup during cloudy or nighttime conditions for free. That is why HECO has limited the amount of private solar generation that can be installed. We are fortunate to have installed the system early.
Steve Miller
LCH Treasurer
What's New on the LCH Website?
Bill Potter, Webmaster

Along side our return to two morning worship service, the pace is also picking up on the LCH website.
In the last month, we have debuted out "LCH and me" series with profiles of Jake and Emily McIlvaine and Bob Zimmer, updated the Children page with information about the new Sunday School year, added the picture and description of another pew cushion, posted a picture and short story about our new photovoltaic system, and updated the Campus Plan page with new pages for the kindergarten/pre-K classroom and the lanai area.
In the September 2009 HeartBeat, when I introduced the Campus Plan and its pages for individual rooms on the LCH campus, I also wrote that I wanted to have a set of "people pages" to help newer members recognize our leaders and introduce prospective visitors to the richness of the LCH 'ohana. At that time, I thought that those people pages would be available in a month or two, but a year has passed, and the first set of pages is only now nearing completion. If all goes well, I should have pages for all of the Sunday School teachers ready to go by Labor Day.
The pages for our Sunday School teachers will be particularly valuable as we try to spread the word about the excellent program we have for our children and youth at LCH. Parents who are thinking about bringing their children to Sunday School will want to know about both the programs we offer and the people who lead them. The information provided on these pages about each teacher should help potential visitors become comfortable with the idea of entrusting their children to our care. If you want to check out the pages, go to the Children page and click on the hyperlinked names of the teachers.
Now that the Sunday School teachers have their pages, the next step is to produce pages for our other leaders. If you are in a leadership position, I hope you will help out by providing the information for your page.
LCHers Travel Far & Wide
The travel map was on the courtyard bulletin board all summer, and the itinerary tags were more numerous than ever. Where did we go this summer? Here's a quick reference to our summer travels, for pleasure and work.
Take a look. You may have some stories to share of similar travel with others at LCH.
Welcome back, everyone, to another busy fall at LCH.
USA & Hawai'i
Steve Jensen—Philadelphia, NYC, Saratoga Springs
Stark Family—Buffalo; Niagara Falls, Canada; NYC, Long Island
Mary Jo Estes—Washington, Montana, Colorado, Minnesota
Ellen & Missy Hamblet—Boston
Jim & Penny Lawhn—Reno & San Antonio
Jim Sullivan—Dallas
Lois Watanabe—Seldonia, Alaska
Roy Helms—Santa Monica
Sueda Family—California Central Coast & Colorado
Linda & Steve Miller—Alaska & California
Jerelyn Watanabe—Anaheim, CA
Mary Fastenau—Bertrand, NE
Carolyn Koehler—W. Otter Lake, IN
Paula Wheeler—Haleakala, Maui
Jim Cartwright & Wally Mahan—Chicago to Washington on Amtrak
April Smith & Carolyn Koehler—Seattle, Tacoma, Olympia, WA
Meghann Lilley—Honolulu, HI & Bayleigh, Michigan
Seth Lilley—NYC
Fritz Fritschel & Carol Langner—Estes Park, CO
Audrey Keller—Idaho Springs, CO
Europe & the Middle East
The Jahran-Conrad Family—Oslo, Norway (on a Fullbright Scholarship)
Carl & Kathy Crosier—France
Lentz Family—England
Jean-Paul & Kathryn Klingebiel—Spain & France
Jeff & Jean Lilley—Germany & Austria
Vreni Griffith—Switzerland, Malta, England, Germany
Lois Swift—Germany
Peggy Anderson—Germany
Frank & Sue Haas—Burgundy, France
Steve Jensen—Germany & Austria
Frank Haas—Abu Dhabi
Asia
Roy Helms—Bali & Thailand
Charlotte D'Evelyn—China
Bob Tellander—Kuala Lumpur, Malaysia; Manila; Sri Lanka
Michael Burnett—Moved to Thailand
Attendance and Offerings for August
Date
Worship Service
Attendance
Offering Fund
Offering Amount
August 1
9:15 AM Service
90
Offering
$3,500.50
Compline
20
Altar Flowers
$70.00
Total
110
Social Ministries
$30.00
Memorial Fund
$2,545.00
August 8
9:15 AM Service
92
Offering
$2,945.00
Compline
15
Compline Fund
$500.00
Total
107
August 15
8:00 AM Service
41
Offering
$2,829.00
10:30 AM Service
106
Sunday School Offering
$1.00
Compline
18
ELCA World Hunger
$100.00
Total
161
August 22
8:00 AM Service
41
Offering
$3,778.00
10:30 AM Service
83
Social Ministries
$30.00
Compline
22
Total
146
Attendance and Offerings for Sunday, August 29, 2010, were not available at time of publication.
Prayer Requests
Carl
Maggie
Shane
Gene
Ruth
Stan
Karen
Susan
September Birthdays
Date
Name
9/01
Annabelle Beck
9/03
Mary Reese
9/03
Jimmy Castro
9/03
Kalau Jones
9/05
Michael Gorman
9/07
Ronald Mizuno
9/09
Joseph Zuiker
9/11
Naomi Castro
9/11
Carl Crosier
9/11
Iniki Shelton K.
9/11
Emily O.
9/11
Kyra Ann Takamiya
9/16
Rev. David J. Barber
9/17
Carolyn Ishikawa
9/18
Sacha P.
9/21
Jerome Vasconcellos
9/22
Justin J.
9/25
Sharon Von Deylen
9/29
Janelle Hanson
9/29
Colette J.
LCH Worship Participants
LECTOR
Jim Sullivan
Sean D'Evelyn
Chris Bushman
Bill Hamblet
COMMUNION
ASSISTANTS
Laurie Leach
Crescent C.
Kyra Ann Takamiya
Chuck Huxel
Kim Clissold
Charlotte D'Evelyn
Marcie Say
Bill Hamblet
Peter Lee
Michael Formby
Peggy Anderson
Sean D'Evelyn
Carolyn Koehler
Chuck Huxel
Kyra Ann Takamiya
Bill Hamblet
ACOLYTE
Sophie C.
Missy H.
Colin B.
Kim Clissold
LAYING ON
OF HANDS
Stephanie Luuloa
USHER
Fred Benco
Fred Benco
Fred Benco
Fred Benco
LECTOR
Kathryn Klingebiel
Jim Cartwright
Angie Niermann
Roy Helms
DEACON
Bob Zimmer
Ray Herradura
Susan Haas
Mary Fastenau
SUBDEACON
Penny Lawhn
Bob Tellander
Frank Haas
Bob Zimmer
COMMUNION
ASSISTANTS
Mary Fastenau
Ray Herradura
Bob Zimmer
Penny Lawhn
Steve Jensen
Randy Christensen
Susan Haas
Frank Haas
ACOLYTES
Ray Herradura
Reid W.
Nathalie J.
Bob Zimmer
Steve Jensen
Savannah M.
Ray Herradura
Nathalie J.
LAYING ON
OF HANDS
John Bickle
USHERS
Chuck Huxel
Nan Wond
Chuck Pearson
Chuck Huxel
Nan Wond
Chuck Pearson
Chuck Huxel
Nan Wond
Chuck Pearson
Chuck Huxel
Nan Wond
Chuck Pearson
ALTAR
GUILD
Olivia Castro
Mary-Jo Estes
Billie Jean Ries
Olivia Castro
Mary-Jo Estes
Billie Jean Ries
Olivia Castro
Mary-Jo Estes
Billie Jean Ries
Olivia Castro
Mary-Jo Estes
Billie Jean Ries
Heart Beat Deadline
Next Heart Beat Deadline is Tuesday, September 21!
Heavenly Humor
God's kids say the funniest things
A Sunday school teacher said to a little boy in her class: "So your mother says your prayers for you every night at bedtime. That's very nice. What does she say?"
"Thank God he's in bed!" the little boy replied.
—Rev. Dr. James Meffen, Cottesloe, Western Australia
Calendar: September 2010
Day
Date
Event and Time
Thursday
September 2
Book of Faith Bible Studies, 10:00 AM
Saturday
September 4
Archives Project, 10:00 AM
Sunday
September 5
Angel Network In-Gathering
Holy Communion, 8:00 AM
Christian Education for All Ages, 9:15 AM
Choral Eucharist, 10:30 AM
Leadership Roundtable, 11:45 AM
Mary Magdalene Wine Bottling, 2:00 PM
Pre-Compline Discussion, 8:30 PM
Compline, 9:00 PM
Wednesday
September 8
Confirmation, 6:00 PM
Thursday
September 9
Book of Faith Bible Studies, 10:00 AM
LCH Choir Rehearsal, 7:00 PM
Saturday
September 11
In Stitches, 9:00 AM
Process Thought Forum, 9:30 AM
Sunday
September 12
Holy Communion, 8:00 AM
Christian Education for All Ages, 9:15 AM
Choral Eucharist, 10:30 AM
Process Thought Forum (Rpt.), 12:00 PM
Pre-Compline Discussion, 8:30 PM
Compline, 9:00 PM
Monday
September 13
Aloha Jam, 6:00 PM
Tuesday
September 14
Worship & Music, 6:30 PM
Wednesday
September 15
Confirmation, 6:00 PM
Thursday
September 16
Book of Faith Bible Studies, 10:00 AM
LCH Choir Rehearsal, 7:00 PM
Friday
September 17
IHS Meal Preparation, 1:00 PM
IHS Meal Serving, 5:30 PM
Saturday
September 18
Pipe Organ Encounter (PDF), 5:30 PM
Sunday
September 19
Holy Communion, 8:00 AM
Christian Education for All Ages, 9:15 AM
Choral Eucharist, 10:30 AM
Social Ministry Meeting, 12:00 PM
Joint Confirmation at St. Johns, 3:00 PM
Pre-Compline Discussion, 8:30 PM
Compline, 9:00 PM
Monday
September 20
Writers' Workshop, 7:00 PM
Tuesday
September 21
HeartBeat Deadline, 9:00 AM
Executive Committee Meeting, 6:00 PM
Council Meeting, 6:30 PM
Thursday
September 23
Book of Faith Bible Studies, 10:00 AM
LCH Choir Rehearsal, 7:00 PM
Friday
September 24
Downtown Lunch Bunch @ Mei Sum, 12:00 NOON
Saturday
September 25
In Stitches, 9:00 AM
Sunday
September 26
Holy Communion, 8:00 AM
Christian Education for All Ages, 9:15 AM
Choral Eucharist, 10:30 AM
Pre-Compline Discussion, 8:30 PM<
Compline, 9:00 PM
Wednesday
September 29
8:00 O'Clock Ensemble Rehearsal, 6:30 PM
Thursday
September 30
Book of Faith Bible Studies, 10:00 AM
LCH Choir Rehearsal, 7:00 PM
---

Copyright © 2010 Lutheran Church of Honolulu
1730 Punahou Street, Honolulu, HI 96822 • 808-941-2566
Comments welcome at webmaster@lchwelcome.org