The HeartBeat
A Message from Pastor Jeff
Can Christmas Still Change the World?

As Pumba said at the beginning of The Lion King, "It starts!" Pumba was referring to the beginning of an epic tale of birth and renewal in the lion pride ruled by the venerable and fearsome Mufasa. However, here, I refer to the inevitable and fear inducing Christmas Sale.
Yep, last Thursday (November 11) was officially dubbed "Black Friday" by retailers around the country. Everything from plasma televisions to rice cookers was available at "unbelievably low prices" last week. Consumers took the bait—officially commencing the "holiday shopping season." It is probably not helpful to whine overmuch about the long established practice of retail consumerism during November and December, but a deep breath and attitude adjustment might be in order to reclaim the dignity and meaning of Advent and Christmas for the Christian community.
A few years ago, a group of pastors began a movement called "The Advent Conspiracy." They asked the fundamental question, "Can Christmas Still Change the World?" Recognizing the diminishing religious importance of Christmas—coupled with a growing consumerism—these pastors urged all of us to shop less and pray, live, and do more. With consumer spending topping billions of dollars during the holiday season, they challenged Christians to choose to celebrate God's gift of the Messiah with gifts of justice, mercy, compassion, and generous support of those most in need instead. They urged the Christian community to channel their shopping and spending energy into a season of changing the world!
One Advent Conspiracy video puts annual spending during Christmas at about $450 billion. Imagine what could happen if we bought one or two fewer gifts and channeled that unspent money into a worthy cause? The Advent Conspiracy has done just that, and chosen clean water as their cause. More people die of lack of access to clean water than anything else (a fact highlighted by the outbreak of cholera in Haiti). Experts put the cost of providing clean drinking water to everyone around the world at about $10 billion. Do the math. If we are spending $450 billion on Christmas gifts, travel, and decorations, then $10 billion for clean water seems like an unbelievably low price. It just makes Black Friday seem silly in comparison. A tiny percentage of our annual Christmas spending could help relieve some of the suffering of millions whose access to clean water makes their lives a misery. It could transform whole communities from places of unspeakable suffering to places of hope.
I know this sort of talk can be a bit depressing for those of us who love the excess of Christmas and find joy in giving generous gifts at this time of year. But we aren't talking about "scroogifying" your holiday. Rather, we can embrace the Advent season of hope and anticipate the powerful coming of the Christ child by making a difference in the lives of children around us. Christmas can still change the world, but only if you and I choose hope over hype, generosity over general merchandise, compassion over campy gifts, and significance over sales. Christmas—which celebrates the birth of Christ—can change the world because God is already changing the world through you.
May you be blessed this Advent, and find true joy in worship, family, friends, and charity this Christmas.
Aloha,
Pastor Jeff Lilley
pr.jeff@lchwelcome.org
November Council Highlights
Council met Tuesday, November 16. Here are some of the highlights of the meeting:
There was an excellent turnout for the workday on Veterans Day. Thanks to all who volunteered with the many "fix-it" projects.
The budget is on schedule. Member donations are slightly higher than expected. We appreciate your continued support.
Sunday School is thriving, with high attendance at classes for adults and children.
The Parking Lot Task Force held two successful charrette workshops in November to gather ideas on parking lot refurbishment. The committee can now move forward with the bidding process.
The Cantor Search Committee has received thirteen applicants and sent out official application/pre-screening packets. Applications are due by January 19.
The draft budget for 2011 has been completed, and review by the congregation begins on November 21.
The photovoltaic system is fully operational, with expected energy savings of close to 11% beginning within the next several months.
It's Time Again for the Jesse Tree!
During the season of Advent, the children of the LCH Sunday School would like to invite the whole congregation to be part of our Jesse Tree devotions each Sunday in the Nave at 9:15 AM. It is a tradition at LCH for the children to present this short 15 minute service of music and readings during Advent.
This year the Jesse Tree services will be held on November 28 and December 5, 12, and 19. The older children will read Bible stories and prayers, the youngest children will hang ornaments on the tree representing each story, and everyone will sing the Jesse Tree song. This year, for the first time, there will be a hand bell choir as accompaniment.
The Great "O" Antiphons
Sunday, November 28 • 7:30 PM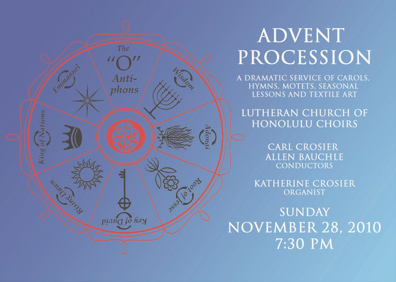 You are cordially invited to the Lutheran Church of Honolulu's 35th annual Advent Procession service on Sunday, November 28, at 7:30 PM.
The service is based on the Great "O" Antiphons, which refer to the seven Old Testament names of the Messiah: O Wisdom, O Adonai, O Root of Jesse, O Key of David, O Rising Dawn, O King of Nations, and O Emmanuel. These seven antiphons provide the basis for the verses of the beloved Advent hymn, "O come, o come Emmanuel," which choirmaster Carl Crosier has set for congregation, choir, and handbells.
Church members have fabricated banners for each symbol, which will be presented in procession during each corresponding lesson and musical selection. Carols and anthems by Peter R. Hallock, Hildegard of Bingen, Stanley Vann, Johannes Brahms, Judith Weir, George Guest, Jacob Handl, William Mathias, John Ferguson and Carl Crosier will be performed by the Lutheran Church of Honolulu Choir and Compline Choir, conducted by Carl Crosier and Allen Bauchle, with Katherine Crosier at the organ.
Composer of the Great "O" Antiphons, Peter R. Hallock, will be in attendance at this service, Carl Crosier's 35th and final Advent Procession.
Process Thought Forum

The December topic for the Process Thought and Faith Series will focus on an article by John Cobb, Jr. titled "Deep Ecology and Process Thought."
Leading the discussion for us will be Matt LoPresti, a professor of philosophy from Hawai'i Pacific University. He has acknowledged that the perspective of Process Thought has rescued his religious life and sensibilities. He will be present for the discussion at the Saturday session, December 11, 9:30–11:00 AM at LCH. A repeat session will be held at noon on Sunday, December 12. For further information contact Fritz through the Church Office (941-2566)
Invitation To Adult Education Programs
Beginning December 12, Pastor Jeff will lead adult education on the theme "Unpacking Christmas: A Spiritual Approach." The class will be held December 12, 19, 26, and January 2.
On January 9, the class will begin watching a movie about Albert Schweitzer.
Come join the discussion between services at 9:15 AM!
Committee/Interest Group Chairs
Committee/Group
Leader
Aloha Jam:
Pastor Jeff Lilley
Archives:
James Cartwright
Audit:
Bobby Broyles
Compline:
Keane Ishii
Concert:
Carl Crosier
Communications:
Carol Langner
Council:
Olivia Castro
Fellowship:
Jeanne Castello
& Mary-Jo Estes
Finance:
Steve Miller
Food for Thought:
Kathryn Klingebiel
Garden Club:
Carol Langner
In Stitches:
Linda Miller
Learning Ministry:
Fred Benco
Mary Magdalene Society:
Bobby Broyles
Ministry Plan Task Force:
Olivia Castro
Mutual Ministry:
April Smith
Pau Hana:
Pastor Jeff Lilley
Pre-Compline:
The Rev. Fritz Fritschel
Process Theology:
The Rev. Fritz Fritschel
Property:
Jean-Paul Klingebiel
Scholarship:
Fred Benco
Social Ministry:
Ray Herradura
& Robert Zimmer
Stewardship:
Pam Buckley
Sunday School:
Laurie Leach
& Linda Miller
Worship & Music:
Linda Miller
Writers' Workshop:
Kathryn Klingebiel
Youth:
Sean D'Evelyn
& Crescent C.

Thanks again to all of you who have submitted pledges of time, talents, and treasure for the new year. As of this writing, we have thirty-nine pledges—including six turned in via the website and three from our children.
As the person responsible for opening and recording the pledges, Bill (who serves as financial secretary) reports being overjoyed in reading the pledges of time and talents to support the ministries of our congregation. Each one is different, and by itself, may not seem like much; yet taken together, they testify to a commitment to advancing the mission God calls us to as a community of faith. All of these pledges of time and talents have been communicated to the individual who coordinates those ministries and activities.
Confirmation letters have been sent out for monetary pledges, and totals have been communicated with the Finance Committee as they work on planning next year's budget.
If haven't turned in your pledge, it's not too late. Pledge "scrolls" are available in the ushers' stand at the back of the Nave, and the online version is still available.
The four of us are grateful for your support of this year's stewardship program, but we are even more grateful for the strong commitments members of our community have made to the mission God has given us.
We hope you will consider stewardship as a daily commitment to caring for all of God's creation, for each other, and for our church home.
We are stewards!
Your Stewardship Team
Pam Buckley, Karen Fay, Bill Potter, April Smith
Veteran's Day Workday
Mahalo to all who came with willing hands and joyful hearts to the Veteran's Day Prayer and Work Party: Peggy Anderson, Chris Bushman, Jeanne Castello, Mary Jo Estes, Tricia Howe, Chuck Huxel, Jean-Paul Klingebiel, Jean Lilley, Jeff Lilley, Ernie Petersen, Bill Potter, April Smith.
April and Jean-Paul began the morning by leading a short prayer service in thanks and remembrance for all our veterans. This was followed by small repair jobs around the church and some cleaning and organizing in the Nave closet. Miss Peggy did an especially wonderful job of cleaning the dumpster corral. The church bell was rung at 11:00 AM for a moment of silence as was first done under the direction of President Wilson on November 11, 1919.
Thanks again to all those who so willingly gave of their time off to come together and help with the stewardship of our church home!
Writers' Workshop

Writers' Workshop will hold its next meeting on Monday, January 17, from 7:00 to 8:30 PM in the LCH Boardroom. All are welcome. For more information, please contact Kathryn Klingebiel through the Church Office (941-2566).
You Are Invited
"If you can?" said Jesus. "Everything is possible for him who believes."—Mark 9:2
Over the years we have paused to contemplate our ministry at LCH, and each time we have come up with lists of certain traditions we do well and would like to continue. Among these are our liturgical based worship, our wonderful variety of music, our learning ministry programs, our outreach to IHS, Food for Thought and other small groups, gifts of arks through the children's benefit concerts, and LutherFest.
Our mission statement:
Welcoming to all
Worshipping, growing, serving
Christ's community.
We are stewards who have done wonderful things for our church community and the community that surrounds us!
Still, we have reoccurring visions of areas where we would like to expand, such as community outreach (including campus ministry), dynamic youth ministries, nurturing family ministries, small group forums, individualized counseling, expanded LCH membership, and a more vibrant fellowship.
We ask that you pray about the possibilities yet to unfold. We encourage you to participate in 'Ohana Group discussions in your area to explore ways of growing our ministry at LCH through the call of an associate pastor. Sign up sheets are in the courtyard. Please share your thoughts, concerns, or inspirations with us either in person or by dropping a note in the suggestion/comment box.
We would like to thank each of you for making LCH the wonderful welcoming place that it is. Working together, let's see what we can become!
LCH Staffing Task Force,
Chuck Huxel, Mike Formby, Pamela Buckley, Casey Fegley,
Peter Flachsbart, Angie Niermann, Karyn Castro, Peter Lee
Food for Thought
Food for Thought will meet next on Saturday, January 22, at 6:30 PM at the home of Irmgard Hörmann for potluck supper and discussion. All are welcome. For information, please call Kathryn Klingebiel through the Church Office (941-2566).
Save the Date
Punahou Carnival Youth Fundraiser: February 4 and 5, 2011
Each year the youth group requests your help with their Punahou Carnival Parking fundraiser. This year the carnival takes place on Friday, February 4, and Saturday, February 5.
We will need adult volunteers for three-hour shifts during the carnival on Friday and Saturday. Event coordinators provide snacks, drinks, flashlights, and safety vests. You provide the fellowship! Sign-up sheets will be available in the Hörmann Courtyard in January.
Thank you!
Pam Buckley, Jean Lilley, and Jerelyn Watanabe
What's New on the LCH Website?
Bill Potter, Webmaster

Because the December HeartBeat is being published early, there is not much new to report on this month.
To remind you of everything that went into the Monteverdi Vespers, there is a picture from one of the rehearsals on the Congregational Life page. But for the full story, check out "Another Year of Insanity," Kathy Crosier's blog report the behind-the scenes in the LCH music program. Find links to this blog on the Social Networking page.
You'll also want to listen to a select group from the LCH Choir singing selections from the Ionian Psalter, which we use most Sunday's during the 10:30 worship. The new page in the Music section features five different psalms from various seasons and in different styles.
As we approach the Christmas season, with all its different worship services, you will want to bookmark the December music list or the list of Christmas worship services for your own reference or to send to your friends.
Egg Carton Reminder
Please keep bringing those recyclable egg cartons into the LCH campus. They are very much appreciated. Save The Food Basket buys eggs in bulk for distribution to clients and repacks them into these containers.
This is both an HIV/AIDS project and a green one!
For more information, contact Robert L. Zimmer through the Church Office (941-2566).
Seminar on Wills, Trusts, and Leaving a Legacy
Saturday, February 26, 2011
Greg Shepherd, ELCA Regional Gift Planner, to present a wills, trusts, and legacy seminar next February. This seminar pertains to new tax laws, wills, trusts, estates, and gift planning.
The seminar will be for all Hawai'i Lutheran congregations and will be conducted on O'ahu.
Watch The HeartBeat for further details.
Offering Envelopes
Offering envelopes will be available at church on Sunday, December 12, for those who requested them when making a pledge. If you would like a box of envelopes for your contributions but did not make a pledge or forgot to check the box your pledge scroll, please let the office know, and a box will be ready for you on December 12.
Of course, you do not need a box of envelopes to contribute. You are welcome to just drop your check in the offering plate without putting it in an envelope or to put your check or cash in a plain envelope from home or one of the envelopes provided in the pews.
If you still have envelopes from this year or from previous years and want to keep using them, that's fine too. However, since numbers are reassigned each year, the counters may not be able to match your "old" number with you. So, if you use old envelopes, please cross out the number and be sure to write your name on the envelope.
End of year contributions
As specified in IRS regulations, all contributions made in person at church through Thursday, December 30, or postmarked by December 30 will be counted as part of your 2010 contributions for tax purposes. (The deadline is a day earlier than most years since December 31 is the official New Year's Day holiday this year.)
Any contributions received (or postmarked) after December 30, no matter what the date on the check, will be credited to 2011 for tax purposes.
Christmas Worship Schedule

Christmas Eve † Friday, December 24
5:00 PM
Family Christmas Worship (featuring children)
10:30 PM
A Baroque Christmas
11:00 PM
Solemn Choral Eucharist
Christmas Day † Saturday, December 25
10:30 AM
Festival Choral Eucharist
St. Stephen's Day † Sunday, December 26
8:00 AM
Holy Communion with Lessons and Carols
10:30 AM
Choral Eucharist with Lessons and Carols
7:00 PM
Solemn Vespers for St. Stephen's Day
Second Sunday of Christmas † Sunday, January 2
8:00 AM
Holy Communion
10:30 AM
Choral Eucharist
4:00 PM
German Vespers for New Years
Attendance and Offerings for November
Date
Worship Service
Attendance
Offering Fund
Offering Amount
November 7
8:00 AM Service
40
Offering
$3,779.00
10:30 AM Service
90
In Stitches
$25.00
Total
130
Angel Network
$25.00
Music Fund
$100.00
November 14
8:00 AM Service
74
Offering
$2,820.00
10:30 AM Service
92
IHS Meals
$20.00
Compline
19
Music Fund
$215.00
Total
185
November 21
8:00 AM Service
51
Offering
$2,909.00
10:30 AM Service
81
Music Fund
$20.00
Compline
26
Total
158
Attendance and Offerings for Sunday, November 28, 2010, were not available at time of publication.
Prayer Requests
Carl
Karen
Ruth
Gene
Maggie
Shane
Judy
Susan
December Birthdays
Date
Name
12/03
Betty Petersen
12/04
James Sullivan
12/04
Jerelyn Watanabe
12/09
Masako Schwabenitz
12/10
Tom Juvinall
12/17
Mark Brommer
12/17
Carly Schweigert
12/18
Jacob Burkman
12/18
Adelheid Khuehnle Wallace
12/19
Andrew Yeh
12/20
Peggy Anderson
12/25
Nicole E.-N.
12/23
Michael Burnett
12/23
Linden Doescher
12/24
Sophie C.
12/28
Welmon Walker Jr.
10/28
Jan Flachsbart
LCH Worship Participants
LECTOR
Michael Formby
Bill Hamblet
Chuck Huxel
Carolyn Koehler
Juditha Murashige
COMMUNION
ASSISTANTS
Peggy Anderson
Michael Formby
Peter Lee
Sean D'Evelyn
Charlotte D'Evelyn
Kyra Ann Takamiya
Chuck Huxel
Bill Hamblet
Crescent Cheng
Peggy Anderson
Laurie Leach
Chuck Huxel
Bill Hamblet
Sean D'Evelyn
Laurie Leach
Carolyn Koehler
Michael Formby
Peter Lee
Stephanie Luuloa
Jim Sullivan
ACOLYTE
Colin B.
Missy H.
Sophie C.
Missy H.
Colin B.
LAYING ON
OF HANDS
Stephanie Luuloa
USHER
Fred Benco
Fred Benco
Fred Benco
Fred Benco
Fred Benco
LECTOR
Peter Flachsbart
Roy Helms
Angie Niermann
Sylvia Hormann-Alper
Jim Cartwright
DEACON
Amanda Lippert
Penny Lawhn
John Bickel
Sue Haas
John Bickel
SUBDEACON
Bob Zimmer
Frank Haas
Josie Bidgood
Jeanne Castello
Penny Lawhn
COMMUNION
ASSISTANTS
Penny Lawhn
Randy Christensen
Mary Fastenau
Sue Haas
Randy Christensen
Amanda Lippert
Frank Haas
John Bickel
Chuck Huxel
Randy Christensen
ACOLYTES
Nathalie J.
Reid W.
Ray Herradura
Savannah M.
Savannah M.
Bob Zimmer
Ray Herradura
Bob Zimmer
Mary Fastenau
Reid W.
LAYING ON
OF HANDS
Bob Zimmer
USHERS
Chuck Huxel
Francisco Barajas
Nan Wond
Chuck Huxel
Francisco Barajas
Nan Wond
Chuck Huxel
Francisco Barajas
Nan Wond
Chuck Huxel
Francisco Barajas
Nan Wond
Chuck Huxel
Francisco Barajas
Nan Wond
ALTAR
GUILD
Olivia Castro
Penny Lawhn
Mary-Jo Estes
Billie Jean Ries
Olivia Castro
Penny Lawhn
Mary-Jo Estes
Billie Jean Ries
Olivia Castro
Penny Lawhn
Mary-Jo Estes
Billie Jean Ries
Olivia Castro
Penny Lawhn
Mary-Jo Estes
Billie Jean Ries
Olivia Castro
Penny Lawhn
Mary-Jo Estes
Billie Jean Ries
LECTOR
April Smith
DEACON
Ray Herradura
SUBDEACON
Amanda Lippert
COMMUNION
ASSISTANTS
Chuck Huxel
Bob Zimmer
ACOLYTES
Seth Lilley
Kyra Ann Takamiya
Heart Beat Deadline
Next Heart Beat Deadline is Tuesday, December 14!
Heavenly Humor
Out of the mouths of God's kids
In mid-December, a boy in kindergarten at a church school came home and asked his father, "What is buffalo ham?"
The father patiently explained to him the difference between beef and pork. After his explanation, the boy asked, "Why did my religion teacher tell me that is where Jesus was born?"
—Smiley Anders, columnist
Baton Rouge (LA) Advocate
Calendar: December 2010
Day
Date
Event and Time
Wednesday
December 1
Confirmation at Calvary, 6:00 PM
Thursday
December 2
Book of Faith Bible Studies, 10:00 AM
Preschool Chapel, 10:30 AM
LCH Choir Rehearsal, 7:00 PM
Sunday
December 5
Angel Network In-Gathering
Holy Communion, 8:00 AM
Jesse Tree, 9:15 AM
Christian Education for All Ages, 9:30 AM
Choral Eucharist, 10:30 AM
Leadership Roundtable, 11:45 AM
Pre-Compline Discussion, 8:30 PM
Compline, 9:00 PM
Wednesday
December 8
Finance Committee Meeting, 12:30 PM
Confirmation at Calvary, 6:00 PM
Thursday
December 9
Book of Faith Bible Studies, 10:00 AM
LCH Choir Rehearsal, 7:00 PM
Saturday
December 11
In Stitches, 9:00 AM
Process Thought Forum, 9:30 AM
Sunday
December 12
Holy Communion, 8:00 AM
Jesse Tree, 9:15 AM
Christian Education for All Ages, 9:30 AM
Choral Eucharist, 10:30 AM
Process Thought Forum (Rpt.), 12:00 PM
Joint Confirmation, 3:00 PM
Pre-Compline Discussion, 8:30 PM
Compline, 9:00 PM
Monday
December 13
Aloha Jam, 6:00 PM
Tuesday
December 14
HeartBeat Deadline, 9:00 AM
Worship & Music, 6:30 PM
Wednesday
December 15
Confirmation at Calvary, 6:00 PM
Thursday
December 16
Book of Faith Bible Studies, 10:00 AM
LCH Choir Rehearsal, 7:00 PM
Friday
December 17
IHS Meal Preparation, 1:00 PM
IHS Meal Serving, 5:30 PM
Sunday
December 19
Holy Communion, 8:00 AM
Jesse Tree, 9:15 AM
Christian Education for All Ages, 9:30 AM
Choral Eucharist, 10:30 AM
Pre-Compline Discussion, 8:30 PM
Compline, 9:00 PM
Tuesday
December 21
Council Meeting, 6:30 PM
Wednesday
December 22
LCH Choir Rehearsal for Christmas, 6:45 PM
Thursday
December 23
Preschool Chapel, 10:30 AM
LCH Choir Rehearsal for Christmas, 7:00 PM
Friday
December 24
Christmas Eve—Office Closed
Family Christmas Eve Service, 5:00 PM
A Baroque Christmas, 10:30 PM
Solemn Choral Eucharist, 11:00 PM
Saturday
December 25
Festival Choral Eucharist, 10:30 AM
Sunday
December 26
Holy Communion, 8:00 AM
Christian Education for All Ages, 9:15 AM
Choral Eucharist, 10:30 AM
Solemn Vespers for St. Stephen's Day, 7:00 PM
Compline will not be sung this evening.
Wednesday
December 29
No Confirmation
8:00 O'Clock Ensemble Rehearsal, 6:30 PM
Thursday
December 30
LCH Choir Rehearsal, 7:00 PM
Friday
December 31
New Year's Eve—Office Closed
---

Copyright © 2010 Lutheran Church of Honolulu
1730 Punahou Street, Honolulu, HI 96822 • 808-941-2566
Comments welcome at webmaster@lchwelcome.org