Congregational Life at LCH—January, February, and March 2008
Joy and Fellowship Mark Our Easter Celebration
The joy of worship combined with fun and fellowship as we celebrated our Lord's resurrection on Easter Sunday. Between morning worship services, the Fellowship Committee hosted a delicious brunch for one and all. At left, we see members, friends, and visitors enjoying conversation as well as the delicious meal.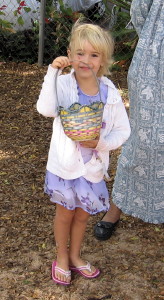 There was also a traditional Easter egg hunt for all the children. At right, one of the younger children holds up her basket.
See more pictures from Easter morning as well as all of Holy Week in the Holy Week & Easter Slideshow.
Serving at IHS on Good Friday
While many might expect a meatless mean on Good Friday, our faithful IHS crew didn't want to disappoint the clients at IHS (the Institute for Human Services, Honolulu's homeless shelter), so again this month they prepared our signature meatloaf. When clients see that we're serving meatloaf, they always ask, "Is it real meat?" and we're happy to reply, "Real meat!"
At left, Billie Jean Ries, Jim Cartwright, Peggy Anderson, Mary-Jo Estes, and Jimmy Castro mix the meatloaf in large serving pans and prepare it for baking.
LCH serves dinner at IHS the third Friday of every month. Cooking begins at 1:00, and serving at 5:30. Talk to Jimmy or Olivia Castro to volunteer.
Holy Week Begins with Palm Sunday Procession and Seder Meal
Our observance of Holy Week began with the traditional Palm Sunday Procession with Palms and the Seder Meal hosted by our Sunday School student.
Our children and youth have been busy over the last few weeks making all the preparations for the Seder Meal, which commemorates the Passover and Exodus from Egypt. They invited all members of he congregation to join them for the Seder meal between morning worship services.
At right, children and adults experience the traditional Seder foods: matzoh (unleavened bread), maror (bitter herbs), charoses (a mixture of apples, nuts, wine, and cinnamon), beltzah (roasted egg), karpas (vegetable), zeroah (shankbone), and wine.
Both morning worship services began with a traditional procession and included a dramatic reading of the Passion Gospel from Matthew. Pictures from the Palm Sunday Procession and the Passion Gospel are part of the Holy Week & Easter Slideshow.
Wednesday Lenten Suppers, Worship, and Book Study
Each Wednesday during Lent, LCHers gather for fellowship, worship, and a book study. The evenings begin at 6:00 PM with a light meal of soup, salad, and bread enjoyed with abundant table fellowship.
Vespers follow at 7:00 PM using Holden Evening Prayer by Marty Haugen (left).
The evenings end with a discussion of Night by Elie Wiesel.
Former LCH Intern Katy Grindberg Ordained
Katy Grindberg, Intern Pastor at Lutheran Church of Honolulu during 2004–05, was ordained into the Evangelical Lutheran Church of America on Saturday, February 23, 2008. The ordination took place at a worship service held at Chapel of the Cross, Pacific Lutheran Theological Seminary, in Berkeley, CA. Professor Michael Aune presided, Bishop David Mullen (Sierra Pacific Synod) ordained Katy, and Pastor Jeff Lilley preached at the Eucharist.
At right, Katy is shown right after the service in a new stole—a sign of the office of pastor—presented during the ordination service by Jimmy and Olivia of LCH, Katy's father, Alan, and her brother, Hugh. The stole was designed by Randy Castello and fabricated by Terry Hiller. The design depicts 'ohia flowers rising from a volcano into a dawn sky. The 'ohia is often the first tree that grows through a lava flow and is a sign of hope and rebirth.
Katy received a call as associate pastor of Advent Lutheran Church, Citrus Heights, CA.
See more pictures from the ordination on this page.
Jammin' in the Courtyard
Happy LCHers and their assorted instruments filled the Hörmann Courtyard with melody Monday evening, February 11, for the monthly Aloha Jam. Guitars and other stringed instruments, flute, steel drum, and an electronic keyboard joined together in lively harmony as the group tried songs both old and new.
Mark Monday, March 10, at 6:00 PM on your calendar if you'd like to be a part of the next Aloha Jam. Talk to Pastor Jeff for more information or encouragement. All are welcome.
Enthusiastic Crowd Makes Ark IV a Big Success
Again this year a large and enthusiastic crowd of parents, friends, and interested community members made the Ark IV Benefit Concert a big success. Organized by the talented children of LCH, the concert is the kick-off for the children's annual Lenten fundraising challenge to raise $5,000 to buy an ark of animals for Heifer International. Joining the children again this year was Judy Rich, local Heifer representative, who explained that the ark of animals and the training that accompanies the animals would provide the means for 30 families around the world to move out of poverty.
At right, all the children sing their final choral number, "All Things Bright and Beautiful." Follow this link for more pictures from the concert.
For more information on Heifer International, visit their website.
Another Busy Saturday at LCH
The LCH campus was a beehive of activity on Saturday, February 9.
Members of In Stitches held their regular semi-monthly meeting in the Board Room for stitching, ribbon and yarn lei making, and fellowship.
At the same time, the Process Thought Forum (left), under the leadership of Pastor Fritz Fritschel, was meeting in Isenberg Hall to consider Robert Brizee's article "Process Relational Psychotherapy: Creatively Transforming Relationships." Brizee uses the image of person-as-committee-meeting to understand human personality and as a basis for counseling. The lively discussion ranged from "what is human nature?" to Buddhist and Taoist approaches to life and slogans for T-shirts. Another session on the same topic takes place at noon on Sunday, and a new topic is scheduled for March 8 and 9.
Meanwhile, volunteers for the ongoing archive recovery project were hard at work in the Rainbow Room. As reported in the last HeartBeat, boxes of church records that had been stored in the "crypt" under the counting room have been frozen to kill insect pests and now must be cleaned to remove dirt, insect residue (the technical term is frass), and other foreign matter. At right, Lise Tellander and Chuck Huxel clean archive materials one page at a time.
As if these activities weren't enough, there was also a wedding Saturday morning, the Ark IV Benefit Concert took place that afternoon, and the Mary Magdalene Society was scheduled to meet that evening. A busy day!
Young LCH Impresario Featured in MidWeek
Mitchell G., familiar to all of us at LCH for his comments during children's conversations and as organizer of the series of children's benefit concerts, was the featured in the "Good Neighbors" section of this week's Midweek magazine. The article by Sarah Pacheco describes various aspects of Mitchell's life, but the real focus is on his inspiration for the benefit concert and the way he has led LCH youth in every aspect of producing the concerts.
At left, is the photo of Mitchell playing his violin that appeared in the Midweek article.
Follow this link to read the full article on the MidWeek website.
Don't want to miss the concert this Saturday, February 9, at 4:00 PM in the Nave.
Jim Keller Fêted on 80th Birthday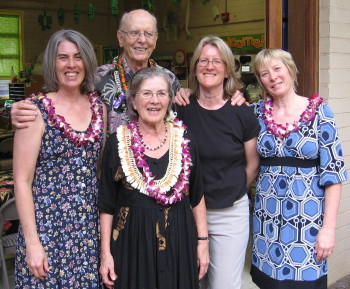 The Rev. Jim Keller, former pastor of Prince of Peace Lutheran Church in Waikiki, and a regular at LCH in the winter months, was surprised with a gathering of family and friends who journeyed to Honolulu to celebrate his birthday during and after worship on the morning of February 3. Jim's wife Audrey had been working quietly to get everyone there, and she even arranged for the choir to sing F. Melius Christiansen's "O Day Full of Grace," Jim's favorite anthem, for the introit.
At right, Jim and Audrey Keller (center) with daughters Rachel, Sarah, and Becky, who came from the continent for the birthday celebration.
Punahou Parking Raises Funds for LCH Youth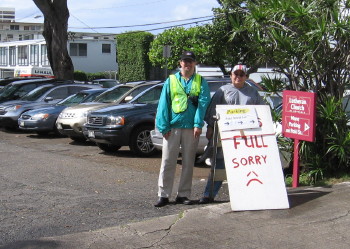 It's Punahou Carnival time, so of course, it's raining, but that has not deterred our youth and adults from their big fundraiser—carnival parking. Under the leadership of Pam Buckley, Jeanne Castello, and Olivia Castro, dozens of volunteers guided carnival-goers who parked their cars in the two parking lots and on the front lawn on Friday and Saturday, February 1 and 2. The effort raised $5,598 for youth from LCH and other Hukilau congregations to participate in camp this summer.
At left, Lars Tellander and Cheryl Crosier-Garcia watched over the full back lot and directed folks to the Poki Street lot.
Adam Burke Installed as OYEA Coordinator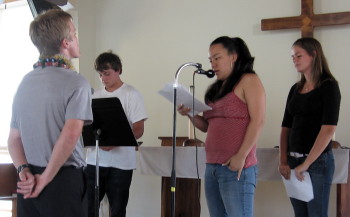 Sunday afternoon, January 27, youth and adults from the six Hukilau congregations installed Adam Burke as the new OYEA (Oahu Youth Education and Activities) Coordinator in a lively service at Joy of Christ Lutheran Church in Pearl City. The entire service was arranged by youth from the various congregations. Among the LCH participants were Kyra Ann T. and Seth L., who preached the sermon.
At right, Kyra Ann T. questions Adam prior to his installation.
Follow this link for more pictures from the installation.
St. Olaf Students Visit LCH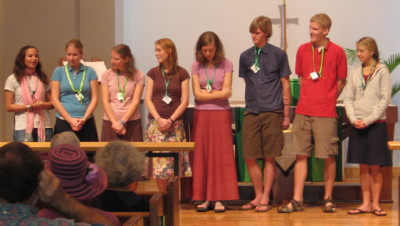 Also on January 27, LCH welcomed eight students from St. Olaf. The students, who were completing their Global Semester, enjoyed a few days in Honolulu as guests of LCH families and joined the congregation for worship.
Following the sermon, the students (left) shared reminiscences of the hospitality they experienced living and studying in Switzerland, Greece, Egypt, India, Thailand, China, and Korea.
Congregational Meeting Adopts 2008 Budget
The second half of the Annual Congregational Meeting took place on Sunday, January 27. The meeting focussed on the financial report from 2007 and the operating budget for 2008. Treasurer Roy Helms announced that we ended 2007 with a small surplus ($2,423), and then the floor was opened for discussion of the proposed budget for 2008, which had been distributed in November. Following brief discussion, the $423,236 budget was adopted unanimously.
Pastor Jeff Lilley (right) then reported on plans by the Pacifica Synod to purchase their own offices so that the current rental expenditures can be used for mission. He also distributed a report from Carol Langner and the Social Ministries Committee showing that various efforts over the last year (such as Operation Backpack, Angel Network, IHS, Save the Foodbasket, fasting & feasting, the Heifer Ark, and Abendmusiken benefit concerts), along with our Synod tithe, contributed over $47,000 to concerns outside our congregation.
LCH Begins the New Year Serving at IHS
The third Friday in January saw volunteers from LCH back at IHS (The Institute for Human Services), Honolulu's homeless shelter, preparing and serving dinner for the guests. But, even though it was a new year, the ever-popular menu of meatloaf had not changed.

At left, Jimmy Castro, Bill Potter, Olivia Castro, Rudy Riingen, and Mary-Jo Estes on the serving line. Karyn C., Ray Herradura, and Seth L. also helped serve. The cooks were Olivia Castro, Chuch Huxel, and Jean and Jeff Lilley.

LCH next serves dinner for the guest at IHS on Friday, February 15. Cooking begins about 1:00 PM, and we begin preparing to serve at 5:30. Talk to the Castros for more information or to volunteer.

Volunteers Needed for Punahou Carnival Parking
It's that time of the year again when the annual Punahou School Carnival takes place and our church provides parking for carnival goers. All proceeds go to the Youth Group. This year's youth event will be an OYEA Summer Camp, June 30–July 4, 2008, at Camp Erdman on the North Shore. Camp WAPO staff will come to Hawaii to run the week long program.
It has been a tradition for members of our congregation to volunteer for the 72 shifts and staff the three parking areas (front lawn, back lot, and Poki Lot) on Friday and Saturday, February 1 and 2. It is a great time to work together, get to know our youth, meet new people, or catch up with old friends. Light refreshments will be available, and if you work two or more consecutive shifts, a meal will be provided. So plan to work a shift or two, and join in the fun. Sign up sheets will be in the courtyard each Sunday. See Pam Buckley or Jeanne Castello if you have any questions.
A Sweet Epiphany Celebration
By the luck of the calendar, Epiphany fell on Sunday this year, so we were able to enjoy a sweet celebration of this feast that ends the Christmas season, thanks to members of the Fellowship Committee and the whole Sunday School.
The first step was baking dozens of sugar cookies in holiday shapes. At right, Jeanette Hansen and Ilse Layau of the Fellowship Committee roll, cut, and bake the cookies.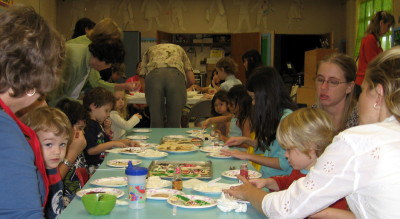 Once the cookies had been baked and cooled, Sunday School children—with a little help from parents, aunties, uncles, and grandparents—decorated the cookies with icing and sprinkles.



Even though the children ate some of the cookies, there were plenty left for the whole congregation to enjoy following the second worship service.
---

Copyright © 2008 Lutheran Church of Honolulu
1730 Punahou Street, Honolulu, HI 96822 • 808-941-2566
Comments welcome at webmaster@lchwelcome.org