The HeartBeat
A Message from Pastor Jeff
Without a vision, the people perish.
—Proverbs 28:19

On May 2nd, the entire Lutheran Church of Honolulu community is invited to participate in a congregational retreat designed to enhance and provide direction for ministry. The retreat is the next natural step in a process that began many months ago with the Ministry Planning Taskforce. Information gathered through the Natural Church Development process and several 'Ohana Meetings, as well as information from congregational leadership, have all informed the process we will use on Sunday, May 2nd. So why should you participate?
First, your presence is key to the work that we will do. We hope you will come so that the life of the congregation can be transformed by what God is doing in your life and in the life of your family. God created this church for you, for the community, and to glorify God. It is far too easy to get caught up in the details of running a church and miss the joy of living in a community of faith where our priorities center around glorifying God in worship, prayer, and service. Without your presence, we will not know what God is up to in your life.
Second, the leadership of the congregation—and especially your pastor—will take the process, whatever results, very seriously. We are at a crossroads in the life of the congregation. Ministry is going exceptionally well, finances are stable, membership and enthusiasm for the life of the congregation continues to grow. But we are also faced with some challenges. Our cantor of 37 years has announced his retirement, the economy in Hawaii is going through historic changes, our facility is in dire need of updating, and current staffing is inadequate to accommodate growth.
Third, we are asking a different question than is usually asked. Visioning processes often ask, "What do you want the ministry to look like in five or ten years." The result is a list of preferences that may or may not serve the present congregation, but seldom account for the future. Instead of developing a list of our preferences, the retreat planners are wondering what God is calling our congregation to in the present and in the near future. We seek wisdom and vision in prayer, deliberation, discussion, and listening.
The next few years present a wonderful opportunity in the life and ministry of the people gathered in community at Lutheran Church of Honolulu. The Holy Spirit is moving in our ministry; now we can begin to understand more fully how the Spirit will move us.
If you have not signed up for the retreat on May 2nd, please do so right away. Together, with the help of God, we can develop a vision for ministry that will equip the Lutheran Church of Honolulu to continue to serve God's people, share God's grace, celebrate God's love, and proclaim the Gospel of Jesus Christ for another 100 years. Without a vision, the people perish, but with a vision rooted in Christ, the people flourish!
Pastor Jeff Lilley
pr.jeff@lchwelcome.org
Reserve May 2 to Plan the Future of LCH
The planning event that didn't happen because of the tsunami has been rescheduled for the afternoon of Sunday, May 2nd, from Noon to 4:00 PM.
Join with the council, members, and friends of our congregation to plan LCH's future in the next 5, 10, and 15 years. We will be discerning God's call/vision for us.
The event takes place right after the second service, and lunch will be provided. Our nursery attendants have agreed to stay and provide child care.
Sign up in the courtyard or let Kanani know at 941-2566 or <lch@lchwelcome.org>.
April Council Meeting Highlights
The LCH Council met on April 20th. Here is a brief recap of the items discussed:
Carl Crosier's retirement plans were accepted reluctantly. We shall miss him! Strategic planning for his replacement will begin with our Congregational Retreat, Sunday, May 2. We welcome your feedback on this very important topic.
The Social Ministry Committee needs new members. Remember, Social Ministry deals with outreach; the Fellowship Committee addresses needs within the congregational family. The Fellowship and Social Ministry Committees are planning a combination Food Drive and Pau Hana on June 6.
Stewardship Committee needs new members. This committee focuses on finances in the fall, and spiritual gifts/education in the spring.
Jean-Paul and the Property Committee need ongoing assistance with minor repairs and property upkeep. See Jean-Paul if you can help!
Angel Network—Gather in Giving!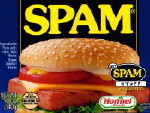 The April in-gathering for the Angel Network was satisfying. A shopping cart with saimin, canned goods, Spam, and personal care items was collected for the Angel Network located at Calvary by the Sea Lutheran Church. Thank you for all your support. In-gatherings are scheduled for the first Sunday of each month, so your next opportunity to participate is May 2nd.
Leadership Roundtable
Sunday, May 2nd, at 11:15 AM, following the 10:30 service, the chairperson or another representative of each committee will meet in the Boardroom with Pastor Jeff and Council President Olivia Castro. This meeting, repeated the first Sunday of every month, is to enhance communications among committees. See you there!
Adult Forum
Adult Forum will conclude its study of the Bonhoeffer documentary on May 2nd.
On May 9, 16, and 23 we will learn about the interesting, early origins of our church creeds from Wayne Gau. Hope to see you there.
Scholarships Available
Scholarship Committee reminds members and friends that scholarship applications are available from Kanani (941-2566). Please try to get these applications in early to reduce the stress levels for all involved. Please turn in applications to Kanani by June 15th. Mahalo.
Snacks Between Services
Don't have time to eat before 8:00 AM worship? Want to sleep in before the 10:30 AM service, but don't want to bother making something to eat before going to worship? Well, consider filling your tummies and visit with others in the Hörmann Courtyard between services from 9:10 AM till 10:20 AM.
We will provide the coffee, tea and juice, and you can provide the edible delights. Please sign up to bring your goodies—look for the sign up sheet on the name tag table.
Your Fellowship Committee
Writers' Workshop

Writers' Workshop will hold its last meeting of the Spring on Monday, May 3rd, 7:00–8:30 PM in the Boardroom (or the Rainbow Room) at LCH. Our Spring schedule will conclude with a meeting on May 3rd. All are welcome. For information, please contact Kathryn Klingebiel through the Church Office (941-2566).
Food for Thought
Food for Thought will meet next on Saturday, May 8th, 6:00 PM at the home of Irmgard Hörmann, for potluck supper and discussion. All are welcome. For information, please call Kathryn Klingebiel through the Church Office (941-2566).
Process Thought Forum

The monthly Process Forum for May will feature a discussion of selected poems, Saturday, May 8th, 9:30–11:00 AM at LCH. The following six poems will be used and may be found online by author and title. "I carry your heart with my heart," e.e. cummings; "Lift Every Voice and Sing," James Weldon Johnson; "Twilight: After Haying," Jane Kenyon; "How Could You Not," Galway Kinnell; "Church Going," Philip Larkin; and "The Longing,'' Nimah Nawwab. Bring a friend. We try to use the perspective of Process Thought in our appreciation of the poems—and we have a good time! For further information speak to Fritz.
Celebration of Life Service for George V. Richmond
Carol Langner's father, George, died on March 1st here in Honolulu, just 3 weeks short of his 98th birthday. George often attended LCH in the 1990s. The congregation is invited to share in a service to celebrate his life on Saturday, May 15th, at 3:30 PM. here at LCH. A reception will follow the service.
OYEA Year End Party
OYEA and the Confirmation classes will have an end of the year blowout party May 16th, 4:30–7:00 PM at Kaka'ako Park in Honolulu. Bring your friends for a great time at the park including ice blocking, hamburgers (and even veggie burgers), hotdogs, snacks, games, and fun. Everyone is invited, so let's do it! Please RSVP to Pastor Jeff Lilley at pr.jeff@lchwelcome.org so we can plan for food.
Bring in Those Lei
Please bring in any ribbon lei you have been working on at home. We are very low on visitor lei since we were able to give out so many around Easter. Thank you for your help. If you wish to learn how to make the ribbon lei or just want to work on crafts with friends come join us at In Stitches the second and fourth Saturday of the month from 9 to 11 in the Boardroom. The next few meetings are May 8th and 22nd and June 12 and 26. You can also ask Linda Miller for ribbon and instruction.
Sunday School Fun Day
May 30th is the last day of Sunday School. That day, at 9:15, between the services, we will have games and treats for the children. Please plan to be there to finish the "school" year with a bang.
Any Zither Players?
Tomy Temerson is a master zitherist from Germany who has appeared in concerts and also teaches zither playing. He would like to come to Hawaii in March 2011 to perform.
His curriculum vitae is available. Call Faith Evans at 261-6680 if you have questions or are interested in hosting Tomy Temerson.
The LCH AIDS WALK Team poses for a picture at the end of the walk.




Pastor Jeff and the kids who joined in to make the efforts of the LCH team a big success.
LCH Walks the Walk
You have heard the old adage "He can talk the talk, but can he walk the walk?" On Sunday April 25th, LCH walked the walk—literally!
Members of the Lutheran Church of Honolulu 'ohana participated in the the 19th annual Honolulu AIDS WALK which was held on Sunday, April 18th, at the Kapi'olani Park. Over 25 LCH folks joined over 4,000 participants who walked around Kapi'olani park to raise over $165,000 to support Life Foundation. The LCH Team raised more than $1,800 (checks are still coming in). LCH walkers saw the event as an "awesome opportunity" to put your faith into action. Jim Cartwright, who has walked for many years was glad to have the company of his church family for the AIDS WALK this year.
Mahalo to Peggy Anderson and Pastor Jeff for organizing this community outreach and awareness opportunity.
OYEA Donates to American Red Cross & World Wildlife Fund
Mahalo to the OYEA Youth Group for donating $2,650 to The World Wildlife Fund and The American Red Cross. The money was raised from the 2010 Punahou Carnival Parking event. Mahalo to all for your time and special thanks to our helpers from Joy of Christ. Great job OYEA!
Committee/Interest Group Chairs
Committee/Group
Leader
Aloha Jam:
Pastor Jeff Lilley
Archives:
James Cartwright
Audit:
Bobby Broyles
Compline:
Keane Ishii
Concert:
Carl Crosier
Communications:
Carol Langner
Council:
Olivia Castro
Fellowship:
Jeanette Hanson
Finance:
Steve Miller
Food for Thought:
Kathryn Klingebiel
Garden Club:
Carol Langner
In Stitches:
Linda Miller
Learning Ministry:
Fred Benco
Mary Magdalene Society:
Francisco Barajas
& Robert Zimmer
Ministry Plan Task Force:
Jim Niermann
Mutual Ministry/Transition:
April Smith
Pau Hana:
Pastor Jeff Lilley
Pre-Compline:
Fritz Fritschel
Process Theology:
Fritz Fritschel
Property:
Jean-Paul Klingebiel
Scholarship:
Fred Benco
Social Ministry:
Ray Herradura
& Robert Zimmer
Stewardship:
Pam Buckley
& Jeanne Castello
Sunday School:
Laurie Leach
& Linda Miller
Worship & Music:
Linda Miller
Writers' Workshop:
Kathryn Klingebiel
Youth:
Sean D'Evelyn
& Crescent C.
What's New on the LCH Website?
Bill Potter, Webmaster

The Congregational Life page records some highlights of our life together over the past month. Along with pictures from Palm Sunday and Good Friday, be sure to check out the Holy Week and Easter slideshow for additional pictures from this pivotal week in our worship life. There are also short stories about the presentation of the plaque recognizing our children's work to raise the money for their sixth ark and our LCH crew helping out with the pledge drive at Hawai'i Public Radio.
April marked the beginning of the second quarter, and along with that has come the reorganization of the Congregational Life page. As a part of this reorganization, stories about events from the first quarter were moved to a new page in the archives section. Use the index link on left side to revisit stories about events stretching back to March 2006.
The new quarter also brought a new set of statistics on visitors, as shown on Google Earth. Follow the link under the Website Information section on the left of the Home page to see the countries our 4,828 visitors came from during the first quarter of 2010.
In addition to all of the resources on the LCH website, remember to check our Facebook page. You can get there via links on the Home page and the Social Networking page, or you type in <LCHFacebook.com>.
Abendmusiken III—A Bach Pilgrimage VII
Come join us at LCH for a benefit concert for IHS on Sunday, May 9th, at 4:00 PM. Concert features Lutheran Church of Honolulu Choir and Back Chamber Orchestra.
Admission is $20 general, $15 seniors, and $10 students. Open seating, pay at the door. If you would like to make a donation, please make check payable to LCH. Mahalo!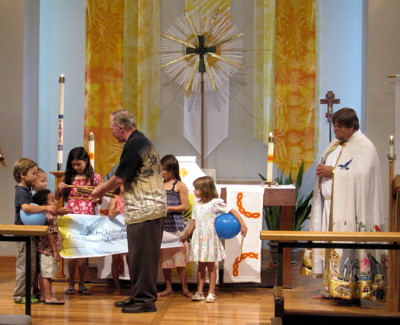 Former Interim Pastor Steve Jensen presents gifts of African flutes to children who participated in the Heifer Benefit Concert. The children are holding the check for $5,000, which they later signed so it can be sent to Heifer International.
LCH Kids Reach Heifer Goal
On April 25th, Pastor Jeff was pleased to present the youth of the congregation with their 6th Ark Plaque from Heifer International. The plaque recognizes the youth's efforts in raising over $5,000 to buy an "ark of animals" for communities in need. Each of the children who participated received a hand-made African instrument as a thank you gift courtesy of Pastor Steve Jensen.
The youth raised funds at their annual "Heifer Benefit Concert," where their considerable talents entertained a huge crowd with classical music, dance, drama, and poetry. In addition, members and friends donated a dollar a day throughout Lent toward the effort.
Heifer International will buy many pairs of animals and give them to needy families around the world. The farmers are then trained in the care and breeding of the animals. Over time, the offspring are distributed to others who then replicate the process again and again. In this way, a single pair of animals can help sustain and entire community.
Many thanks to our young people, Vicki Gorman, Teresa McCreary, Anna Womack, and all the volunteers who "built the ark."
Calabash for Hubble Family
Kristen Hubble is a 42 year old mother of three children, 6, 3, and a newborn, currently living in Salt Lake City, UT. She was 7 months pregnant with her third child when she received the diagnosis of breast cancer. Her diagnosis was a very aggressive form of cancer, so she had to have an immediate c-section as well as a mastectomy. In addition to the surgeries, due to the nature of her cancer, she must go through three separate chemo treatments.
Kristen's husband, Dave, had just graduated from college and was starting his first professional job when they received the diagnosis. He is currently working to pay the bills and keep the health insurance and trying to maintain the household. Right now, the Hubbles are trying to bring in some help at night to help with the care of the baby. Kristen is too weak for infant care and Dave is taking care of the baby from 3:00 AM until he leaves for work, but they are in desperate need of help for some of the late night hours.
Living in Utah and not being a member of the Mormon community, they have very little support in the area. Family has helped to the best of their abilities, but this wonderful family is in need of additional support. Please take a moment and say a prayer for them.
Any donation is most appreciated. Please make checks out to LCH and note Hubble calabash. Let's send some support to the Hubble family. Please put your donations in the calabash bowl on Sunday May 2nd and 9th.
Thank you!
Stacey Bushman
OYEA Summer Camp Registration Open
Ready to have some real fun this summer? Join your friends from Lutheran churches around Hawai'i for the annual OYEA Summer Camp June 27th–July 2nd at Camp Erdmann on the North Shore. The camp theme this year is "Jesus Said," and it will once again be led by the crack camp counselors from Camp WAPO. This year, the camp will feature live music, outdoor activities, a ropes course, and lots of other fun activities.
The camp is open to youth entering 7th–12th grade in the fall of 2011. Please invite friends and neighbors to enjoy the week with you. The cost is $375. LCH members are eligible for a substantial scholarship. A $100 deposit is due soon.
Check your mail box for more information coming this week. You may also call the church office for a registration packet.
Got E-HeartBeat?
To get your copy of the electronic version of monthly LCH newsletter, please send an email to Kanani at <lch@lchwelcome.org> and get added to our mailing list. Save some trees; enjoy the news!
Attendance and Offerings for April
Date
Worship Service
Attendance
Offering Fund
Offering Amount
April 1–3
Maundy Thursday
67
Good Friday
77
Easter Vigil
80
Total
224
April 4
8:00 AM Service
82
Offering
$7,456.00
10:30 AM Service
173
Sunday School Offering
$2.75
Compline
27
Social Ministries
$30.00
Total
282
Heifer Project
$185.00
Music Fund
$210.00
April 11
8:00 AM Service
61
Offering
$3,317.00
10:30 AM Service
67
Sunday School Offering
$3.00
Compline
19
Social Ministries
$30.00
Total
147
Music Fund
$295.00
April 18
8:00 AM Service
43
Offering
$2,329.00
10:30 AM Service
78
Sunday School Offering
$2.00
Compline
25
Music Fund
$100.00
Total
146
Music Library
$397.53
April 25
8:00 AM Service
46
Offering
$3,314.65
10:30 AM Service
94
Heifer Project
$60.00
Compline
22
Life Foundation
$50.00
Total
162
Music Fund
$20.00
Hansen Memorial
$500.00
Prayer Requests
Carl
Ruth
Gene
Shane
Karen
Stan
Susan
May Birthdays
Date
Name
5/01
Tanya Preston
5/04
Jamie Weeks
5/05
Vreni Griffith
5/09
Bill Fay
5/11
Ivan Kaeo
5/14
Miles Sato
5/16
Rachel Lentz
5/17
Karyn Castro
5/18
Gertrude Ferdun
5/21
James Cartwright
5/21
Robert Savala


5/23
Francisco Barajas
5/24
Stephanie Luuloa
5/24
Jean Geil
5/27
Cami Kloster
5/27
Emily H.
5/28
Emily McIlvaine
5/30
Lois Swift
5/30
Ernie Petersen
5/30
Jordan M.
LCH Worship Participants
LECTOR
Bill Hamblet
April Smith
Cindy Scheinert
Juditha Murashige
Chris Bushman
COMMUNION
ASSISTANTS
Kim Clissold
Peggy Anderson
Chuck Huxel
Marcie Say
Peter Lee
Michael Formby
Kyra Ann Takamiya
Bobby Broyles
Ken Bauchle
Peggy Anderson
Stacey Bushman
Charlotte D'Evelyn
Laurie Leach
Crescent C.
Bobby Broyles
Chuck Huxel
Stacey Bushman
Jim Sullivan
Sean D'Evelyn
Bill Hamblet
ACOLYTE
Missy H.
Emily McIlvaine
Kim Clissold
Sophie C.
Allison B.
LAYING ON
OF HANDS
Stephanie Luuloa
USHER
Fred Benco
Fred Benco
Fred Benco
Fred Benco
Fred Benco
LECTOR
Roy Helms
Kathryn Klingebiel
Irmgard Hörmann
Sylvia Hormann-Alper
Peter Flachsbart
DEACON
Mary Fastenau
Penny Lawhn
Josie Bidgood
Cheryl Crozier-Garcia
Frank Haas
SUBDEACON
Cheryl Crozier-Garcia
Bob Zimmer
Sue Haas
Ray Herradura
Penny Lawhn
COMMUNION
ASSISTANTS
Steve Jensen
Randy Christensen
Bob Tellander
Vicki Gorman
Frank Haas
Vicki Gorman
Mary Fastenau
Steve Jensen
Sue Haas
Randy Christensen
ACOLYTES
Nathalie J.
Jordan M.
Mitchell G.
Reid W.
Niell G.
Savannah M.
Bob Zimmer
Nathalie J.
Jordan M.
Savannah M.
LAYING ON
OF HANDS
Bob Zimmer
USHERS
Peter Flachsbart
Jean-Paul Klingebiel
LaVerne Rickard
Peter Flachsbart
Jean-Paul Klingebiel
LaVerne Rickard
Peter Flachsbart
Jean-Paul Klingebiel
LaVerne Rickard
Peter Flachsbart
Jean-Paul Klingebiel
LaVerne Rickard
Peter Flachsbart
Jean-Paul Klingebiel
LaVerne Rickard
ALTAR
GUILD
Linda Miller
Nedra Walker
Lois Watanabe
Lori Nishimura
Linda Miller
Nedra Walker
Lois Watanabe
Lori Nishimura
Linda Miller
Nedra Walker
Lois Watanabe
Lori Nishimura
Linda Miller
Nedra Walker
Lois Watanabe
Lori Nishimura
Linda Miller
Nedra Walker
Lois Watanabe
Lori Nishimura
Heart Beat Deadline
Next Heart Beat Deadline is Tuesday, May 18!
Heavenly Humor
Mother's Covers
When you were small
And just a touch away
I covered you with blankets
Against the cold night air.

But now that you are tall
And out of reach
I fold my hands
And cover you with prayer.
—Pastor Denny Brake, Raleigh, NC
"I remember my mother's prayers and they have always followed me. They have clung to me all my life."
—Abraham Lincoln
via Asbury UMC newsletter, Minneapolis, MN
A mother's dictionary
Amnesia: A condition that enables a woman who has gone through labor to consider a second child.
Feedback: The inevitable result when your baby doesn't appreciate the strained carrots.
Show-off: A child who is more talented than yours.
Calendar: May 2010
Day
Date
Event and Time
Saturday
May 1
Spring Hukilau Assembly @ Christ Lutheran, 10:00 AM
Sunday
May 2
Angel Network Ingathering
Holy Communion, 8:00 AM
Christian Education for all ages, 9:10 AM
Choral Eucharist, 10:30 AM
Congregational Retreat, 12:00 Noon
Pre-Compline, 8:30 PM
Compline, 9:00 PM
Monday
May 3
Writers' Workshop, 7:00 PM
Mutual Ministry Meeting, 7:00 PM
Thursday
May 6
Pacifica Synod Assembly
Book of Faith Bible Studies, 10:00 AM
Preschool Chapel, 10:30 AM
LCH Choir Rehearsal, 7:00 PM
Friday
May 7
Pacifica Synod Assembly
Saturday
May 8
Pacifica Synod Assembly
In Stitches, 9:00 AM
Process Thought Forum, 9:30 AM
Concert Rehearsal, 12:00 Noon
Food for Thought, 6:00 PM
Sunday
May 9
Holy Communion, 8:00 AM
Christian Education for all ages, 9:10 AM
Choral Eucharist, 10:30 AM
Process Thought Forum (Rpt), 12:00 Noon
New Member Inquiry Class, 2:30 PM
Abendmusiken III Concert, 4:00 PM
Compline will not be sung this evening.
Monday
May 10
Aloha Jam, 6:00 PM
Tuesday
May 11
Worship & Music, 6:30 PM
Wednesday
May 12
Finance Committee, 12:30 PM
Confirmation, 6:00 PM
Thursday
May 13
Book of Faith Bible Studies, 10:00 AM
Preschool Chapel, 10:30 AM
LCH Choir Rehearsal, 7:00 PM
Friday
May 14
Council Reports Due, 12:00 PM
Sunday
May 16
Holy Communion, 8:00 AM
Christian Education for all ages, 9:10 AM
Choral Eucharist, 10:30 AM
Social Ministry Meeting, 12:00 PM
Mary Magdalene Society @ Pastor Steve's, 2:00 PM
New Member Inquiry Class, 2:30 PM
Confirmation, 4:30 PM
Pre-Compline Discussion, 8:30 PM
Compline, 9:00 PM
Tuesday
May 18
Heart Beat Deadline, 9:00 AM
Executive Committee, 6:00 PM
Council Meeting, 6:30 PM
Thursday
May 20
Book of Faith Bible Studies, 10:00 AM
Preschool Chapel, 10:30 AM
LCH Choir Rehearsal, 7:00 PM
Friday
May 21
IHS Meal—Prepared, 1:30 PM
IHS Meal—Served, 5:30 PM
Saturday
May 22
In Stitches, 9:00 AM
Sunday
May 23
Pentecost
Holy Communion, 8:00 AM
Christian Education for all ages, 9:10 AM
Choral Eucharist, 10:30 AM
Pre-Compline, 8:30 PM
Compline, 9:00 PM
Thursday
May 27
Preschool Chapel, 10:30 AM
LCH Choir Rehearsal, 7:00 PM
Friday
May 28
Downtown Lunch Bunch @ Murphy's, 12:00 Noon
Sunday
May 30
Trinity Sunday
Holy Communion, 8:00 AM
Sunday School Fun Day, 9:15 AM
Choral Eucharist,, 10:30 AM
Pre-Compline, 8:30 PM
Compline, 9:00 PM
---

Copyright © 2010 Lutheran Church of Honolulu
1730 Punahou Street, Honolulu, HI 96822 • 808-941-2566
Comments welcome at webmaster@lchwelcome.org