Congregational Life at LCH—January, February, and March 2007
Aloha to Interim Pastor Steve Jensen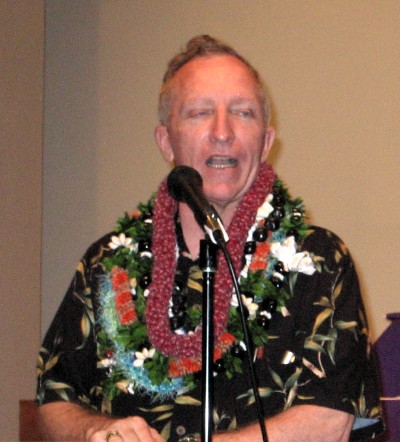 With Holy Week and the arrival of our new pastor fast approaching, members and friends of LCh gathered on Saturday evening, March 31, to bid aloha to Interim Pastor Steve Jensen. The evening began with a social hour and potluck and continued with a program of thanks and reminiscences.
Follow this link for more about the event, including more pictures.
Work Day Spruces Up LCH Campus
Members and friends of LCH gathered early in the morning on March 31 to get the LCH campus ready for Easter celebrations and the arrival of our new pastor. Following some stretching and prayer, they split into three groups to tackle three different projects: painting the Punahou Street wall, trimming plants all around the building, and raking the front lawn. The most noticeable improvement was the repainted front wall (left) and the repainted letters and signs which will make help those passing by know who we are.
Follow this link for more about the work day, including more pictures.
Former Members Pay a Surprise Visit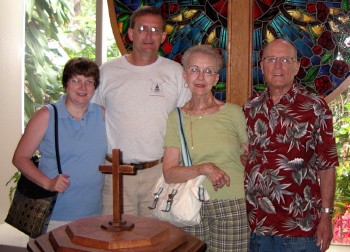 Interim Pastor Steve Jensen and Church Administrator Coleen Howard were pleasantly surprised when four "strangers" poked their heads in the church office on Tuesday morning , March 27. But these "strangers" turned out to be former LCH members. W. Dale Sorensen and his wife had been members of the congregations in the 1950s, when Dr. Spires was pastor, and they had helped with the construction of the building. Their son had been baptized at LCH in the late 50s.
Pastor Steve quickly got them a copy of For Beer and the Bible (so they could read about what had happened since they left) and began a tour of the facility. On the tour, Dale was able to point out some of the remaining items he had helped install when building the "new" church. The Sorensens were most pleased to see that LCH still has a thriving ministry and is caring for the church they helped build.
Children's Benefit Concert Raises over $2,000 towards Third Heifer Ark
A large crowd gathered on Saturday, March 3, for "Fill the Ark III," the second annual benefit concert by LCH children and youth to raise money for a third ark of animals. Members of the audience responded enthusiastically to vocal and instrumental performances as well as hula. But the response was not limited to applause. Over $2,000 in cash and checks were collected that day, and many others made pledges towards the $5,000 goal. Once the goal is reached, the money will be used to fund an ark of animals from Heifer International that will be sent to needy families in other countries.
Follow this link for more details and lots of pictures from this event.
Email from Former LCH Intern Josh Graber
Date: Mon, 26 Feb 2007 22:51:23
From: Joshua Graber
Subject: greetings from saint paul! 
To: lch@LCHwelcome.org
Aloha LCH!
I am currently sitting in a house with the furnace out in the middle of a blizzard that has already brought over a foot of snow... and it just keeps coming. I assure you this is not the only reason I have chosen this time to write you all but the situation does get me thinking about Hawaii even more than I normally do. Many of you have kept me in touch with messages of aloha by way of phone, e-mail, photos, DVDs, (including a challenge for a future surf off!) and I greatly appreciate being able to stay connected to the loving community of LCH. My time with you all was so important to me and prepared me for a future call in ways I probably still have yet to reap! Thank you for everything you did for me last year and for keeping me in your thoughts and prayers.
I have had a much busier year than I was hoping for, but it's been busy in a good way. This fall I took seven classes including one on Nonprofit Management at a nearby grad school. My work helping OYEA get set up really inspired me to look at how nonprofits and cooperative ministries can help churches. I have also been working with a collaborative urban ministry in Minneapolis in addition to my coursework. I also got elected to the Student Council and have been serving on the Community Life Committee. This spring I am doing CPE, which is an intern chaplaincy program, at a nursing home in Minneapolis. I use the koa wood cross that Brian Weis gave me at worship services. I am also taking classes in pastoral care, the ethics of Martin Luther King Jr., readings in the Qur'an and a really simplistic course called "Truth and Meaning"! This Spring I am preparing for approval for Word and Sacrament Ministry but I'll be coming back in the Fall to complete classes.
I just wanted you to know I miss you all and that I think of you (and your pretty little island) quite often. I have been reading your newsletters and seeing the updates of the call process and I'm excited that God has brought you a pastor that can preach, teach, and lead you in your mission in Honolulu. I'm really excited for the future of LCH and am blessed to have been a part of your community. I know you will be as hospitable to the new Kahunapule as you were to me. Mahalo Nui Loa!
Continued Blessings,
Josh
(Webmaster's Note: The picture above shows former Intern Pastor Josh holding his niece right after her baptism. Josh is one of her godparents.)
Bulletin Board Spotlights Benefit Concert on March 3
A new bulletin board reminded everyone about "Ark III," the upcoming Benefit Concert organized by the children of our Sunday School. The bulletin board was another creation of Carol Langner and featured pictures of our children along with children and animals from the Heifer International catalog.
You will not want to miss this concert on Saturday afternoon, March 3, at 4:00 PM. The event will kick off our children's third challenge for the congregation to raise $4,000 to go with $1,000 they have already raised so that LCH can send another $5,000 ark of animals from Heifer International to families in other countries. The concert is free, but donations will be accepted at the concert, as will pledges of $1 a day throughout the 40 days of Lent. This will be the third year for our children to raise money for a $5,000 ark. Pictures of last year's concert are available in the Children and Youth section and were published in the June issue of The Lutheran magazine.
St. John (Kailua) Intern Guest Preacher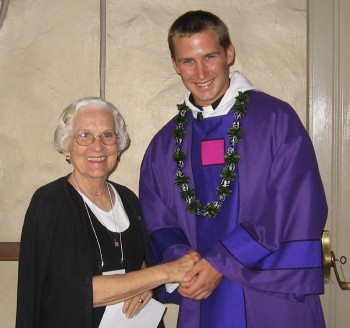 LCH welcomed Derek Fossey, currently intern pastor at St. John Lutheran in Kailua, as guest preacher on Sunday, February 25. Since St. John's pastor resigned unexpectedly last fall, Intern Pastor Steve Jensen has been Derek's supervisor, so an especially warm welcome was prepared. At left, LCH member Biz Person greets Derek following worship.
We look forward to seeing Derek again before he returns to Minnesota for his final year of seminary.
Sunday School Children Prepare for Benefit Concert
The talented children in our Sunday School have begun preparations for the second annual Benefit Concert. The F.R.O.G.S. Choir is working on new songs—including one in Hawaiian to be accompanied by the Steel Drum Ensemble—and individuals and small groups are practicing their numbers. (One of the small groups is show in the picture on the right.)
The concert is scheduled for 4:00 PM on Saturday, March 3. Again this year, the purpose of the concert is to raise money for another ark of animals from Heifer International to be sent to families in other countries. The concert is free, but donations will be accepted at the concert, as will pledges of $1 a day throughout the 40 days of Lent. This will be the third year for our children to raise money for a $5,000 ark. Pictures of last year's concert are available in the Children and Youth section and were published in the June issue of The Lutheran magazine.
Another Busy Sunday at LCH
Sunday, February 11, was another busy Sunday at LCH. Not only did we celebrate our annual Arts and Faith Sunday, but we also had a Special Congregational Meeting to consider calling our pastoral candidate.
The courtyard was especially colorful as many members shared examples of their art, such as the pieces shown to the left. Thanks to the artists and to Linda Miller and Carol Langner who prepared the displays. Follow this link for pictures from Arts and Faith Sunday.
The pastoral candidate spoke and answered questions at a forum between services, and faithful members of the 8:00 AM congregation returned at noon for the special meeting. In the end, the meeting voted unanimously to issue a call to our candidate, who has 30 days to decide whether to accept the call. Pray for him and his current congregation as he seeks to discern the God's will and for our congregation as we wait and prepare for the next stage in our history.
Members Welcome Pastoral Candidate
Full of anticipation, members of the congregation gathered at Honolulu International Airport on Monday, February 5, to welcome our pastoral candidate and his family for a week-long visit.
A full week of events are planned, culminating in a potluck social on Saturday, February 10, worship services on Sunday, February 11, and a special congregational meeting following the second service.
(For reasons of confidentiality, the candidate's name and picture will not be posted on the website until a call is issued and accepted.)
Annual Meeting Adopts Budget
The second part of the Annual Congregational Meeting took place between morning worship services on Sunday, February 4. After the minutes from the first part of the meeting were read by Secretary Mary Fastenau (shown at left with Council President Brian Weis, holding the microphone), they were approved unanimously (with one correction). Treasurer Roy Helms answered questions about the budget, which was also adopted unanimously. The congregation then heard reports from the Call Committee and the Ministry Planning Task Force before adjourning in time for the second service.
Carnival Parking Raises Money for Youth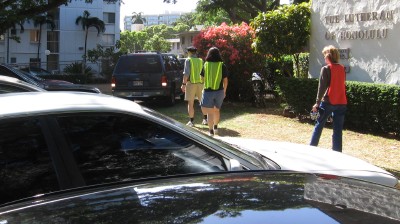 Once again, youth and adults worked together to provide parking for the annual Punahou Carnival on Friday and Saturday, February 2 and 3, and in the process about $6,000 was raised to help make it possible for our youth to participate in two summer activities. From July 8 through 13, they will assist a sister ELCA congregation in New Orleans with a Habitat for Humanity project. Following that, they will attend Camp Wapo in Wisconsin.
The project was organized by Pam Buckley and Jeanne Castello, and they were joined by an army of adults and youth. Any youth who worked two three-hour shifts qualified for a subsidy towards the expenses of the summer trips. In a shocking break with tradition, it did not rain on either day. This made it possible to park cars on the front lawn, in addition to the two parking lots. In the picture, Bill Fay, Kathy Crosier, and Laurie Leach direct a vehicle into its space.
Marilyn Mason Organ Concert
Sunday afternoon, January 14, Marilyn Mason, university organist and professor of music at the University of Michigan, presented a program of music by Bach, Buxtehude, Mozart, and Rinck as part of LCH's Abendmusiken concert series. In addition to her spirited organ performance, Ms. Mason, who has been called one of "the most important influences on the American organ scene in the second half of the 20th century," also entertained the audience with stories from her long and storied career. She began at the University of Michigan as an instructor of music in 1947 and has been active in all areas of organ music ever since. Among her many students over the year are Honolulu organists John McCreary ad Samuel Lam.
Sunday School Celebrates Epiphany
Even though January 14 was the Second Sunday after the Epiphany, it wasn't too late for the children of LCH Sunday School to learn about this special day. Even before Sunday School began, members of the Fellowship Committee and Sunday School parents gathered to make cookies for the children to decorate (right).
The program for the children began with a visit the Magi (whose visit to the Christ Child is one focus of the Epiphany celebration). They also learned about some of the symbols—such as stars for the Star of Bethlehem and fish which represent Christ—found in their cookies. Then came the fun as both children and adults decorated the cookies (below), which were quickly eaten up during social hour after worship.
Pastor Fritz Discusses Deep Religious Pluralism
About dozen joined Fritz Fritschel, former assisting pastor at LCH, as he continued his examination of various issues from a Process Theology perspective. This month's session examined the value, purpose, and range of religious pluralism. Pastor Fritz said that his intention was to "provide a framework for constructive interaction among world religions.
For those who are not familiar with the term, Pastor Fritz has written a brief introduction to Process Thought which is available in the "Spiritual Resources" section.
Follow this link for a schedule of Pastor Fritz's Process Theology Series.
---

Copyright © 2007 Lutheran Church of Honolulu
1730 Punahou Street, Honolulu, HI 96822 • 808-941-2566
Comments welcome at webmaster@lchwelcome.org