Congregational Life at LCH—September and October 2006
Lutherfest/Halloween Celebration Follows Joyful Reformation Sunday Worship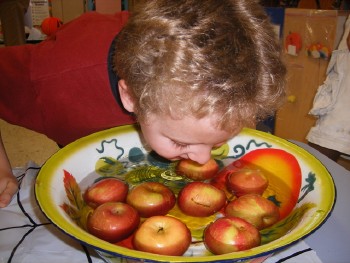 While we did not have a visit from "Martin and Kate" this year, LCH was not without a Lutherfest. The Fellowship and Learning Ministries Committees combined forces to put on this celebration following the 10:30 service, and a good time was had by all—young and old alike.
Read about the celebration and see more pictures on this page.
O.Y.E.A. Youth Hike to Pu'u Pia in Manoa
On Saturday, October 21, youth and adults from across the island joined in a devotional hike to Pu'u Pia in Manoa.
Find out more about this event and see pictures from from the day in our Youth section.
Pastor Jensen's Message about the Earthquake
While the recent earthquake was a real inconvenience for everyone at LCH, the impact on our sisters and brothers in Kona was much more intense and long-lasting. Several members, including Pastor Mundt, and many of their neighbors have suffered significant damage to their homes—damage so significant that some may have to be torn down. Carmen Sapp, widow of the former pastor, is another whose home (shown in the picture to the left) was shaken off its foundation and has significant damage. None of these people have earthquake insurance.
Holy Trinity, our ELCA congregation in Kona, has therefore established a Kona Earthquake Response Fund, and the Hukilau conference is encouraging our congregations to support them.
In the midst of our stewardship campaign, I ask that you consider how you were spared and blessed and lovingly support our Kona 'ohana with your prayers and donations. One suggestion was that we each consider adding $10–15 per month to our pledges for the next six months and designate it for this fund.
I encourage you to read the letter from our Dean describing her recent visit to Kona and see some of the pictures she took of the damage suffered.
The Earth Shakes, and LCH has Church in the Dark
Sunday, October 15, is a day that Hawai'i residents will not soon forget. The 6.7 magnitude earthquake off the Kona Coast of the Big Island shortly after 7:00 AM led to electricity going off for the entire island of O'ahu, but that didn't stop our two morning worship services.
The 8:00 AM service began in the courtyard, and for communion they moved to the Nave, where candles had been put up for some light. Between services, the choir practiced in the dark Nave, while Sunday School classes met. By 10:30, when the later service began, the small harpsichord had been moved into Isenberg to provide accompaniment for that service (right).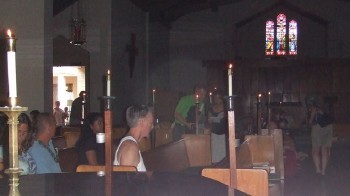 Everyone moved back into the Nave for the celebration of holy communion (left).
LCH managed in the dark, but our fellow Hukilau congregation in Kona was not so lucky. The Church Council has voted to encourage LCH members and friends to contribute towards the Earthquake Response Fund of the Lutheran Church of the Holy Trinity in Kona. Watch for more information about ways you can help.
Joint Confirmation at Joy of Christ, Pearl City
On Sunday, October 1, youth from six ELCA congregations on O'ahu gathered for their third joint confirmation activity. They enjoyed songs, games, and good food, but more importantly, they learned together about the 4th commandment: "Honor your father and your mother."
Find out more about this event and see pictures from from the day in our Youth section.
Mozart Vespers Draws Big Crowd
Solemn Vespers were held on September 24 in celebration of the Mozart's 250th birthday. The service attracted about 275 people to honor the composer and enjoy his music. The featured works included "Vesperae solennes de confessore, K.339" (Psalms 110, 111, 112, 113, 117, and the Magnificat), "Exsultate, jubilate, K. 165" and "Ave verum corpus, K. 618." The music was performed by the LCH Choir and Bach Chamber Orchestra, under the direction of Carl Crosier. Soloists included Vicki Gorman, Mary Kubota, Rachel Lentz, Naomi Castro, Wayne "Doc" Wilson, and Keane Ishii. Katherine Crosier played the "Organ Fantasia in F minor, K. 608."
The picture at the left shows the choir and orchestra.
Bishop's Assistant Meets with Call Committee, Congregation
On Sunday, September 17, Pastor Karen Parker, assistant for ministry and pastoral care to Bishop Murray Finck of the Pacifica Synod, preached at both morning services and met with members of the congregation between services (shown at right) to talk about the call process. Read the text of Pastor Parker's sermon.
The previous day, Pastor Parker met with members of our Call Committee. She brought with her the "mobility papers" of prospective candidates and discussed the call process with the committee.
Robert Zimmer, chair of the call committee, writes, "The Lutheran Church of Honolulu is in transition. Under the guidance of our Intentional Interim Pastor Steve Jensen we are moving through the process of calling a new Pastor. The Church council selected and appointed the committee, and we are meeting on a regular basis. This is probably one of the most serious challenges in the life of our church and of our synod.
"I think we are all humbled to have been asked to be a part of this task. Please, we ask that you don't ask, and you can be sure we won't tell you what we are doing regarding those candidates who have submitted mobility papers.
"What we do ask is that you pray for each of us to affect this change in our church as God would have us do.
"The Bishop's Assistant, the Rev. Karen Parker has gotten us started on the process, and I will be in touch with her on a regular basis."
The members of the call committee are Robert Zimmer, Linda Miller, Don Person, Cami Kloster, Robert Raasch, Anna Womack, Cheryl Crozier Garcia, and Jimmy Castro.
LCH Serves Dinner at IHS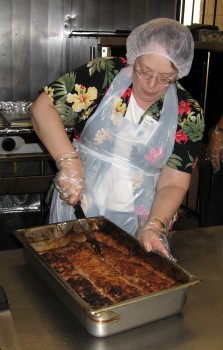 The third Friday snuck up on everyone this month, so we had a small group of servers for our monthly IHS meal, but that did not dampen our enthusiasm. Our cooks prepared the regular (and very popular) menu of meatloaf, vegetables, salad, and rice.
At left, Olivia Castro cuts up one of four big pans of meatloaf.
You can join the fun on Friday, October 20, at 5:30. Talk to Olivia or Jimmy Castro for more information.
Ohana Gatherings
Members and friends of LCH have been getting together for a series of Ohana Gatherings to share ideas about the life of our congregation. In addition to enjoying a meal together, participants shared their experiences at LCH—including what brought them to LCH, their greatest joys, and their hopes for the future. In addition to strengthening our ohana, the thoughts and feelings shared at these events will inform out call process and shape the future of LCH.
At right are some of the participants from the recent gathering at the Crosiers.
If you have not yet been a part of an Ohana Gathering, there are still chances to participate in future gatherings until October 15. Call the church office (941-2566) for more information or to sign up.
Joint Confirmation at Maluhia Lutheran, Wai'anae
On Sunday, September 10, youth from six ELCA congregations on 'Oahu gathered for their second joint confirmation activity. They enjoyed songs, games (like the balloon race shows at left), and good food. And they also worshipped and learned together.
Find out more about this event and see pictures from from the day in our Youth section.
O.Y.E.A. Youth at Hawaiian Waters Adventure Park
Several youth from LCH joined more than 20 other youth from six O'ahu churches gathered at Hawaiian Waters Adventure Park on Saturday, September 9, for fun in the sun.
Find out more about this event and see pictures from from the day in our Youth section.
---

Copyright © 2006 Lutheran Church of Honolulu
1730 Punahou Street, Honolulu, HI 96822 • 808-941-2566
Comments welcome at webmaster@lchwelcome.org