September 2011—In this Issue:
The HeartBeat
A Message from Pastor Jeff
Goodbye, Hello, Aloha!

On August 21, Lutheran Church of Honolulu said farewell to our beloved cantor, Carl Crosier. Carl began his musical tenure here at LCH as an organist, then as a choir master, and eventually as cantor. Under his leadership, LCH developed a liturgical voice where scripture, choral music, chant, organ, and even orchestra worked together to proclaim God's Word of grace with beauty. His tireless work with the choir, the Abendmusiken Concert Series, and special events has brought LCH to the forefront of the liturgical music world both locally and nationally. But Carl is first to say that the excellence of the program is due to the team effort of a dedicated choir and a top-notch staff in Kathy, Allen, Jerome, and Keane. But just as important has been the support of the congregation at Lutheran Church of Honolulu, who have been courageous enough to support an ambitious and expensive music program through difficult economic and spiritual times. If it takes a village to raise a child, it takes a church to raise a joyful noise!
After 38 years of inspired musical leadership, Carl completed his last Sunday service in true style. The Lord Nelson Mass by Haydn was a fitting farewell to our superb cantor! Carl's words after the service were a powerful tribute to the team he has assembled over his many years of leadership. In so many ways, I was reminded of Paul's text that there are many gifts, but one body of Christ. So we say goodbye to Carl's weekly Sunday leadership of our choral program and offer our deepest thanks for him and for his ministry with us.
Not all has been goodbye though! As of September 1, we have the honor of saying "hello" to Dr. Miguel Felipe, who has accepted the position of director of music and liturgy at Lutheran Church of Honolulu. Miguel brings his considerable gifts to us from the far away city of Boston where he taught at Mt. Holyoke College and The Boston Conservatory. Many members have already met Miguel and his husband Aaron in worship these past two Sundays. As sad and difficult as it is to bid farewell to Carl, our sadness is tempered by the joy of our "hello" to Miguel. Miguel's background in classical choral music, passion for his craft, and easy, engaging manner are wonderful matches for the people of LCH. He has a deep understanding of how choral music can bring great depth and beauty to worship and looks forward to working with the congregation to grow the entire music program. So we are delighted to say "hello" to Miguel and welcome him into the LCH 'ohana.
Let us all wish a heartfelt aloha to both Carl and Miguel. "Aloha" is so much more than an all purpose word meaning both "hello" and "goodbye" (a definition I read in a dictionary). In our definition of "aloha" we wish love, blessings, goodness, and a sincere word of joy—all gifts we receive first in God and then share openly with each other and the world. So we share that same aloha with Carl and Miguel as they transition into their new roles.
So, goodbye, hello, and aloha!
Aloha,
Pastor Jeff Lilley
pr.jeff@lchwelcome.org
Office Closed
Labor Day, September 5
August Council Highlights
Council met Tuesday, August 16. Here are some of the highlights of the meeting:
Parking Lot Taskforce update: Meeting scheduled with Mark Saito to discuss his hire as project manager and scope of work.
Audit Committee is meeting and moving forward.
Final edits and approval of Miguel Felipe's letter of hire.
Original caterer for the Carl Crosier Celebration cancelled. Fellowship Committee and Sarah Roseberg working to hire alternate caterer and recruit volunteers.
Council moved to approve purchase of 3G iPad as gift from LCH for Carl Crosier's retirement.
Since the PV installation, system has avoided 37,877.68 kg of CO2, with a total yield of 54,110.97 kWh.
Discussion of possible slate of members for Mission Campaign Steering Committee. Chairs have already been selected.
Discussion and approval of Ministry Site Profile to be sent to the bishop.
In Stitches Returns to Saturdays
In Stitches, the LCH craft group, will return to meeting on the second and fourth Saturdays of each month in the Boardroom from 9:00 to 11:00 AM. This month we will be meeting September 10 and 24.
Learn ribbon lei making or pillow needlepoint, or bring your own craft and join the fellowship.
Save the Date!
LutherFest • October 29
Food, fellowship, fun, and frivolity mark this annual celebration of our Lutheran heritage. You won't want to miss it, so mark your calendar for October 29! Details to follow.
Adult Forum
Sunday Adult Forum will begin a study of Jesus' parables, continuing through the month of September. Do you know how many parables Jesus told? Catholic sources count 33, while other sources count 40 or 46. Did you know that the Gospel of John has, at most, two parables, while the other three synoptic gospels (Matthew, Mark, Luke) contain all the rest? Why did Jesus use parables? You are invited to learn about these teaching tools of Jesus as found in the New Testament. Come join us at 9:15 AM following the 8:00 AM service in the Boardroom. Please come!
Give Aloha Returns!
Lutheran Church of Honolulu will once again participate in the Give Aloha Program sponsored by Foodland/Western Union.
How does it work? During the month of September, you may donate up to $249 to the Give Aloha Program at any Foodland or Sack N Save. Give them the LCH Organization Code (78224) at the time of your donation. Foodland and Western Union will match every gift received up to $300,000 for all combined participating organizations.
LCH has consistently been in the top 100 organizations. So please go to Foodland or Sack N Save and make your donation today!
LCH Wine Tasting
Saturday, September 10 • 2:00 PM
The LCH wine cellar is running low on white wine, and you're invited to help choose the next vintage as part of the wine tasting. We will meet at 2:00 PM at Oeno Winemaking in Kailua to taste a variety of wines and make our selection. Several individuals will also be choosing wines for their own use as well, and you're welcome to join in.
Space is limited and we are already 1⁄3 full, so reserve your spot soon! Contact Bill Potter or Sarah in the church office.
New Member Inquiry Class
Are you interested in becoming a member of Lutheran Church of Honolulu? Join us for New Member Inquiry Classes beginning September 11, 2:30 to 4:00 PM, and meeting for a total of five Sundays.
During our sessions, we will explore the history, faith, and values of the Lutheran Church and our congregation as well as have wonderful discussion and fellowship time. Email Sarah Roseberg if you would like to attend or mark "Inquiry Class" on the visitor's card in the pew.
Writers' Workshop

Writers' Workshop has set its Fall 2011 schedule. We will hold our next meeting on Monday, September 26, from 7:00 to 8:30 PM in the Boardroom. All are welcome. For information, please contact Kathryn Klingebiel through the Church Office (941-2566).
Committee/Interest Group Chairs
Confirmation Retreat
September 16 and 17 • 7:00 PM to 12:00 noon
Free Confirmation retreat for grades 6–9, hosted by Christ Lutheran Church in Mililani. The evening starts at 7:00 PM on Friday and concludes the following day at noon. The retreat includes pizza, a snack, and breakfast. Bring a sleeping bag and bring a friend!
Please RSVP to 623-9229 or <office@clcmililani.org>.
One Pot One Hope
One Pot One Hope will continue to meet on the last Saturday of each month. This month we will meet Saturday, September 24, at 9:00 AM at Maluhia Lutheran Church in Wai'anae. A carpool is available leaving the church at 8:30 AM. Donations of chili, fruit, and cash are welcomed and will be collected on Sunday, September 17.
Come and enjoy fellowship with other ELCA congregations as we pack "chili and rice" for the homeless in Wai'anae. It is a great experience and a beautiful ride to Maluhia Lutheran church!
News of the Call Committee
The congregation voted to establish a committee to call an associate pastor to a two-year term at a special meeting held on Saturday, May 21, 2011. The members of the Call Committee include: Karyn Castro, Peter Flachsbart, Chuck Huxel, Carolyn Koehler, Crystal Landherr, and Bob Zimmer.
Since our last update, the Call Committee has been working on completing the "Ministry Site Profile," the next step in the call process. This MSP is a detailed description of the LCH community, the ministries of the church, our gifts, passions, and an outline of the kind of clergy leader we are seeking. After much prayer, discussion, reviewing, editing, and more discussion, the final MSP was presented to Council for approval at the August 16 meeting. Our desire and goal in preparing the MSP was to be as accurate as possible in our presentation of LCH, and to be as clear as possible in outlining the ministry plan associated with this position, as well as the challenges that go along with it. With a few more amendments, the Council approved the document to be sent to the Office of the Bishop. The MSP was officially sent on August 24, and now we must await the Bishop's response.
The next meeting of the Call Committee is scheduled for Tuesday, August 30. We will continue to do our best in keeping the congregation informed on the work we are accomplishing and the progress being made in calling our associate pastor. Thank you, as always, for your prayers and support during this call process!
Sincerely,
Your Associate Pastor Call Committee
A message from the Cantor
Dear people of LCH,
This day, one long anticipated, has finally come. What a wonderful journey these past 38 years have been for me.
When I think back to the countless regular and special worship services and the many church concerts that I have been involved in, I thank God for this wonderful opportunity to work among you. The time here has truly been my life's work.
But in addition to that I celebrate the life passages that have also occurred for me at LCH—our wedding in 1977, the funeral of our first child Courtney in 1981, our son Stephen's baptism in 1982, Stephen's confirmation in 1996, the conferring of the cantorate on my 25th anniversary in 1997, and the renewal of our marriage vows in 2002 on our 25th wedding anniversary.
I am indeed grateful for the dedicated and talented clergy with whom I have been privileged to work—Donald Johnson (the great enabler), Fritz Fritschel (the great poet), David Barber (the great reconciler), Steve Jensen (the great purveyor of life experience) and Jeff Lilley (the great virtuoso preacher). Each has brought their special gifts to this congregation and has given me a great deal of personal support.
But it has been my wife Katherine and my assistant Allen Bauchle who have joined me in shaping the music program that we now have. It has truly been this triumvirate, each bringing our own special gifts and passion that have sustained this music ministry. In recent years Vicki Gorman, Anna Womack, Teresa McCreary, Keane Ishii and John Alexander have all added their talent and dedication to the further development of this program.
And then there are the multitude of choristers who have devoted hundreds of hours each season to create the beautiful music we have in our liturgies. It has been especially gratifying for me to have had several children who have grown up in this congregation become part of our choral ensembles as young adults.
But most of all, beloved people of LCH, it is you who have given me constant support and encouragement, even when I took on seemingly impossible and impractical projects (the two Bach Passions and the B minor Mass come to mind!) These years have been an incredible gift to me, not only to grow in my personal faith life, but also to develop musical and leadership skills that I didn't realize I had.
I will remain eternally grateful for these wonderful years spent leading the music ministry at the Lutheran Church of Honolulu.
With my sincerest thanks and deep gratitude,
Carl Crosier
Cantor, LCH
Thank You from Heifer International
Every year, the youth and family ministry at LCH has a campaign to raise funds for Heifer International. After meeting our goal of $5,000 during this year's fundraiser, we were finally able to send Heifer International our gift last month. In response, we received a warm thank you letter, explaining that because of our gift, a struggling family will receive livestock and training in its care to overcome hunger and poverty. Our support means better nutrition, health care and education, which will help them build a better future.
Mahalo to everyone who's donation helped us reach our goal, and another thank you to everyone who helped organize this fundraiser!
What's New on the LCH Website?
Bill Potter, Webmaster

Two years ago in the September 2009 HeartBeat, I introduced a new feature of the LCH website that allows individuals to say Morning, Noon, and Evening Prayer as well as Compline each day using the Bible readings provided towards the back of our hymnal, Evangelical Lutheran Worship.
The pages are set up so that a new service is presented each day with the proper lessons, psalms, and other components of each services appropriate to the season, day of the week, and so on. And there is no need to find the right page in the prayer book (the Episcopal Book of Common Prayer since the services in the ELW are under copyright), or look up the day's lessons in the lectionary, or even find the correct pages in your Bible for the readings. It's all there for you if you go to <www.lchwelcome.org/office> and follow the link to the office that matches the time of day.
Over the past two years, I could tell by checking Google Analytics that one or two people each day have been joining me in saying Morning Prayer and Compline. But in May the numbers shot up a bit when Pastor Jeff posted something to the ELCA clergy group on Facebook about our Daily Office pages. The group is closed, so I don't know exactly what he posted, but suddenly the there were about twice as many visits each day.
Since Google Analytics can tell me where these visitors are coming from, I've also found that there are at least two blogs that have added links to our Daily Prayer pages among their links.
I have added a simple page to the Daily Office pages that list folks who have linked to those pages. You can find it at <www.lchwelcome.org/spirit/office/links.html>.
If you haven't done so already, I encourage you to give Daily Prayer a try. Morning and Evening Prayer can be completed in as little as five to ten minutes a day, and Noon Prayer and Compline are shorter. There is also an option to store your own thanksgivings and petitions with a cookie so you don't forget the people and concerns you have committed to pray for.
If you are not ready to commit to Daily Prayer, try out Lutheran Morning or Evening Devotions, which can be as short as the Apostles' Creed, the Lord's Prayer, and Luther's Morning or Evening Prayer. Just go to <www.lchwelcome.org/devotions>.
A Day of Rejoicing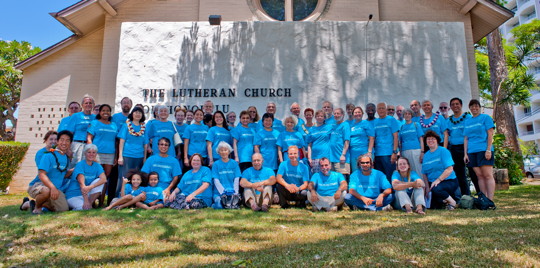 Members of the congregation in their Carl Crosier Commemorative T-shirts.
Fifteen months ago, Carl Crosier wrote a letter to the congregation of the Lutheran Church of Honolulu, called "Journeys come to an end" to announce his retirement as cantor. That journey ended on Sunday, August 21, 2011, and far from being a tearful occasion, it turned out to be a uplifting celebration of Carl's 38 years at LCH, first as organist, then choir director, then as director of music, and finally as cantor—the leader of the congregation's song.
As one parishioner wrote, "this morning's service was perfect. Everything fit together so well and the music was truly wonderful. What I thought would be a sad farewell turned out to be a joyous celebration and a truly spiritual, worshipful service. Carl had insisted that "For my last service, I want everyone involved!" and there was literally "something for everyone" with all four musical ensembles and the Bach Chamber Orchestra participating. Musically, it was a day of contrasts, ranging from sophisticated Bach, to simple folk music, to energetic and glorious Haydn, to sublime music by Peter Hallock, to enthusiastic hymn-singing.
Offered in the spirit of a prayer, the service began with an expressive and sensitive rendition of Bach's "Arioso" played by gifted young cellist, Reid W., with Carl accompanying him on the piano.
Unforgettable was the hearty singing of the congregation on each of the hymns chosen for the service, all of which related to the Gospel, "You are Peter and upon this rock I will build my church." After the Confession, a grand procession encircled the nave with Carl's hymn concertato on "Christ is made the sure foundation." The congregation lifted its praise to God as one voice in this setting which featured a handbell ritornello (refrain) between verses, and orchestral accompaniment added to the organ. The organ zimbelstern and a soprano descant soared on the triumphant last verse, "Let us praise the God who made us." Carl's only regret was that "we ran out of music before the procession was finished!" so there was a minute of silent walking until everyone had taken their places.
All were seated for the first two movements of Franz Joseph Haydn's "Missa in angustiis," also called the Lord Nelson Mass, scored for strings, two trumpets and timpani. The opening Kyrie is "truly terrifying" according to Carl and is full of dramatic contrasts with dialogues between soloists, choir, and timpani. The cheerful and happy "Gloria" movement followed. Soprano Vicki Gorman returned to Honolulu especially for this occasion, and was joined by local soloists Laurie Rubin, alto; Guy Merola, tenor; and Keane Ishii, bass and the LCH Choir. It is interesting to note that Vicki and Guy both performed as soloists in LCH's performance of this work on the very first Abendmusiken concert on October 8, 1992.
After the first reading, the 8:00 AM Ensemble, which was located on the 'Ewa end of the nave, sang Psalm 138 by David Haas with piano accompaniment. A few days earlier, it had taken seven (7!) male choristers to lift and move the grand piano up the two steps to the raised platform of the church. The second reading was followed by Carl's "Alleluia," in which the choral verse was written only the day before and rehearsed that morning!
Certainly one of the highlights of the service was the F.R.O.G.S. Choir (Families Revering Our God in Song) rendition of a spiritual, "Didn't My Lord Deliver Daniel," sung in place of the children's conversation. Director Teresa McCreary explained that she chose the piece because "If God could deliver Daniel from the lions den, surely God could deliver Carl Crosier from LCH!" Everyone had a good laugh at this! Jordan McCreary played the jazzy piano accompaniment with great gusto and spirit.
Pastor Jeff's sermon on Romans 12:1–8, with "each of us having different gifts" was followed by the Hymn of the Day, "Built on a Rock the Church shall Stand," with a glorious trumpet fanfare on the last verse written especially for this occasion by assistant Allen Bauchle. The congregation was then seated for the magnificent "Credo" from the Lord Nelson Mass, The Prayers of Intercession included a bid for our church musicians, in addition to prayers for Sunday School teachers, youth and elderly, and those who maintain our church building.
The offertory anthem, a double choir motet on "Tu es Petrus" (You are Peter) by Peter Philips (1560–1633) was sung antiphonally by the LCH Choir on two sides of the orchestra (on the mauka and makai sides of the building). Haydn's "Sanctus" and "Benedictus" contrasted with The Lord's Prayer from the Alleluia Mass, written by folk duo, The Braeded Chord.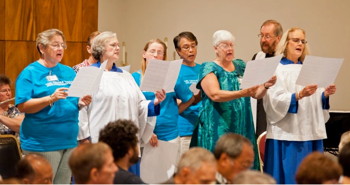 During the distribution, the 8:00 AM Ensemble sang "Let us be bread" by Thomas Porter, followed by the exquisite "To the Supreme Being" by Peter Hallock for men's voices, strings, and a soaring oboe obbligato played superbly by Scott Janusch.
The service ended with the rousing hymn, "My hope is built on nothing less," sung to the tune "Solid Rock," a revival hymn tune. Organist Katherine Crosier finished it off with the brilliant "Prelude in B Major" by Marcel Dupré, her former teacher.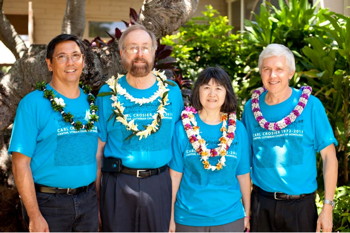 Even though the service had lasted exactly two hours (to the minute!), someone said, "I didn't even yawn once!" That was fortunate because what followed next was Pastor Jeff presenting Carl with a maile lei from the congregation and asking him to say a few parting words. What Carl did, though, was to take the opportunity to thank the congregation for their tremendous support as well as the music staff. He gave each of the following persons a special lei: Kathy Crosier organist and long-suffering wife of 34 years; Allen Bauchle, assistant; Vicki Gorman, soloist and founder of the F.R.O.G.S. Choir; Anna Womack and Teresa McCreary, current F.R.O.G.S. leaders; Keane Ishii, director of the Compline Choir; John Alexander, leader/pianist for the 8:00 AM Ensemble; Darel Stark, concertmaster of the Bach Chamber Orchestra; and Jerome Vasconcellos, choir crucifer and librarian. He also introduced Dr. Miguel Felipe, who will succeed him as Director of Music and Liturgy.
Then it was Pastor Jeff's turn to give Carl a gift from the congregation, a brand-new iPad ("so he wouldn't have to fight over Kathy's!")
But it was Carl who pulled off the ultimate surprise of the morning when he asked Mary Fastenau to read aloud the following letter:
Dear Mary and people of LCH,
It is with deep gratitude and thanks for the many blessings that the music ministry of the Lutheran Church of Honolulu has provided to us over these many years that we make this contribution to the Music Fund in honor of Carl's retirement and in memory of Kathy's mother, Dorothy Chiu Au.
Please accept this gift of $10,000.00 to further the ministry of music at our beloved Lutheran Church of Honolulu.
Yours in Christ,
Carl and Katherine Crosier
Everyone retired to the courtyard for a light lunch and convivial conversation. Carl said that what was so gratifying was to see so many former parishioners and colleagues attend this musical and spiritual celebration. "Today I am a happy man."
Attendance and Offerings for August
Date
Worship Service
Attendance
Offering Fund
Offering Amount
August 7
9:15 AM Service
95
Offering
$3,568.00
Compline
14
Social Ministries
$55.00
Total
109
Music Fund
$105.00
World Hunger
$100.00
Mission Campaign
$1,533.00
August 14
9:15 AM Service
95
Offering
$2,963.00
Compline
48
Social Ministries
$55.00
Total
143
Care Packages fo Marines
$50.00
August 21
9:15 AM Service
217
Offering
$2,482.00
Compline
18
Sunday School Offering
$2.00
Total
235
Music Fund
$2,175.00
Altar Flowers
$50.00
Mission Campaign
$16,997.61
August 28
8:00 AM Service
57
Offering
$3,660.66
10:30 AM Service
76
Sunday School Offering
$3.00
Compline
22
Music Fund
$500.00
Total
155
Care Packages fo Marines
$50.00
Prayer Requests
Carl
Judy
Mike
Cindy
Karen
Pat
Debbie
Katy
Susan
Gene
Maggie
Ulrike
Marion
September Birthdays
Date
Name
09/03
Mary Reese
09/03
Jimmy Castro
09/03
Kalau Jones
09/05
Michael Gorman
09/07
Ronald Mizuno
09/09
Joseph Zuiker
09/10
Gerda Turner
09/11
Naomi Castro
09/11
Carl Crosier
09/11
Iniki S. K.
09/11
Emily O.
09/11
Kyra Ann Takamiya
09/16
Rev. David J. Barber
09/17
Carolyn Ishikawa
09/18
Sacha P.
09/21
Jerome Vasconcellos
09/22
Justin J.
09/25
Sharon Von Deylen
09/29
Colette J.
LCH Worship Participants
LECTOR
Jim Sullivan
Michael Formby
Peggy Anderson
Chris Bushman
COMMUNION

Peggy Anderson
Don Johnson
Chuck Huxel
Laurie Leach
Michael Formby
Peter Lee
Bill Hamblet
Laurie Leach
Peggy Anderson
Chuck Huxel
Crystal Lanherr
Adam Lanherr
Bill Hamblet
Michael Formby
Peter Lee
Don Johnson
ACOLYTE
Sophie C.
Sophie C.
Missy H.
Colin B.
LAYING ON
OF HANDS
Bob Zimmer
USHER
Fred Benco
Fred Benco
Fred Benco
Fred Benco
LECTOR
Penny Lawhn
Jim Cartwright
Roy Helms
Randy Castello
DEACON
Ray Herradura
Steve Jensen
Josie Bidgood
Mary Fastenau
SUBDEACON
Josie Bidgood
Frank Haas
Steve Jensen
Ray Herradura
COMMUNION
ASSISTANTS
Randy Christensen
Amanda Lippert
Randy Christensen
Bob Tellander
Amanda Lippert
Randy Christensen
Frank Haas
Bob Tellander
ACOLYTES
Savannah M.
Reid W.
Nathalie J.
Miranda L.
Ray Herradura
Savannah M.
Reid W.
Miranda L.
LAYING ON
OF HANDS
John Bickel
USHERS
Bill Fay
Jean-Paul Klingebiel
Jim Lawhn
Peter Flachsbart
Bill Fay
Jean-Paul Klingebiel
Jim Lawhn
Peter Flachsbart
Bill Fay
Jean-Paul Klingebiel
Jim Lawhn
Peter Flachsbart
Bill Fay
Jean-Paul Klingebiel
Jim Lawhn
Peter Flachsbart
ALTAR
GUILD
Olivia Castro
Mary-Jo Estes
Billie Jean Ries
Penny Lawhn
Olivia Castro
Mary-Jo Estes
Billie Jean Ries
Penny Lawhn
Olivia Castro
Mary-Jo Estes
Billie Jean Ries
Penny Lawhn
Olivia Castro
Mary-Jo Estes
Billie Jean Ries
Penny Lawhn
Heart Beat Deadline
Next Heart Beat Deadline is Tuesday, September 20!
Calendar: September 2011
Day
Date
Event and Time
Thursday
September 1
Book of Faith Bible Studies, 10:00 AM
LCH Choir Rehearsal, 7:00 PM
Sunday
September 4
Angel Network In-Gathering
Holy Communion, 8:00 AM
Christian Education, 9:15 AM
Choral Eucharist, 10:30 AM
Leadership Roundtable, 11:45 AM
Pre-Compline Discussion, 8:30 PM
Compline, 9:00 PM
Monday
September 5
Labor Day—Office Closed
Mutual Ministry Meeting, 6:30 PM
Tuesday
September 6
Stewardship Meeting, 6:00 PM
Thursday
September 8
Book of Faith Bible Studies, 10:00 AM
LCH Choir Rehearsal, 7:00 PM
Saturday
September 10
In Stitches, 9:00 AM
Wine Tasting @ Oeno Winemaking, 2:00 PM
Sunday
September 11
Holy Communion, 8:00 AM
Christian Education, 9:15 AM
Choral Eucharist, 10:30 AM
New Member Inquiry Class, 2:30 PM
Pre-Compline Discussion, 8:30 PM
Compline, 9:00 PM
Monday
September 12
All Staff Meeting, 4:00 PM
Worship and Music, 6:30 PM
Wednesday
September 14
Finance Committee Meeting, 12:30 PM
Thursday
September 15
Book of Faith Bible Studies, 10:00 AM
LCH Choir Rehearsal, 7:00 PM
Friday
September 16
IHS Meals Prepared, 1:00 PM
IHS Meals Served, 5:30 PM
Confirmation Retreat @ Christ Mililani, 7:00 PM
Sunday
September 18
Holy Communion, 8:00 AM
Christian Education, 9:15 AM
Choral Eucharist, 10:30 AM
New Member Inquiry Class, 2:30 PM
Pre-Compline Discussion, 8:30 PM
Compline, 9:00 PM
Tuesday
September 20
Heartbeat Deadline, 9:00 AM
Council Meeting, 6:30 PM
Thursday
September 22
Book of Faith Bible Studies, 10:00 AM
LCH Choir Rehearsal, 7:00 PM
Saturday
September 24
One Pot One Hope @ Maluhia Lutheran, 9:00 AM
In Stitches, 9:00 AM
Sunday
September 25
Holy Communion, 8:00 AM
Christian Education, 9:15 AM
Choral Eucharist, 10:30 AM
New Member Inquiry Class, 2:30 PM
Pre-Compline Discussion, 8:30 PM
Compline, 9:00 PM
Monday
September 26
Aloha Jam, 6:00 PM
Writers' Workshop, 7:00 PM
Wednesday
September 28
8:00 O'Clock Ensemble Rehearsal, 6:30 PM
Thursday
September 29
Book of Faith Bible Studies,10:00 AM
LCH Choir Rehearsal, 7:00 PM
---

Copyright © 2011 Lutheran Church of Honolulu
1730 Punahou Street, Honolulu, HI 96822 • 808-941-2566
Comments welcome at webmaster@lchwelcome.org