May 2012—In this Issue:
Index of other issues of The HeartBeat
The HeartBeat
A Message from Pastor Jeff
Yes!

It is with great pleasure that I am able to share the news that Pastor Angela Freeman has accepted a call to serve Lutheran Church of Honolulu as associate pastor for a two-year term call. Pastor Freeman, in her letter of acceptance, wrote "It is with great joy and excitement in the Spirit that I accept the 2 year term call you have extended to me as associate pastor. I am certain that while this is your call to me as pastor, this is also God's call working through us all!"
This wonderful news begins our next phase of ministry here at Lutheran Church of Honolulu as we extend a joyful hand of ministry to the university community and Waikiki and strengthen our ministry with youth and young adults.
Pastor Angela and her husband Michael have not yet set firm dates for their arrival in Honolulu. However, she tentatively plans to complete her call at First Lutheran Church, Malden, MA, at the end of June. Our hope is that she will begin her ministry at Lutheran Church of Honolulu shortly thereafter. We will share more details as they become available.
So what should we be doing to get ready for Pastor Angela?
The congregational council is assembling a transition team who will work with Pastor Angela to secure housing, arrange to move her belongings, and put her in touch with key persons in the congregation and the community.
In addition, the council and transition team will work together to schedule at least four 'ohana gatherings for members and friends to attend so that they can get to know Pastor Angela more fully and share their hopes and dreams for this expanded ministry.
Pastor Jeff will work with Bishop Finck on a date for installation and a huge welcome party for Pastor Angela and her husband Michael.
As a congregation, we have committed ourselves to support Pastor Angela. Fred Benco, Josie Bidgood, and their team are working hard on the Mission Campaign to make sure we have the financial resources available to support this new and exciting ministry. If you have not yet pledged to go that "extra mile" in mission support, please take a moment to do so. All we have and all we are is the glory of God. Through your generous gifts we hope to make a positive impact on the lives and ministry of young people.
One of the greatest gifts you can give is prayer! As leaders in the congregation, we are keenly aware of what a huge step we are taking. Please pray for our ministry. I ask also that you pray for Pastor Angela and Michael as they uproot themselves and move 5,850 miles across the Pacific to make a home and ministry among us. And please pray for the people of First Lutheran Church in Malden, MA, where Pastor Angela currently serves. They will begin their process of calling a new pastor to serve their growing ministry.
Lastly, let us give thanks! Thanks to God for moving us forward in the Spirit, thanks to the staffing taskforce and the call committee for their fine work, thanks to Bishop Finck and his staff for their help and guidance through the call process, and thanks to Pastor Angela for saying the one word we need to hear more often in the church—"yes."
Aloha,,
Pastor Jeff Lilley
pr.jeff@lchwelcome.org
Office Closed
Monday, May 28
Memorial Day
April Council Highlights
Council met Tuesday, April 17. Here are some of the highlights of the meeting:
Building use income is well above budget, with overall YTD budget on track.
Parking lot landscaping work day scheduled for April 21, with dedication taking place on Earth Day Sunday, April 22.
Since the PV installation, system has avoided 59,637.52 kg of CO2, with a total yield of 85,196.46 kWh.
Final nominee for Synod Assembly to be finalized before the end of the week.
Letter of acceptance of call received from Rev. Angela Freeman. Transition Team to be established to aid in her transition to LCH and its ministry. Nominees to be finalized by next month's meeting.
Scholarship applications received and approved.
Team leaders, goals, and table-talk meetings established as first step in moving 2012 initiatives forward.
Mary Magdalene Potluck
The LCH LGBT ministry, Mary Magdalene Society, will meet Saturday, April 28, at 6:00 PM. We will begin with a potluck, have a brief business meeting, and then play games until about 9:00 PM. Bring any potluck dish and your favorite game. We will be in the Isenberg Hall at Lutheran Church of Honolulu.
If you see this announcement and did not receive an email, please contact Bob Zimmer through the Church Office (941-2566). We hope you will join us for a good time!
Process Thought Forum
The May meeting of the Process Thought Forum will examine selected poetry—some familiar, some new. A suggestion is to prepare by reading some of the entries classified as "Theopoetics," which you can find by googling the word "theopoetics." The group will meet on Saturday, May 12 at LCH, from 9:30 to 11:00 AM. A repeat session will be held on Sunday, May 13, after the late worship service at noon.
Writers' Workshop

Writers' Workshop will meet next on Monday, May 14, 7:00–8:30 PM in the Rainbow Room at LCH. This will be our final meeting of the Spring; next meeting will be scheduled in mid August. All are welcome. For information, please contact Kathryn Klingebiel through the Church Office (941-2566).
Food for Thought
Food for Thought will meet next on Saturday, May 19, at 6:30 PM at the home of Irmgard Hörmann, for potluck supper and discussion.
All are welcome. For information, please contact Kathryn Klingebiel through the Church Office (941-2566).
Celebrate the Vigil of Pentecost with an LCH Wine Tasting
Saturday, May 26, join the LCH oenophiles for another of our fun wine tastings at Oeno Winemaking, 26 Ho'olai Street in Kailua. We will gather at 4:00 PM, taste a number of different wines under the guidance of Oeno's owner and resident wine expert, Greg Minarik, and select a new red wine for the LCH wine cellar. In addition, individuals will be able to purchase their own wines for bottling later in the summer.
Talk with Bill Potter for more information or to reserve your spot for this fun event.
Banner Weaving for World AIDS Day
Would you like to learn to weave? We are ready to begin another "Inkle strip" banner to fit into the niche by the altar. We'll use all the colors of the Rainbow. Come and join us in this fun project which is easy to learn and doesn't have a big time commitment. Our goal is to have it ready to hang on December 2 to honor World Aids Day, which is December 1. If you'd like more information, please talk to Juditha Murashige.
Our Redeemer Preschool to Close LCH Campus
The Board of Education for Our Redeemer Lutheran Church informed the Lutheran Church of Honolulu Congregational Council that they will not seek to renew their lease at the close of the school year in June of this year. Citing "a number of circumstances" they regretfully declined to continue operating the school on LCH property. A request from Our Redeemer to extend the contract for 30 days until July 31 was granted at the April 17 LCH Council meeting.
Over the next few weeks the Congregational Council will explore opportunities for ministry given this recent development. Input from the congregation and community will help us to move forward in a way that is fiscally responsible and missionally faithful.
Committee/Interest Group Chairs
LCH AIDS Walk Team Raises Goal!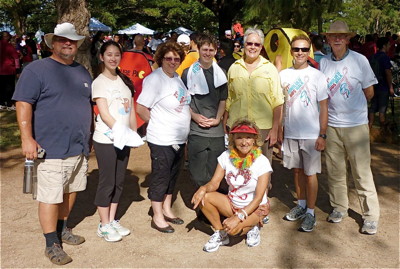 The 2012 Honolulu AIDS Walk team sponsored by Lutheran Church of Honolulu met their fund raising goal of $2,500 on April 15. The LCH team gathered with hundreds of other enthusiastic supporters at Kapi'olani Park for the 5K walk to support the Life Foundation, the largest service provider in Hawai'i for persons living with HIV/AIDS. The walk raised over $185,000 as of this writing, and donations are still being accepted on the web at <www.honoluluaidswalk.com>.
Many thanks to everyone on the LCH team including Colin and Pam Buckley, Mike Formby, Peter Lee, Jim Sullivan, Peggy Anderson, Jeff and Jean Lilley, Brian Mark, Sophie C., Chuck Huxel, Edward Ichikawa, and Jim Cartwright. Also, many thanks to our wonderful donors!
Letter of Acceptance from Angela Freeman
The LCH office couldn't have been more thrilled to receive the letter from Rev. Angela Freeman stating her acceptance of the two-year call as the associate pastor at Lutheran Church of Honolulu. Since her words most accurately express her sentiments about taking the call here at LCH, we figured it would be best to just include her letter so you can read the good news for yourselves!
Dear Jeff and members of LCH,
It is with great joy and excitement in the Spirit that I accept the 2 year term call you have extended to me as associate pastor. I am certain that while this is your call to me as pastor, this is also God's call working through us all!
I have signed the definition of compensation, benefits, and responsibilities that you have sent and I am returning the original copy to you. I have been in communication with the Pacifica Synod office as well as my own current Bishop's office here in New England.
Michael and I are looking forward to joining you this summer to begin our lives together there and to share in what God's up to through LCH. We pray for you all as you journey into the depths of Holy Week and proclaim the first Alleluias on Easter. We will also pray for LCH as you enter into this time of transition and the fulfillment of a call of a second pastor. We welcome your prayers for our departure from life here in Malden, from our current congregation and for our travel to Honolulu.
Yours on the journey,
Rev. Angela Freeman
Youth enjoy a fantastic North Shore Campout
Fifteen youth and adults shared a wonderful campout at Camp Mokule'ia on Friday, April 20. LCH youth Reid and Nathalie joined youth from Calvary by the Sea and Christ Lutheran Church at the overnight campout. The group played "skittles" (a wild, night-time tag game) and shared worship around a roaring campfire under the leadership of Amanda, one of our OYEA youth leaders.
On Saturday morning we hiked the beach at Mokule'ia, exploring the tide pools, and even checked out a monk seal basking on the reef adjacent to the beach. Our next big event is summer camp from June 4 to 8. We will give you more details as soon as they become available.
What's New on the LCH Website?
Bill Potter, Webmaster

Easter always makes for a lot of activity on the LCH website, and this year was definitely no exception.
To encourage visitors to attend, a listing of special worship services for Holy Week and Easter was created in the Worship section, and a link to the list was added at the top of the left navigation bar on the Home page. In addition, Facebook events were created for each of the special worship services so that it would be easy to invite folks to worship. However, I suspect that some of the increase in attendance on Maundy Thursday and Good Friday was the wonderful article that appeared in the Star-Advertiser on the Saturday before Palm Sunday. In case you missed it, the article is available online, but a subscription is necessary to view it.
Most of the new content on the website this month related to Holy Week and Easter. One real blessing this year was all the wonderful pictures Jean Lilley took of our special worship services—starting with the early service on Palm Sunday and continuing through the later service on Easter Day. Using those photos, short articles were posted on the Congregational Life page for Palm Sunday, Maundy Thursday, Good Friday, Easter Vigil, and Easter Sunday. To supplement those articles, a slideshow was created with photos documenting the key aspects of each service, and even more photos were posted on the LCH Facebook page. If you haven't already done so, check out the slideshow and the Facebook photo albums. You will really enjoy the excellent candid shots in the Facebook albums.
Following Easter, the Congregational Life page included photos from the landscaping of the parking lot and KHPR night at Hawai'i Public Radio, the annual Honolulu AIDS Walk, more parking lot landscaping, and Earth Day activities.
Along with Palm Sunday we also started a new quarter, so the articles from the first quarter of the year were moved to an archive page. Remember that all of our Congregational Life pages since March 2006 are indexed for your convenience.
Pet Blessing
May 20 • 2:00 PM
Attendance and Offerings for April
Date
Worship Service
Attendance
Offering Fund
Offering Amount
April 1
8:00 AM Service
68
Offering
$3,325.50
10:30 AM Service
90
Sunday School Offerings
$2.74
Total
158
Heifer Project
$160.00
Wounded Warriors
$560.00
Music Fund
$25.00
Mission Campaign
$225.00
April 8
8:00 AM Service
95
Offering
$4,686.50
10:30 AM Service
136
Seasonal Offerings
$400.00
Compline
24
Emergency Loan Fund
$50.00
Total
255
Heifer Project
$400.00
Heifer Project
$2,322.00
Music Fund
$60.00
Mission Campaign
$320.00
April 15
8:00 AM Service
46
Offering
$4,111.60
10:30 AM Service
72
Seasonal Offerings
$100.00
Compline
18
Altar Flowers
$69.00
Total
136
Heifer Project
$140.00
Music Fund
$100.00
Mission Campaign
$470.00
April 22
8:00 AM Service
42
Offering
$3,762.50
10:30 AM PM Service
84
Learning Ministries
$88.0
Compline
32
Mission Campaign
$645.00
Total
133
Wounded Warriors
$50.00
Social Ministries
$110.00
Music Fund
$138.00
Attendance and Offerings for Sunday, April 29, 2012, were not available at time of publication.
Prayer Requests
Alicia
Gus
Michelle
Carl
Judy
Sally
Chris
Karen
Stephen
Cindy
Maggie
Susan
Debbie
Martin
Sylvia
Gene
Terry
May Birthdays
Date
Name
05/04
Jamie Weeks
05/05
Vreni Griffith
05/09
Bill Fay
05/11
Ivan Kaeo
05/13
Douglas Althauser
05/14
Kimberely Rector
05/14
Miles Sato
05/17
Karyn Castro
05/23
Francisco Barajas
05/24
Stephanie Miller
05/27
Cami Kloster
05/22
Michael Tod Outlaw
05/29
Sydney Schaper
05/29
Zoe Schaper
05/30
Ernie Peterson
05/30
Lois Faith Swift
LCH Worship Participants
LECTOR
Mike Formby
Bill Hamblet
Amanda Lippert
Cindy Scheinert
COMMUNION
ASSISTANTS
Laurie Leach
Mike Formby
Peter Lee
Bill Hamblet
Chuck Huxel
Peggy Anderson
Bill Hamblet
Adam Landherr
Amanda Lippert
Laurie Leach
Adam Landherr
Mike Formby
Peggy Anderson
Carolyn Koehler
Bill Hamblet
Don Johnson
ACOLYTE
Missy H.
Ryan H.
Sophie C.
Jordan S.
LAYING ON
OF HANDS
Jim Sullivan
USHER
Fred Benco
Fred Benco
Fred Benco
Fred Benco
LECTOR
Aaron Gould
Roy Helms
Chuck Pearson
Mark Russell
DEACON
Frank Haas
Bob Zimmer
Josie Bidgood
Mary Fastenau
SUBDEACON
Josie Bidgood
Phyllis Hormann
Ray Herradura
Steve Jensen
COMMUNION
ASSISTANTS
Sue Haas
Randy Christensen
Steve Jensen
Mary Fastenau
Frank Haas
Bob Zimmer
Phyllis Hormann
Randy Christensen
ACOLYTES
Nathalie J.
Reid W.
Ray Herradura
Miranda L.
Savannah M.
Lillie J.
Reid W.
Max W.
LAYING ON
OF HANDS
John Bickel
USHERS
Bill Fay
Jean-Paul Klingebiel
Jim Lawhn
Peter Flachsbart
Laverne Rickard
Bill Fay
Jean-Paul Klingebiel
Jim Lawhn
Peter Flachsbart
Laverne Rickard
Bill Fay
Jean-Paul Klingebiel
Jim Lawhn
Peter Flachsbart
Laverne Rickard
Bill Fay
Jean-Paul Klingebiel
Jim Lawhn
Peter Flachsbart
Laverne Rickard
ALTAR
GUILD
Linda Miller
Josie Bidgood
Lori Nishimura
Lois Watanabe
Laverne Rickard
Linda Miller
Josie Bidgood
Lori Nishimura
Lois Watanabe
Laverne Rickard
Linda Miller
Josie Bidgood
Lori Nishimura
Lois Watanabe
Laverne Rickard
Linda Miller
Josie Bidgood
Lori Nishimura
Lois Watanabe
Laverne Rickard
HeartBeat Deadline
Next HeartBeat Deadline is Tuesday, May 15!
Calendar: May 2012
Day
Date
Event and Time
Wednesday
May 2
8:00 O'Clock Ensemble, 6:30 PM
Thursday
May 3
Book of Faith Bible Studies, 10:00 AM
Weekly Staff Meeting, 2:00 PM
LCH Choir Rehearsal, 7:00 PM
Sunday
May 6
Angel Network In-Gathering
Holy Communion, 8:00 AM
Christian Education for all ages, 9:20 AM
Choral Eucharist, 10:30 AM
Leadership Roundtable, 11:45 AM
Evensong @ St. Andrews, 5:30 PM
Compline will not be sung this evening
Monday
May 7
Mutual Ministry Meeting, 6:30 PM
Tuesday
May 8
Hukilau Pastors' Conference, 9:30 AM
Wednesday
May 9
Finance Committee Meeting, 12:30 PM
Thursday
May 10
Book of Faith Bible Studies, 10:00 AM
Weekly Staff Meeting, 2:00 PM
LCH Choir Rehearsal, 7:00 PM
Saturday
May 12
In Stitches, 9:00 AM
Process Thought Forum, 9:30 AM
Sunday
May 13
Holy Communion, 8:00 AM
Christian Education for all ages, 9:20 AM
Choral Eucharist, 10:30 AM
Process Thought Forum (rpt.), 12:00 Noon
Piano Recital, 2:00 PM
Pre-Compline Discussion, 8:30 PM
Compline,, 9:00 PM
Monday
May 14
All Staff Meeting, 5:00 PM
Worship & Music, 6:30 PM
Writers' Workshop, 7:00 PM
Tuesday
May 15
Heartbeat Deadline, 9:00 AM
Council Meeting, 6:30 PM
Thursday
May 17
Book of Faith Bible Studies, 10:00 AM
LCH Choir Rehearsal, 7:00 PM
Friday
May 18
IHS Meals Prepared, 1:00 PM
IHS Meals Served, 5:30 PM
Saturday
May 19
Food for Thought, 6:30 PM
Sunday
May 20
Holy Communion, 8:00 AM
Christian Education for all ages, 9:20 AM
Choral Eucharist, 10:30 AM
Pet Blessing postponed until October 7
Pre-Compline Discussion, 8:30 PM
Compline,, 9:00 PM
Monday
May 21
Aloha Jam, 6:00 PM
Thursday
May 24
Book of Faith Bible Studies, 10:00 AM
Weekly Staff Meeting, 2:00 PM
LCH Choir Rehearsal, 7:00 PM
Saturday
May 26
In Stitches, 9:00 AM
One Pot One Hope, 9:30 AM
Wine Tasting @ Oeno Winemaking, 4:00 PM
Sunday
May 27
Pentecost
Holy Communion, 8:00 AM
Christian Education for all ages, 9:20 AM
Choral Eucharist, 10:30 AM
Pre-Compline Discussion, 8:30 PM
Compline,, 9:00 PM
Monday
May 28
Office Closed—Memorial Day
Thursday
May 31
Book of Faith Bible Studies, 10:00 AM
Weekly Staff Meeting, 2:00 PM
LCH Choir Rehearsal, 7:00 PM
---

Copyright © 2012 Lutheran Church of Honolulu
1730 Punahou Street, Honolulu, HI 96822 • 808-941-2566
Comments welcome at webmaster@lchwelcome.org