The HeartBeat
A Message from Pastor Jeff

I'm sitting vigil at the foot of a hospital bed. My mother, once the life of every party and the belle of every ball, is propped up with white hospital pillows and wearing a loose hospital gown. She is bald as a cue ball, and her face has grown thin and wane from her illness. Her breaths come like bubbles through pudding, and her mind wanders through morphine-shaded forests filled with the fanciful and frightening. For all the efforts of hospital decorator teams, the room is unmistakably sterile and cold like a not-quite-finished thought. We are waiting together for death.
It seems strange to say it out loud. But we are plain-speaking folk, and this morning mom told my brother she is "ready for this to be over." She doesn't mean she is ready for life to be over, but for the pain, discomfort, labored breathing and cancer to come to a comfortable conclusion; and the only path to conclusion is death. It's not the path any of us willingly chooses, but sometimes there is no better way, no viable detour.
We have not spoken of God, or Jesus, or the sweet by and by of heavenly promise. But, grace abounds as each son, grandchild, nephew, niece, and friend calls from near and far. I hold the phone to her ear, and her face lights up as she recognizes the voice on the other end. "I love you" threads the conversations together in a tapestry winding over decades and miles. Whatever distance there might be collapses in a moment of empathy, care, and compassion. As death looms, life blossoms. In these voices I hear Jesus. In these kind moments that light up the face of a dying woman, I hear the promise Jesus gave to his disciples, "I will be with you always."
On the day of Pentecost, the Holy Spirit gave voice to words that needed to be spoken, and witness to love that needed to be shared. The same holds true for us today. As people of God we do not always have just the right words to comfort, care for, motivate, or encourage one another; but we are gifted to live fully in God's presence and God's promise thought the Holy Spirit; words can come later.
I am sitting vigil with my fine brother, and we are waiting for death. But all is well, for Life has already arrived and shares our vigil with us—Life who is the Light off the World.
Aloha,
Pastor Jeff Lilley
pr.jeff@lchwelcome.org
Summer Worship Schedule Begins June 3!
Holy Communion 9:15 AM
Compline 9:00 PM
From Pastor Angela
Aloha friends! (I think that is the first of many times I've greeted anyone with that word!)
A note of greetings to you all! We are over 6000 miles away, but the Spirit holds us close as we are both preparing and planning for the beginning of our life together. I pray for you all at LCH, your leaders, and your staff regularly as I walk through the final stages of my ministry here at First Lutheran in Malden, MA, and get ready to join you in July.
Michael and I are busy with the important and good work of saying good-bye, but also with some important life transitions. Michael will be taking the stage and receiving his graduate diploma on Friday, May 18 in from Simons College in Boston. He has taken the licensure exam for teachers in MA and will soon be certified to teach English as a Second Language (A license that we were pleased to find out transfers to the state of Hawai'i!). And, Michael's father just married a lovely woman last weekend. Michael served as best man for his dad during the ceremony.
I will also be taking part in one last training retreat for my course in Spiritual Direction and Congregational Formation in early June, will finish my work as nominating committee chairperson in the synod at our Assembly in June, and will officiate a wedding ceremony in mid-June to finalize my pastoral responsibilities here in Malden. I am also grateful for an up coming and quick visit to see my sister and her family and my parents in Wisconsin one last time before moving off the mainland for the next couple of years.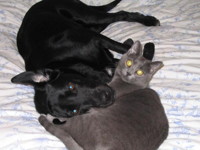 We are also busily selling furniture, getting estimates on moving companies, getting everything prepared to move our two pets, etc.Š It is a lot of work, and we're grateful for your blessed transition team who will work with us during this big move! A huge thank you ahead of time for all of the work you already are doing and will do to ensure our transition is smooth and as pain-free as possible.
We will continue to pray for you and thank you for your prayers for our household, for our congregation here in Malden, and for our families as we say good-bye. There is a lot that will happen in these few short months before we join together in ministry. I am certain that God is at work and the Spirit is guiding us all.
Yours on the journey,
Pastor Angela Freeman & Michael Kiddy
(with Molly the black lab and Buddy the cat!)
May Council Highlights
Council met Tuesday, May 15. Here are some of the highlights of the meeting:
Income and expenses are doing well. Still at less than 50% of the One in Mission Campaign.
Decision to have a community celebration to welcome Pastor Angela!
Trying to have something in place with UH for Pastor Angela. She arrives July 15, and school starts at the end of August.
Gathering ideas and sending out a Request For Proposals for the use of Isenberg once the preschool leaves.
Summertime In Stitches
During the summer In Stitches, the craft group of LCH, will meet on the second and fourth Sunday of the month directly after the service in the courtyard. Summer dates will be June 10 and 24, July 8 and 22, and August 12. Come join us and learn a new craft or enjoy working on your own project.
Parent and Child Activity Group
At the Lutheran Church of Honolulu we have a number of families with children three and under, but we never really get a chance for our children to play and especially for us as parents to talk. So, all parents with young children are invited to a structured playgroup with songs, poems, and puppet shows, along with some discussion in the middle.
We will start on June 3rd, the first Sunday we go to one service, at 10:30. If you have any questions please contact Stephanie Luuloa through the Church Office (941-2566).
Process Thought Forum
The Process Forum for June will continue with the theme of theopoetics from our session in May. Saturday, June 9, 9:30–11:00 AM in the Rainbow Room at LCH. Find out more about "theopoetics" online. Select poems will be announced later that will serve as the focus of our discussion. Newcomers welcome.
Banner Weaving for World AIDS Day
Would you like to learn to weave? We are ready to begin another "Inkle strip" banner to fit into the niche by the altar. We'll use all the colors of the rainbow. Come and join us in this fun project which is easy to learn and doesn't have a big time commitment. Our goal is to have it ready to hang on December 2 to honor World AIDS Day, which is December 1. If you'd like more information, please talk to Juditha Murashige.
Our Redeemer Preschool to Close LCH Campus
The Board of Education for Our Redeemer Lutheran Church informed the Lutheran Church of Honolulu Congregational Council that they will not seek to renew their lease at the close of the school year in June of this year. Citing "a number of circumstances," they regretfully declined to continue operating the school on LCH property. A request from Our Redeemer to extend the contract for 30 days until July 31 was granted at the April 17 LCH Council meeting.
Over the next few weeks the Congregational Council will explore opportunities for ministry given this recent development. Input from the congregation and community will help us to move forward in a way that is fiscally responsible and missionally faithful.
Committee/Interest Group Chairs
Psalter and Bach
The Lutheran Church of Honolulu has a long association with Johann Sebastian Bach. The connection extends beyond merely performing his music now and then. Begun by my predecessor, Carl Crosier, and continuing now, LCH's connection to Bach includes exploring Bach's music chronologically in annual Bach Pilgrimage concerts, vespers service patterned after Bach's model, and the performance of some of the same friends and predecessors of Bach that one might have heard at St. Thomas in Leipzig in the 1720s–1740s when Bach was cantor. Our connection to Bach's legacy is deep.
When I try to imagine what it might have been like for a congregant during Bach's tenure, I picture a lively and varied musical-spiritual life that certainly challenged each in attendance. Consider this: Bach performed new music with new poetry nearly every week! His church services were full of music experiments, premieres, works quickly altered for that week's available musicians, and even new works that were built of reconfigured older works. Outside of the church, Bach was also managing and occasionally writing works for chamber series he directed at the local coffee shop.
Bach's world included new music at every turn and was in a constant state of evolution and exploration. Indeed, the idea of new music for the church is hardly new! In fact, the church has long been a key patron for the arts, and I believe, it remains our responsibility to support the creation of music for worship through our commissioning and performing.
This summer, therefore, I'm please to formally announce the first of several projects to create music for worship here at LCH: the commissioning of a new psalter. Composer Forrest Pierce has been engaged in this massive project and, if you recall, has already experimented with a few psalms for worship at LCH. Pleased with what he's created for us, we're launching into this more formal project.
In order to launch the new psalter project, I invite individuals, families, small groups, and others within the greater LCH community to consider dedicating a psalm for $250. The cost covers the expense of commissioning the psalm and supporting the music program within our community. Psalms may be chosen to honor or memorialize someone on a given Sunday, or if you prefer, you may choose a particular psalm that you love and I can find the right Sunday for you. The person or group that dedicates each psalm will be forever linked that music by way of a written dedication attached to the title on the printed page. Further, you'll get a printed copy of the psalm, a recording of its first performance, and—above all else—the satisfaction of supporting our endeavor to enliven and ever renew our weekly worship through music.
If you're interested in dedicating a psalm, please contact me via email at <miguel@lchwelcome.org> or call me at church (941-2566). I'd be happy to help you choose the psalm or Sunday that suits you as we plan the coming year. And, stay tuned for new of our cantata project soon!
Aloha,
Dr. Miguel Felipe
Director of Music and Liturgy
What's New on the LCH Website?
Bill Potter, Webmaster

Except for regular updates of sermon audio, the website has been pretty calm after the flurry of posts for our Easter celebration, but there are still a few changes to report.
A weekly cartoon has been added to the Spiritual Resources page. Each week "Agnus Day" comments on one of the lessons from the Sunday lectionary. As you might guess from the title of the strip, which is a pun on the Latin phrase agnus dei, or lamb of God, most of the characters in the strip are sheep or lambs. Why not stop by for a weekly dose of heavenly humor?
Information about One Pot One Hope has been added to the Social Ministries page, along with a link to a little slideshow of photos from the April outing. Thanks to Ms. Peggy for the pictures and Carol Langer who cropped the photos and provided the captions.
Finally, the informational page for the parking lot behind the church has been updated with a new photo and text that more accurately describes the renovated parking lot.
Attendance and Offerings for May
Date
Worship Service
Attendance
Offering Fund
Offering Amount
May 6
8:00 AM Service
50
Offering
$3,345.50
10:30 AM Service
88
Sunday School Offerings
$7.00
Total
138
Altar Flowers
$35.00
Angle Network
$10.00
Wounded Warriors
$251.00
Music Fund
$30.00
Mission Campaign
$295.00
May 13
8:00 AM Service
60
Offering
$3,143.50
10:30 AM Service
93
Sunday School Offerings
$3.25
Compline
20
Social Ministries
$55.00
Total
173
ELCA World Hunger
$400.00
Wounded Warriors
$1,200.00
Mission Campaign
$210.00
May 20
8:00 AM Service
53
Offering
$2,753.00
10:30 AM Service
80
Sunday School Offerings
$3.00
Compline
22
Social Ministries
$55.00
Total
155
Wounded Warriors
$550.00
Mission Campaign
$1,610.00
Attendance and Offerings for Sunday, May 27, 2012, were not available at time of publication.
Prayer Requests
Alicia
Gus
Michelle
Carl
Judy
Sally
Chris
Karen
Stephen
Cindy
Maggie
Susan
Debbie
Martin
Sylvia
Gene
Terry
June Birthdays
Date
Name
06/03
Kiyoko Nitz
06/03
Vincent W.
06/04
LaVerne Rickard
06/04
Michael Sato
06/05
Jaime Crozier Garcia
06/06
Crescent C.
06/07
Austin Buckley
06/09
John Bickel
06/09
Kathryn Klingebiel
06/10
Miriam Sato
06/11
Susan Burns
06/11
John Moyer
06/11
Diane Perushek
06/13
Don Blanchard
06/14
Randy Christensen
06/16
Maxwell W.
06/18
Seth Lilley
06/22
Joseph Pettit
06/26
Jeff Lilley
06/26
Sean D'Evelyn
06/26
John Gibson
06/27
Sylvia Hormann-Alper
LCH Worship Participants
LECTOR
Peggy Brandt
Peggy Anderson
Penny Lawhn
Roy Helms
DEACON
Jim Sullivan
Frank Haas
Phyllis Hormann
Steve Jensen
SUBDEACON
Josie Bidgood
Bob Tellander
Mary Fastenau
Bob Zimmer
COMMUNION
ASSISTANTS
Crescent C.
Laurie Leach
Carolyn Koehler
Bill Hamblet
Crescent C.
Amanda Lippert
Bob Tellander
Don Johnson
ACOLYTES
Savannah M.
Sophie C.
Steve Jensen
Missy H.
Ray Herradura
Jordan S.
Miranda L.
Colin Buckley
LAYING ON
OF HANDS
John Bickel
USHERS
Chuck Huxel
Chuck Pearson
Nan Wond
Chuck Huxel
Chuck Pearson
Nan Wond
Chuck Huxel
Chuck Pearson
Nan Wond
Chuck Huxel
Chuck Pearson
Nan Wond
ALTAR
GUILD
Olivia Castro
Mary-Jo Estes
Billie Jean Ries
Penny Lawhn
Olivia Castro
Mary-Jo Estes
Billie Jean Ries
Penny Lawhn
Olivia Castro
Mary-Jo Estes
Billie Jean Ries
Penny Lawhn
Olivia Castro
Mary-Jo Estes
Billie Jean Ries
Penny Lawhn
HeartBeat Deadline
Next HeartBeat Deadline is Tuesday, June 19!
Calendar: June 2012
Day
Date
Event and Time
Saturday
June 2
Hukilau Assembly, 9:00 AM
Sunday
June 3
Choral Eucharist, 9:15 AM
Pre-Compline Discussion, 8:30 PM
Compline, 9:00 PM
Monday
June 4
Mutual Ministry Meeting, 6:30 PM
Thursday
June 7
Book of Faith Bible Studies, 10:00 AM
Weekly Staff Meeting, 2:00 PM
LCH Choir Rehearsal, 7:00 PM
Saturday
June 9
Process Thought Forum, 9:30 AM
Sunday
June 10
Choral Eucharist, 9:15 AM
In Stitches, 10:45 AM
Process Thought Forum (Rpt.), 10:45 AM
Pre-Compline Discussion, 8:30 PM
Compline, 9:00 PM
Monday
June 11
All Staff Meeting, 5:00 PM
Worship & Music, 6:30 PM
Tuesday
June 12
Hukilau Pastors' Conference, 9:30 AM
Wednesday
June 13
Finance Committee Meeting, 12:30 PM
Thursday
June 14
Weekly Staff Meeting, 2:00 PM
Friday
June 15
IHS Meal Preparation, 1:00 PM
IHS Meal Serving, 5:30 PM
Sunday
June 17
Choral Eucharist, 9:15 AM
Compline is on hiatus and will not be sung this evening.
Monday
June 18
Aloha Jam, 6:00 PM
Tuesday
June 19
HeartBeat Deadline, 9:00 AM
Executive Committee, 6:00 PM
Council Meeting, 6:30 PM
Thursday
June 21
Weekly Staff Meeting, 2:00 PM
Sunday
June 24
Choral Eucharist, 9:15 AM
In Stitches, 10:45 AM
Compline is on hiatus and will not be sung this evening.
Wednesday
June 27
8:00 O'Clock Ensemble Rehearsal, 6:30 PM
Thursday
June 28
Weekly Staff Meeting, 2:00 PM
Saturday
June 23
One Pot One Hope, 9:30 AM
---

Copyright © 2012 Lutheran Church of Honolulu
1730 Punahou Street, Honolulu, HI 96822 • 808-941-2566
Comments welcome at webmaster@lchwelcome.org