The HeartBeat
A Message from Pastor Jeff
Press the Start Button

When I was in high school I bought a 1939 Dodge pickup truck from my brother. The vehicle did not start with a key. Instead, I reached down with my foot and pressed a starter button located on the floor, and it would roar to life. Over time, modernity took over and the starter button went the way of the Edsel, and cars were started by simply twisting a key. Last month, I rented a brand new car. Guess what? Just like old days there was no key—just a start button. Of course, these days the start button is a high tech device with wireless security codes and cool LED backlighting; but for the most part, it seems like what was old is new, and what was abandoned and forgotten has once again become hip.
Years ago, LCH had an associate pastor and participated in a campus ministry at the University of Hawaii. While vibrant and helpful in their day, those ministries gave way as the congregation had new needs and passions. But like the start button on new cars, what was old has become new, and hopefully even better. On August 18, the Lutheran Church of Honolulu installed Pastor Angela Freeman as our full time associate pastor. The celebration was truly wonderful, with many of our Hukilau churches present to help us bless her ministry and Bishop Finck presiding over the installation. Music played a significant role in our worship as the F.R.O.G.S. (youth) choir sang, and one of our youngsters led the Alleluia before the reading of the Gospel. In addition to the usual symbols of office (Bible, shell of baptism, and letter of call), Pastor Angela was presented with a beer stein representing fellowship and an iPhone representing technology and communication in the modern age. These symbols help articulate her focus on youth and family ministry, as well as campus ministry and outreach to the community.
Pastor Angela has already begun to make exciting plans to work with our Episcopalian partners at the University of Hawai'i. We have begun to rethink our confirmation program and met with OYEA to envision how that program might improve. Over the next few months she will meet with each of you at 'ohana meetings where she will have a chance to hear your passions for ministry and service and understand better what God might be up to here at LCH. These are busy and exciting times in our congregation!
In a way, it feels as if God is pressing the start button. As we come back from our summer travels and re-engage in Christian education, our music program, and worship, we have the added ministries of outreach to the universities and renewed work with our youth already underway. I give thanks that some of what was old is being renewed in God's Spirit and we move forward in our ministry together.
On a personal note, I want you all to know how privileged and blessed I feel to share in Pastoral leadership with Pastor Angela. She is a gifted and energetic person whose gifts in the Spirit are a joyful addition to our staff of Miguel, Kathy, Sarah, and Gaylen, who together make a wonderful staff for God's ministry at LCH. Now, let's press the "Start" button and see what happens.
Aloha,
Pastor Jeff Lilley
pr.jeff@lchwelcome.org
Regular Sunday Worship
Schedule Resumes September 2
Holy Communion—8:00 AM
Choral Eucharist—10:30 AM
August Council Highlights
Council met Tuesday, August 21. Here are some of the highlights of the meeting:
Expenses for the year have remained $10,000 under budget.
Confirmation class to begin meeting twice monthly on Sunday afternoons starting in September.
One in Mission Report: 50.17% pledged/received toward goal for Mission Campaign so far
In negotiations with Maryknoll schools for renting LCH facilities for after school programs.
Taskforce to be created to start planning parking lot "mahalo" party scheduled for late November/early December.
Since the PV installation, system has avoided 75,573.16 kg of CO2, with a total yield of 107,961.65 kWh.
In Stitches
During the month of September, In Stitches, the LCH craft group, will meet Saturday, September 8 and 22 at 9:00 AM at LCH. Join us to work on church projects or your own craft.
Process Thought: Does Education Kill Creativity?
Saturday, September 8 • 9:30 AM–11:00 AM
(Repeat session Sunday, September 9, at noon)
September's Process Though Forum will consider Creativity—called by Whitehead the "ultimate category"—a very important concept in Process Thought. Consider, if you will, some of the theological consequences of such a designation.
You can read about the topic by clicking on the featured article entitled "Does Education Kill Creativity?" on the "Jesus, Jazz and Buddhism" website. We will watch the TED Talk included in that article by Sir Kenneth Robinson to stimulate the discussion.
If it's your first time to attend, please come. We are quite gentle and kind to newcomers! For more information, contact Fritz through the Church Office (941-2566).
Give Aloha Returns!
Lutheran Church of Honolulu will once again participate in the Give Aloha Program sponsored by Foodland and Western Union. For every donation received, Foodland and Western Union will provide matching funds up to $350,000 for all combined participating organizations.
How does it work? During the month of September, you may donate up to $249 to the Give Aloha Program at any Foodland, Foodland Farms, or Sack N Save. At the register, use your Maika'i Card and give them the LCH code (78224). Foodland/Western Union will then match a portion of that donation. Please note that donations made without a Maika'i card will not be matched. Customers who do not have a Maika'i Card may request one at checkout.
LCH has consistently been in the top 100 organizations. So please go to Foodland or Sack N Save and make your donation today!
Sunday Adult Forum—The Screwtape Letters
"The best way to drive out the devil...is to jeer and flout him, for he cannot bear scorn."–Martin Luther
Steve Miller will lead discussions of selections from C. S. Lewis' Screwtape Letters. These are letters from a senior devil, Screwtape, instructing his nephew on aspects of human nature that can be used to lure humans to the "dark side." Lewis has many insights into the conflicts and complications of being human and of the difficulty and rewards of preserving our spirituality in daily life. Sundays at 9:20 AM in the Boardroom. Come share your experiences and insight! Each chapter is only a few pages. Available at Amazon or the library. Please read the chapter before class.
| Date | Topic |
| --- | --- |
| September 2 | Ch. 8: C. S. Lewis; humans half animal, half spirit |
| September 9 | Ch. 13: Detachment from self (God), from reality (devil) |
| September 16 | Ch. 18 & 19: Sex and love; love pulls us toward and away from God, being in love vs. living in love. |
| October 14 | Ch. 26: Unselfishness, charity, desire |
| October 21 | Ch. 15: Awareness of present and future |
| October 28 | Ch. 16 & 21: Comfort vs. cause-focused churches; personal time, personal possessions, and interruptions vs. forgetting self |
Confirmation Classes
Students and parents, please mark your calendars for the coming of the confirmation year! Classes will begin Sunday, September 23, from 3:30–6:30 PM (dinner provided). We will meet in the Rainbow Room at LCH. This will begin our semester experiment of a new class time and day. Please email Pastor Angela at <pr.angela@lchwelcome.org>. if you have a conflict with this time or if you have questions.
It's a New School Year!
We give thanks and pray for all students, their parents, all teachers and professors, staff, all those who are returning to classrooms and various campuses. May God's peace be upon you as you begin a new year!
Committee/Interest Group Chairs
One Pot One Hope
The July One Pot One Hope will be on July 28. Come and join the LCH "caravan" leaving the church at 9:15 AM and returning by 1:00 PM. Please bring your food donations to the church by Sunday, July 21.
Donations needed:
Chili
Peanut Butter
Jelly
Granola Bars
Fruit
Water
Re-Cycled Grocery Bags
Or a check made out to "One Pot One Hope"
Hawai'i Meals on Wheels Annual Gala
Honoring Irmgard Hörmann: The Woman Who Started it All
Willows Restaurant • Thursday, September 27, 5:30–9:30 PM
Hawai'i Meals on Wheels will honor its 95-year-old founder Irmgard Hörmann at their annual fundraising gala at the Willows Restaurant. We would like to invite everyone who like to be a part of this special celebration to honor this special woman. Travel back in time to days of Old Hawai'i with food, cocktail tastings, relaxing massages, casino games, silent auction, country store, and the sharing of the "Aloha Spirit."
LCH would like to sponsor a table for this event to support Irmgard and the Meals on Wheels program. Cost is $2,500 for a table of 8, or $150 for individual tickets. Please contact the LCH office <lch@lchwelcome.org> if you are interested in participating in this event! Mahalo!
Campus Ministry at UH
LCH has been given an exciting opportunity to partner with the Episcopal diocese of Honolulu at the University of Hawai'i. The MacCray House is a building near the UH campus that the Episcopal Church owns and has turned into a campus center. The Episcopal campus ministry has been in redevelopment for a while and is, in a sense, starting from the ground up.
Pastor Angela is in conversation with the leadership and has begun to create a shared ministry. Pastor Angela, the Episcopal intern, Malcolm Hee, and his supervising priest, the Rev. David Jackson, have planned a weekly event including dinner for students at the MacCray House on Wednesday evenings. They will also be staffing the house during the weekdays for students to hang out, visit, and study. Local congregations offer the weekly Wednesday dinners and LCH is invited to participate.
Are you able to help out by bringing a dish or make a donation to cover a portion of the meal? Email Pr. Angela at <pr.angela@lchwelcome.org>. if you'd like more information or want to participate!
Into the Night
Many Christians, perhaps even many of us here at LCH, fear the decline of the Church from what it once was in its glory years; and by Church here, I am referring to the Church Universal or the "whole Church"—not just this Lutheran church on the corner of Punahou and Dominis Streets. Christendom is simply no longer, and the percentage of Americans who do not attend church is increasing.
We cry and perhaps wail, though sometimes silently, that numbers are decreasing and there is an increased distance between religious life and the American public life. It has been said that the church has descended into a "dark night of the soul."
The dark night can be described as a "divinely initiated process of loss." Walter Brueggemann describes the Church as being in exile. The Church's exile is not unlike the Jews exiled in Babylon. But it is a cultural exile rather than a geographic one, as it is also disorienting, anxiety ridden, and full of grief and loss.
Another theologian, Phyllis Tickle, describes the church as a living organism that goes through cycles of growth and change. In her book The Great Emergence she says that about every 500 years the "Church cleans out its attic and has a rummage sale." Meaning that the Church empties out and eventually begins to rebuild itself again.
Without a doubt we are together in this time of change, decline, and rebuilding. I think a major sign of hope during this time is that the Church seems to be less about the institution and more about the work of the Spirit in the people of God. The Church will persevere through the "night" and emerge alive on the other side—not because of church programs but because God's love has kept it.*
The "dark night" is the time when the Church is being drawn deeper into relationship with God and finding clarity of identity. LCH is proof that this time of change and transition is a time reassessing all that has been normal and a time preparing for the amazing things that will be done by God—a God who is beyond all of our systems and forms and old ways being.
LCH has called a second pastor, has changed what was normal, has taken some big risks, and has committed itself to being even more the presence of the love of Jesus grounded in Honolulu. We, with the wider Church, will delight in the holiness of God as we develop even further our identity and our call to bring holiness in the community around us.
Every single person is an integral part in creating the "new normal." As we find our way together, I invite you to consider what within your own life and in the life of the church is passing away to make room for what God has in store. Be prayerful as you discern your role in the rebuilding and creating. Don't forget to tell me what you hear, notice, and see God doing!
Yours on the journey,
Pastor Angela
*Heath, Elaine A. The Mystic Way of Evangelism: A Contemplative Vision for Christian Outreach (Grand Rapids: Baker Academic Publishing, 2008), 27.
Office Closed
Labor Day—September 3
LCH Wine Cellar Restocked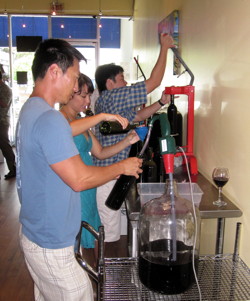 Peter Lee uses a siphon to fill individual bottles from the glass barrel, Naomi Castro checks the fill level, and Jerrik Feliciano inserts the corks.
Just in case anyone was worrying, the LCH wine cellar has been restocked with red wine in time for LutherFest on Saturday, October 27. More than two dozen bottles of Italian Amarone came back from the recent bottling expedition to Oeno Winemaking in Kailua.
The hard-working group who made the journey to the windward side included experienced workers like Pastor Jeff and Jean Lilley, Mary-Jo Estes, Pam Buckley, and Bill Potter, as well as first-timers such as Pastor Angela Freeman and her husband, Michael Kiddy, Naomi and Karyn Castro, Peter Lee, Miguel Felipe and Aaron Gould, Andrew McCaffrey, Seth and Meghann Lilley, and a few friends for evangelism.
After the pupus were spread out and everyone got a little sustenance, experience bottlers and first-timers alike got to work with the task at hand and made short work of five barrels (about 150 bottles) of wine. In addition to the church wine, individuals and groups put up their own selections, each with their own self-designed label.
If this all sounds like too much fun to miss out on, watch for another wine tasting event next spring at the latest.
What's New on the LCH Website?
Bill Potter, Webmaster

August has been a fairly quiet month on the LCH website, but there have been a few significant changes and additions. The Children page was updated with information for the new school year, and short articles were added to the Congregational Life page about Pastor Angela's installation and the wine bottling in preparation for LutherFest.
The beginning of the new school year means that we have been welcoming new families to LCH, regulars are returning from vacations, and folks are taking up new roles in the congregation. It's a good time to review the privacy policy for the website.
One of our guiding principles is to protect the personal information of everyone in the congregations. For that reasons, we never include home addresses, personal phone numbers, or personal email addresses on the LCH website, except at the specific request of the individual. Those pieces of information may appear in printed materials available at church or other forms of communication from the church (such as The HeartBeat), but they are removed before posting on the website.
We do provide church email addresses for many of our leaders, and those are displayed on web pages for communication purposes. However, whenever we use an email address, it is specially encoded to discouraging "harvesting" for spam. This works quite well, and even though my LCH email address appears at the bottom of every page, I have never gotten any spam at that address.
When it comes to children, we avoid using their names on the website. First names or first names and initials are used in birthday lists, for example, but full names are never used for children on the website.
We do give full names for adult leaders and participants in church activities. However, we are always happy to remove your name if you desire. In fact, I did receive such a request earlier this summer from someone whose name had appeared in the birthday list, and all the instances of that person's name were removed within a couple of hours.
We frequently use photographs on the website that are taken during worship or at other public church events. Of course, there are some people do not like having their picture taken, and we avoid doing so when we aware of the fact. Just let the photographer know, or tell me, and we will not use any pictures of you on the website. Or if you just don't like a particular photo of yourself that does appear on the site, let me know, and it will be removed.
And one final note for the new school year, if you are involved in a leadership role at LCH, make sure that we have a page for you in our leadership section. This helps everyone match faces and names, and it lets newcomers find out a little about you. Just contact me so I can get the information I need to make the page. And if you have a new role this fall, or if you'd like a new picture or have information to add, just let me know and we can work together to get your page updated.
Installation of Rev. Angela J. Freeman
Bob Zimmer hands Pastor Angela a shell to symbolize her role to baptize, teach, and forgive sins.

On Saturday, August 18, 2012, the Rev. Angela Freeman was installed as the associate pastor of Lutheran Church of Honolulu.
Pastor Angela in the new stole designed by Randy Castello and carefully assembled and sewn by Terry Lee Hiller.
Angela arrived on the island and at LCH in July and is serving a two-year term call with her ministry focused on outreach ministries to the neighborhoods, youth, young adults, and families as well as building up ministry on the college campuses of O'ahu.
Saturday was a festive day with glorious music from various LCH musicians of all ages and both choirs, a clergy procession that included many Lutheran and ecumenical partners, and worshipers from LCH and the community. Bishop Murray Finck of the Pacifica Synod presided and offered the message for worship. The bishop's associate, the Rev. Heidi Hester, acted as deacon.
The congregation gifted Angela with a specially designed and handcrafted stole in celebration of her new ministry.
The fellowship team outdid themselves with a fabulous pupu spread followed by a remarkable potluck feast.
Thanks to all who were present for the celebration and those who had a part in making the day a fantastic celebration of LCH's ministry present and future!
O.Y.E.A.
Oahu Youth Education and Activities—the island-wide youth organization—is gearing up again! Senior and junior high school teens are invited to attend. Mark your calendars for our first activity of the program year, an overnight camp out retreat, November 2–3, at Camp Mokule'ia on the North Shore, <www.campmokuleia.com>. Stay tuned for more information.
Good News/Challenging News
Ten months into our 24-month m1ssion campaign, we are pleased to announce that between pledges made ($59,981) and contributions to date ($65,433.61), we have received 50.17% of our campaign goal of $250,000. Exceeding 50% of our goal in 10 months is very good news! Our parking lot and its landscaping is completed, Pastor Angela is on board and already beginning her ministries, and the Hörmann Courtyard overhead cover is in the final stages of selection. Well done and thank you!
Our challenge is now to complete the Mission Campaign by raising the remaining $124,585.39 by September 30, 2013. Please give this Mission Campaign prayerful consideration, and then see Josie Bidgood, Bill Potter, or Fred Benco if you would like to pledge, increase your pledge, or donate.
Attendance and Offerings for August
Date
Worship Service
Attendance
Offering Fund
Offering Amount
August 5
9:15 AM Service
118
Offering
$3,377.00
Sunday School Offerings
$1.00
Wounded Warriors
$1,594.11
Mission Campaign
$635.00
August 13
9:15 AM Service
129
Offering
$2,977.05
Sunday School Offerings
$1.00
Heifer Project
$200.00
Music Fund
$50.00
Mission Campaign
$150.00
August 19
9:15 AM Service
105
Offering
$3,028.00
Angle Network
$10.00
Wounded Warriors
$1,347.48
Mission Campaign
$150.00
August 26
9:15 AM Service
117
Offering
$3,127.00
Mission Campaign
$11,180.00
Prayer Requests
Alicia
Gene
Paul
Carl
Gus
Sally
Chris
Karen
Stephen
Cindy
Maggie
Susan
Debbie
Michelle
Sylvia
September Birthdays
Date
Name
09/03
Mary Reese
09/03
Jimmy Castro
09/03
Kalau Jones
09/05
Michael Gorman
09/07
Ronald Mizuno
09/09
Joseph Zuiker
09/11
Naomi Castro
09/11
Carl Crosier
09/11
Iniki S. K.
09/11
Emily Okikawa
09/11
Kyra Ann Takamiya
09/17
Carolyn Ishikawa
09/21
Jerome Vasconcellos
09/22
Justin Juvinall
09/25
Sharon Von Deylen
09/29
Colette J.
LCH Worship Participants
LECTOR
April Smith
Jimmy Castro
Amanda Lippert
Jim Sullivan
Mike Formby
COMMUNION
ASSISTANTS
Peggy Anderson
Laurie Leach
Adriane Clissold
Mike Formby
Peggy Anderson
Mike Formby
Peter Lee
Amanda Lippert
Amanda Lippert
Adriane Clissold
Peggy Anderson
Bobby Broyles
Jim Sullivan
Carolyn Koehler
Laurie Leach
Peggy Anderson
Jim Sullivan
Carolyn Koehler
Mike Formby
Peter Lee
ACOLYTES
Sophie C.
Jordan S.
Dylan D.
Hunter N.
Colin Buckley
Jim Sullivan
LAYING ON
OF HANDS
Stephanie Luuloa
USHER
Fred Benco
Fred Benco
Fred Benco
Fred Benco
Fred Benco
LECTOR
Mark Russell
Peter Flachsbart
Peggy Brandt
Roy Helms
Angie Niermann
DEACON
Bob Zimmer
Mary Fastenau
Josie Bidgood
Bob Tellander
David Henry
SUBDEACON
Mary Fastenau
David Henry
Frank Haas
Ray Herradura
Bob Tellander
COMMUNION
ASSISTANTS
Ray Herradura
Frank Haas
Bob Tellander
Bob Zimmer
Randy Chistensen
Jeanne Castello
Randy Christensen
Phyllis Hormann
Josie Bidgood
Randy Christensen
ACOLYTES
Savannah M.
Miranda L.
Nathalie J.
Reid W.
Mary Fastenau
Ray Herradura
Miranda L.
Nathalie J.
Savannah M.
Max W.
LAYING ON
OF HANDS
Bob Zimmer
USHERS
Bill Fay
Jim Lawhn
LaVerne Rickard
Peter Flachsbart
Bill Fay
Jim Lawhn
LaVerne Rickard
Peter Flachsbart
Bill Fay
Jim Lawhn
LaVerne Rickard
Peter Flachsbart
Bill Fay
Jim Lawhn
LaVerne Rickard
Peter Flachsbart
Bill Fay
Jim Lawhn
LaVerne Rickard
Peter Flachsbart
ALTAR
GUILD
Olivia Castro
Mary-Jo Estes
Billie Jean Ries
Penny Lawhn
Olivia Castro
Mary-Jo Estes
Billie Jean Ries
Penny Lawhn
Olivia Castro
Mary-Jo Estes
Billie Jean Ries
Penny Lawhn
Olivia Castro
Mary-Jo Estes
Billie Jean Ries
Penny Lawhn
Olivia Castro
Mary-Jo Estes
Billie Jean Ries
Penny Lawhn
HeartBeat Deadline
Next HeartBeat Deadline is Tuesday, September 18!
Calendar: September 2012
Day
Date
Event and Time
Sunday
September 2
Angel Network In-Gathering
Holy Communion, 8:00 AM
Christian Education, 9:20 AM
Choral Eucharist, 10:30 AM
Leadership Roundtable, 11:45 AM
Monday
September 3
Office Closed—Labor Day
Thursday
September 6
Book of Faith Bible Studies, 10:00 AM
Weekly Staff Meeting, 2:00 PM
LCH Choir Rehearsal, 7:00 PM
Saturday
September 8
In Stitches, 9:00 AM
Process Thought Forum, 9:30 AM
Sunday
September 9
Holy Communion, 8:00 AM
Christian Education, 9:20 AM
Choral Eucharist, 10:30 AM
Process Thought Forum, 12:00 Noon
Monday
September 10
All Staff Meeting, 5:00 PM
Stewardship Committee, 5:30 PM
Worship & Music Meeting, 6:30 PM
Tuesday
September 11
Hukilau Pastors' Conference, 9:30 AM
Wednesday
September 12
Finance Committee Meeting, 12:30 PM
Thursday
September 13
Book of Faith Bible Studies, 10:00 AM
LCH Choir Rehearsal, 7:00 PM
Sunday
September 16
Holy Communion, 8:00 AM
Christian Education, 9:20 AM
Choral Eucharist, 10:30 AM
Monday
September 17
Aloha Jam, 6:00 PM
Tuesday
September 18
HeartBeat Deadline, 9:00 AM
Executive Committee, 6:00 PM
Council Meeting, 6:30 PM
Thursday
September 20
Book of Faith Bible Studies, 10:00 AM
Weekly Staff Meeting, 2:00 PM
LCH Choir Rehearsal, 7:00 PM
Friday
September 21
IHS Meal Preparation, 1:00 PM
IHS Meal Serving, 5:30 PM
Saturday
September 22
In Stiches, 9:00 AM
Sunday
September 23
Holy Communion, 8:00 AM
Christian Education, 9:20 AM
Choral Eucharist, 10:30 AM
Monday
September 24
Mutual Ministry Meeting, 6:30 PM
Wednesday
September 26
Eight O'Clock Ensemble, 6:30 PM
Thursday
September 27
Book of Faith Bible Studies, 10:00 AM
Weekly Staff Meeting, 2:00 PM
LCH Choir Rehearsal, 7:00 PM
Saturday
September 29
One Pot One Hope, 9:15 AM
Sunday
September 30
Holy Communion, 8:00 AM
Christian Education, 9:20 AM
Choral Eucharist, 10:30 AM
Joint Evensong at St. Andrew's Cathedral, 5:30 PM
---

Copyright © 2012 Lutheran Church of Honolulu
1730 Punahou Street, Honolulu, HI 96822 • 808-941-2566
Comments welcome at webmaster@lchwelcome.org