November 2012—In this Issue:
Index of other issues of The HeartBeat
The HeartBeat
A Message from Pastor Jeff
Giving Thanks

Each week I spend time in personal prayer for congregations, congregants, colleagues, and those for whom special prayers have been requested. Although the time I spend in prayer is part of my daily work as a called and ordained pastor, it is anything but a chore. Rather, prayer time has become one of the most fulfilling and precious times of my day; I feel privileged to be entrusted with your cares, pains, and joys.
I have a pile of salmon-colored cards on my desk with the names of people for whom I have been asked to pray. Often I am called on to pray for people I don't even know, but other times I've been intimately involved with them. There are prayers for healing, hope, resolution, a quiet heart, mended relationships, and an end to violence. I pray for new jobs, for reconciliation, for the ministries of our churches, our bishops, our staff, for those who are hungry, and for those who have too much. But one area of prayer seems under-represented: prayers of thanksgiving.
With Thanksgiving and All Saints on the November calendar, perhaps this is a perfect time to spend time each day on prayers of thanksgiving. But for what shall we pray? For the many blessings in our lives, for a welcoming and loving congregation, for the opportunity to serve those who are hungry and houseless, for a chance to bring the Word of God to our community, good food and fellowship, for children who can bring the Word with joy, for visitors from far and near? Shall we give thanks for our partnership with our ecumenical partners, our work, our vocations, our children, neighbors, and the blessing of living in a place of diversity and beauty? Shall we give thanks for choirs that preach with a tuneful voice; for musicians who make organ, piano, and steel drums sing; for metal workers and carpenters; for teachers, counselors, philosophers, and those who question us at every turn? For those who invent light bulbs and those who screw in new ones when they burn out? Shall we pray prayers of thanksgiving for people who say "yes" when asked to lead and for those who say "no" to lives that bring destruction? Can we lift prayers of thanks for those who accompany the addicted on their journey to sobriety, those who speak a kind word to the rejected, and those who shout down injustice and are a voice for the poor? What would you pray when asked for prayers of thankfulness?
I am so glad to be able to spend time in prayer. In this month of thankfulness, my prayer is this: That you would join me in prayers of thankfulness to the God who made all in all and then called us God's own. Lord in your mercy, hear our prayer.
Aloha,
Pastor Jeff Lilley
pr.jeff@lchwelcome.org
Thanksgiving Events Calendar
Thanksgiving Eve Joint Service
Wednesday, November 21
7:00 PM @ St. Clement's
(pie reception to follow)
Thanksgiving Dinner
Thursday, November 22
5:00 PM @ LCH
October Council Highlights
Council met Tuesday, October 16. Here are some of the highlights of the meeting:
Council to begin highlighting a volunteer each month for their service to LCH. Recognition to be included in the monthly newsletter.
First half congregational meeting set for November 25, 2012, and second half congregational meeting set for January 19, 2013.
Manoa Valley Church Preschool lease contract approved by Council. MVP scheduled to rent facilities beginning January, 2013.
Transition Team for Pastor Angela has scheduled five 'ohana gatherings and one additional daytime gathering.
Since the PV installation, system has avoided 82,424.34 kg of CO2, with a total yield of 117,749.05 kWh.
Approval of $38,000 roofing bid from Aloha Roofing Co. Roof replacement scheduled to begin December 3.
Remembering the Saints in Our Lives
Every year, LCH remembers deceased members, relatives, and friends on All Saints Sunday (this year, November 4). Forms will be available for you Sunday mornings to fill in with the names of beloved and remembered individuals. Their names will be read on All Saints Sunday during the services. Please take part in this wonderful memorial!
Creating a Legacy of Giving
On November 18, we will have an opportunity to learn about estate planning—including ideas on how you can prepare to leave a legacy gift to the church. Linda Hansen from Thrivent will join us at both worship services for a short temple talk and will lead the Adult Forum between services for further discussion. There will also be an information table in the courtyard all morning. Please make plans to attend this informational discussion.
Process Thought Forum
Physics, Feminism, and Feeling: Learning from Carl Sagan and Marjorie Suchocki
The focus of this month's Process Thought Forum will be on a web page from the Jesus, Jazz, and Buddhism website, called "Physics, Feminism, and Feeling." There is a short video as well as commentary on that page that you may want to check out ahead of time. A good place for an exchange of ideas! Contact Fritz through the Church Office (941-2566) for more information.
So come to LCH on Saturday, November 3, 9:30–11:00 AM, or Sunday, November 4, at noon in the Boardroom.
Exploring Boundaries...and Beyond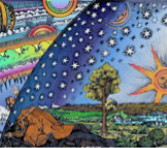 Beginning Sunday, November 18, a new series of monthly presentations called Exploring Boundaries...and Beyond (EBB) provides an opportunity to explore ideas and values at the boundaries where our faith meets the rest of the world. The range of topics is intentionally broad, reflecting the scope of interests and concerns within our faith community. Our speakers, all recognized in their fields, are drawn from LCH, the universities, and the wider community. Bring your questions!
EBB will take place on the third Sunday of every month at 5:00 PM, starting off with a light meal and fellowship in Isenberg Hall (suggested free-will donation of $3–$5). Following dinner at about 5:45, we will move to the Nave for presentation and discussion until 7:15. Afterwards, you are welcome to join the evening prayer service from 7:30 to 8:00 PM.
Scheduled presentations for the next six months include:
| Date | Speaker and Title |
| --- | --- |
| November 18 | Hope Jahren, Ph.D.: "Science and the Christian Church" |
| December 16 | Fritz Fritschel: "Bridges in Art, Poetry, Philosophy and Theology" |
| January 20 | Willa Tanabe, Ph.D., and George Tanabe, Ph.D.: "Japanese Buddhist Temples in Hawai'i" |
| February 17 | Jeff Burgett, Ph.D.: "The Morality of Climate Change" |
| March 17 | Robert Joseph, Ph.D.: Institute of Astronomy, UHM (topic to be announced) |
| April 21 | John Bickel, 'Iolani School History Department: "Politics and Change in the Christian Church" |
Evening Prayer Begins in November
You are invited to attend the new Evening Prayer service! Evening Prayer replaces our traditional Office of Compline with a more participatory half-hour service of hymns, prayers, readings, and choir music. The atmosphere will be quiet and meditative. Evening Prayer will be offered on the first and third Sunday of each month at 7:30 PM, unless precluded by another event (such as a Choral Vespers service, or Advent Procession).
These evenings are free and open to the public. Please invite your friends and family.
Committee/Interest Group Chairs

As the calendar turns to November, our thoughts turn to all of those blessings for which we give thanks. At LCH, we celebrate with thanksgiving many traditions as well as making all things new. We give thanks for Kathy Crosier's many years as our organist. We built a parking lot. We called Pastor Angela. We come together for celebrations and fellowship at gatherings such as LutherFest and the 'ohana gatherings welcoming Pastor Angela. We reach out to Wounded Warriors and students. We feed the hungry through IHS, One pot One Hope, and the Angel Network food basket. We nurture the mind and the spirit through worship, Sunday School classes, Writers' Workshop, Thought Process, and Food for Thought. We make a joyful noise both in worship and at concerts. We also have much to do: find a new organist, cover the Hörmann courtyard, and replace our roof.
Over the past several weeks we have asked that you join us in "building a rainbow of giving." We asked that you read 2 Corinthians and contemplate the ten principles of giving listed on your rainbow chain (if you are missing a few links you can find extras on the bulletin board in the courtyard).
respond gratefully
obey responsibly
sacrifice proportionately
give willingly
share abundantly
give proportionally
commit intentionally
contribute regularly
live genuinely
accept a challenge
Bring your rainbow of giving chain and attach it to the rainbow in the Nave to help build our church's rainbow of giving. As we begin to build LCH's rainbow of giving we see that every link matters.
Soon you will be receiving a letter asking you to respond to the ten principles of giving. If you do not receive the letter, extras will be available on the ushers stand by the entrance to the Nave.
We ask that you commit to God's work through LCH by filling out your commitment card. Drop your commitment card(s) in the "rainbowl" beneath the rainbow. LCH will dedicate our commitment(s) to continue to help God make all things new on November 11.
Pastor Jeff Appointed Interim Dean
Bishop Murray Finck announced September 25 the appointment of Pastor Jeff Lilley to position of Interim Dean of the Hukilau Conference, following the resignation of Dean David Kieffer. Pastor Lilley accepted the appointment following consultation with the LCH Congregational Council and will be assisted by Rev. Steve Jensen.
Office Closed November 21–22
Thanksgiving Holiday
Hale Haumāna o ke Akua

"Students' Home in the Lord"

Christian Faith, Fellowship,
Food and Fun!
FREE DINNER!
Every Wednesday
6:30 pm
House is OPEN Monday – Friday
11:00 – 1:00
FREE WiFi

Episcopal Student Center
2324 Metcalf Street
(near Yogurtland)
Shared ministry of the Episcopal Diocese of Hawai'i
and the Lutheran Church of Honolulu
For more info email: www.halehaumana@gmail.com
6th–12th Grade OYEA Retreat
Please join OYEA (O'ahu Youth Education and Activities) for another full-filled retreat for youth 6th–12th grade and their youth sponsors November 2–3 at Camp Mokule'ia on the North Shore.
The retreat begins with setting up tents at 6:30 PM and ends Saturday at noon. We will have games, evening worship, campfire complete with s'mores, an amazing breakfast, a morning hike, and service project. The retreat will end in prayer at noon with groups having lunch on their own.
The cost of the retreat is $10.00 per person. Please organize with your youth group to bring tents, sleeping gear, flashlight and personal items. For more information contact Pastor Angela Freeman or Pastor Jeff Lilley @ 941-2566.
Writers' Workshop
Writers' Workshop will meet next on Monday, November 26 in the Boardroom at LCH. This will be our final meeting for 2012. All are welcome. For information, please contact Kathryn Klingebiel through the Church Office (941-2566).
What's New on the LCH Website?
Bill Potter, Webmaster

The LCH website reached a milestone on October 15 when the number of pages listed on the sitemap registered 1001 different pages and the sitemap split into two different files.
Our sitemap lists most of the pages that make up our site. (A few uninteresting pages—such as PDF maps for events at the beach—are excluded from the sitemap.) The pages are listed according to the folders they are stored in on the server so that a visitor can determine the site's structure or find a page without clicking on every possible link. A sitemap may occasionally be useful for a real human being, but the main reason for having one is to make sure that the robot crawlers used by search engines find and index all the pages on a website.
If you want to take a look at our sitemap and get an idea for everything available on the LCH website, you can find the sitemap link under "Website Information" about three-quarters of the way towards the bottom of navigation panel on the left of the Home page.
And if you want to know what pushed us over the 1000 mark, it was the archive pages with summaries and links to the audio files of sermons and children's conversations in August and September.
Among other additions to the website in October were short stories and photos from LCH night at Hawai'i Public Radio, the Pet Blessing, and Children's Sabbath. Since Pastor Angela has been doing more work on the LCH Facebook page, pictures from LCH events have been popping up there more often than on the website. If you are on Facebook, be sure you like our page so you don't miss any of those photos.
Finally, you may have noticed a change in the AddThis buttons towards the bottom of the left navigation panel. This upgrade is supposed to make it easier for you to share pages from our website on Facebook, Twitter, Pinterest, etc. Think of them as evangelism tools that can help you share the good news of what God is up to at LCH with your friends.
Kōkua in Kind
Have a car, truck, van, motorcycle, or boat you would like to donate? As some of you may remember from years past, LCH is a participant in the Kōkua in Kind program, which is a non-profit organization specializing in the donation of vehicles to local Hawai'i charities. For more information on the program, please refer to the Kōkua in Kind website at <www.kokuainkind.com/donation.asp>.
Food for Thought

Food for Thought will meet on Saturday, December 1, at 6:30 PM at the home of Irmgard Hörmann, for potluck supper and discussion. This will be the final get-together for 2012. All are welcome. For information, please contact Kathryn Klingebiel through the Church Office (941-2566).
Attendance and Offerings for October
Date
Worship Service
Attendance
Offering Fund
Offering Amount
October 7
8:00 AM Service
57
Offering
$3,247.50
10:30 AM Service
81
Social Ministries
$55.00
Total
138
Wounded Warriors
$1,202.10
Mission Campaign
$155.00
Capital Improvements
$100.00
October 14
8:00 AM Service
63
Offering
$2,529.50
10:30 AM Service
36
Social Ministries
$55.00
Total
126
Wounded Warriors
$125.00
Mission Campaign
$310.00
October 21
8:00 AM Service
65
Offering*
$7,681.52
10:30 AM Service
90
Sunday School Offerings
$1.00
Total
155
Altar Flowers
$175.00
Music Fund*
$309.43
Mission Campaign
$75.00
*Includes $5,103.45 in comtributions and matching funds from Foodland and Western Union under the annual Give Aloha campaign.
Attendance and Offerings for Sunday, October 28, 2012, were not available at time of publication.
Prayer Requests
Alicia
Elaine
Maggie
Carl
Gene
Michelle
Chris
Gus
Paul
Debbie
Lani
Stephen
Don
Karen
Susan
November Birthdays
Date
Name
11/01
Beverly Kaeo
11/01
Amy Purtzer
11/06
Pam Buckley
11/06
Stephen Schmidt
11/08
Jonathan K.
11/10
Nathanael W.
11/11
Paul Fujii
11/12
Niell G.
11/12
Edward Ichikawa
11/13
Pamela Hethcote
11/14
Mary Fastenau
11/17
Joshua Graber
11/18
Stephen Crosier
11/21
Justin K.
11/22
Brysen K.
11/22
Kainani Iara N.
11/23
Fritz Fritschel
11/30
Brandon Yeh
LCH Worship Participants
LECTOR
Juditha Murashige
Peggy Anderson
Don Johnson
Jim Sullivan
COMMUNION
ASSISTANTS
Chuck Huxel
Mike Formby
Adriane Clissold
Amanda Lippert
Chuck Huxel
Adriane Clissold
Don Johnson
Laurie Leach
Don Johnson
Amanda Lippert
Mike Formby
Peter Lee
Carolyn Koehler
Jim Sullivan
Peggy Anderson
Laurie Leach
ACOLYTE
Charles C.
Sophie C.
Dylan D.
Hunter N.
Jordan S.
Charles C.
USHER
Fred Benco
Fred Benco
Fred Benco
Fred Benco
LECTOR
Mark Russell
Aaron Gould
Chuck Pearson
Jim Cartwright
DEACON
Bob Zimmer
Steve Jensen
David Henry
Frank Haas
SUBDEACON
Frank Haas
Mary Fastenau
Josie Bidgood
Ray Herradura
COMMUNION
ASSISTANTS
Sue Haas
Ray Herradura
Phyllis Hormann
Randy Christensen
Bob Tellander
Randy Christensen
Bob Zimmer
Bob Tellander
ACOLYTES
Miranda L.
Nathalie J.
Savannah M.
Reid W.
Lillie J.
Max W.
Savannah M.
Miranda L.
LAYING ON
OF HANDS
Bob Zimmer
USHERS
Bill Fay
LaVerne Rickard
Jim Lawhn
Peter Flachsbart
Bill Fay
LaVerne Rickard
Jim Lawhn
Peter Flachsbart
Bill Fay
LaVerne Rickard
Jim Lawhn
Peter Flachsbart
Bill Fay
LaVerne Rickard
Jim Lawhn
Peter Flachsbart
ALTAR
GUILD
Linda Miller
Josie Bidgood
Lois Watanabe
Lori Nishimura
Linda Miller
Josie Bidgood
Lois Watanabe
Lori Nishimura
Linda Miller
Josie Bidgood
Lois Watanabe
Lori Nishimura
Linda Miller
Josie Bidgood
Lois Watanabe
Lori Nishimura
HeartBeat Deadline
Next HeartBeat Deadline is Tuesday, November 20!
Calendar: November 2012
Day
Date
Event and Time
Thursday
November 1
Book of Faith Bible Studies, 10:00 AM
Staff Meeting, 2:00 PM
LCH Choir Rehearsal, 7:00 PM
Friday
November 2
OYEA Camping Retreat, 6:30 PM
Saturday
November 3
Process Thought Forum, 9:30 AM
'Ohana Gathering, 6:00 PM
Sunday
November 4
All Saints' Sunday
Angel Network In-Gathering
Holy Communion, 8:00 AM
New Member Inquiry Class, 9:15 AM
Christian Education, 9:20 AM
Choral Eucharist, 10:30 AM
Leadership Roundtable, 11:45 AM
Process Thought Forum (Rpt.), 12:00 Noon
All Saints' Vespers, 7:30 PM
Monday
November 5
All Staff Meeting, 5:00 PM
Mutual Ministry Meeting, 6:30 PM
Wednesday
November 7
Hale Haumāna Dinner, 6:30 PM
Thursday
November 8
Book of Faith Bible Studies, 10:00 AM
LCH Choir Rehearsal, 7:00 PM
Saturday
November 10
In Stitches, 9:00 AM
Sunday
November 11
Holy Communion, 8:00 AM
Christian Education, 9:20 AM
Choral Eucharist, 10:30 AM
Confirmation, 3:30 PM
Monday
November 12
Office Closed—Veterans' Day
Tuesday
November 13
Hukilau Pastors' Conference, 9:00 AM
Wednesday
November 14
Finance Committee Meeting, 12:30 PM
Hale Haumāna Dinner, 6:30 PM
Thursday
November 15
Book of Faith Bible Studies, 10:00 AM
Staff Meeting, 2:00 PM
LCH Choir Rehearsal, 7:00 PM
Friday
November 16
IHS Meal Preparation, 1:00 PM
IHS Meal Serving, 5:30 PM
Saturday
November 17
'Ohana Gathering, 6:00 PM
Sunday
November 18
Holy Communion, 8:00 AM
Christian Education, 9:20 AM
Choral Eucharist, 10:30 AM
Exploring Boundaries, 5:00 PM
Evening Prayer Service, 7:30 PM
Monday
November 19
Aloha Jam, 6:00 PM
Worship & Music, 6:30 PM
Tuesday
November 20
HeartBeat Deadline, 9:00 AM
Executive Committee, 6:00 PM
Council Meeting, 6:30 PM
Wednesday
November 21
Hale Haumāna Dinner, 6:30 PM
Thanksgiving Eve Service, 7:00 PM
Thursday
November 22
Office Closed—Thanksgiving Holiday
Thanksgiving Dinner, 6:00 PM
Friday
November 23
Office Closed—Thanksgiving Holiday
Saturday
November 24
In Stitches, 9:00 AM
One Pot One Hope, 9:15 AM
'Ohana Gathering, 6:00 PM
Sunday
November 25
Holy Communion, 8:00 AM
1st Half Congregational Mtg., 9:15 AM
Choral Eucharist, 10:30 AM
Confirmation, 3:30 PM
Monday
November 26
Stewardship Meeting, 5:30 PM
Writers' Workshop, 7:00 PM
Wednesday
November 28
Hale Haumāna Dinner, 6:30 PM
8:00 O'Clock Ensemble, 6:30 PM
Thursday
November 29
Book of Faith Bible Studies, 10:00 AM
Staff Meeting, 2:00 PM
LCH Choir Rehearsal, 7:00 PM
---

Copyright © 2012 Lutheran Church of Honolulu
1730 Punahou Street, Honolulu, HI 96822 • 808-941-2566
Comments welcome at webmaster@lchwelcome.org