February 2013—In this Issue:
Index of other issues of The HeartBeat
The HeartBeat
A Message from Pastor Jeff
A Great Start

On the evening of January 19, the LCH 'ohana gathered in the Hörmann Courtyard for the second half of the annual congregational meeting. We began the evening with pupus and a selection of LCH wines served by our own champion of the m1ssion campaign, Bill Potter. It was heartening to see you all gathered in conversation, laughter, and fellowship on such a beautiful evening. A bit later we shared a truly fabulous potluck dinner as I led a welcoming exercise which asked each person to list three things that are giving them great joy in their lives right now. It was delightful to hear each table recite a litany of joys—many of which centered around the joy of family, of spouses, and our life together as a congregation.
President Mike Formby called us to order for the business part of the meeting and asked Secretary Gary Brauer to read the minutes from the first half of the annual congregational meeting held in November 2012. Second, the officers and members of the council were introduced. Pastor Jeff thanked the congregation for being such a faithful and joyful congregation and for the congregation's mission focus. Pastor Angela spoke about her work in campus ministry at the University of Hawai'i at Mānoa as well as her work with youth and young adults. She also announced vacation Bible school, which will be led by Lutheran Outdoor Ministries of Southern California at several Hawai'i congregations, including LCH, this summer.
The major business items on the agenda were the Luther Place apartments (a small four-plex building adjacent to the church property owned by LCH) and the 2013 operating budget. The council asked me to share the council's thoughts about paying off the Luther Place mortgage using the Mahn and Lemke estate bequests received in 2012. Currently, Luther Place carries a mortgage balance of just over $237,000. By combining the Mahn and Lemke estate balances and adding a little more cash, we can pay off that mortgage for a savings of over $16,000 per year in interest alone. After considerable discussion, a motion to pay off Luther Place was passed unanimously. Treasurer Fred Benco introduced the 2013 budget of $454,060. After a lengthy discussion on the budget details, the budget passed. By paying off Luther Place apartments we were able to hold budgeted giving for 2013 at the actual level received in 2012.
I want to offer my deepest thanks to Sarah Roseberg, our parish administrator, for working so hard on the budget over the past several weeks. She and I spent a great deal of time trying to work through a difficult budget and I appreciate her willingness and patience! I also want to thank the Finance Committee and Fred Benco for their valuable insight through this entire process.
The best outcome of our budget process has been that we will be able to focus even more fully on mission in the coming year! Financially, we hope to press forward with our m1ssion campaign and complete our capital projects soon. But mostly, we look forward to being able to expand even more our outreach to the university community and our youth and young adults through the amazing work that Pastor Angela is undertaking. We look forward in the coming year to helping you, ministers of the Gospel at LCH, live out your calling as Christian people. We've made a great start!
Blessings,
Pastor Jeff Lilley
pr.jeff@lchwelcome.org
2013 Council
Officers & Members
President: Michael Formby
Vice-President: Randy Castello
Treasurer: Fred Benco
Secretary: Gary Brauer
Members: Naomi Castro, Olivia Castro, Karen Fay, Pr. Angela Freeman, Pr. Jeff Lilley, Amanda Lippert, Lori Nishimura, April Smith, Georgine Stark
January Council Highlights
Council met Tuesday, January 15. Here are some of the highlights of the meeting:
Council selected Pam Buckley as the highlighted volunteer for the February newsletter.
Hukilau Update: Keith Walter will be the interim pastor for Christ Mililani. He will also be renting one of our Luther Place apartments.
Sunday morning lead nursery attendant has resigned, with last day set for January 27. Looking for assistance in hiring replacement for the position.
Since the PV installation, system has avoided 88,085.95 kg of CO2, with a total yield of 125,835.99 kWh.
Council election of returning and new 2013 officers.
Council recommendation to use funds from Mahn and Lemke Trust bequests to pay off Luther Place mortgage.
Thanks to above-expected member giving and staff expenses being kept to a minimum, year end financial report shows a positive balance.
One in Mission Campaign needs to be reinvigorated with the new year.
Council recommendation that LCH create a policy for large financial gifts stipulating that these gifts be tithed (specifics of tithe on a case-by-case basis).
Adult Forum
Next week, February 3, we will have an Adult Forum presentation about the martyrdom of the Carmelite nuns during the terror near the end of the French Revolution. The presentation will focus on the personal crises involved in maintaining one's beliefs when faced with great fear. The presenter will be a representative of Hawai'i Opera Theater, which is presenting Poulenc's Dialogues of the Carmelites February 15, 17, and 19. A visual presentation of this moving story will be included. Please plan to attend!
Process Thought: On Religious Experience
February 9, 9:30 AM
Repeat session February 10, 12:00 Noon.
Jill Bolte Taylor's talk entitled "Stroke of Insight," gives us an opportunity to discuss the character of religious experience. How is religious experience described? Are there different types of religious experience? Is there any common denominator of religious experience among major religions? Process Thought has its own contribution to make to the matter so it should make for an interesting exchange. If you want to view Jill B. Taylor's TED talk ahead of time, visit <www.ted.com/talks/jill_bolte_taylor_s_powerful_stroke_of_insight.html>. We will watch the video together at our session.
Young Folk Game Night
Saturday, February 9, at 7:30 PM in the Boardroom

The first one was such a hit, we're meeting again! Folks in their 20's, 30's, and there abouts are invited for a fun social time with others your age! Drinks, snacks, and games (if you choose!). There's a baby sitter available, but please RSVP your sitter needs to Pastor Angela so we can plan ahead.
Exploring Boundaries and Beyond
Sunday, February 17 • 6:00–7:15 PM
Our presenter is Jeff Burgett, PhD, Science Manager for Pacific Islands Climate Change Cooperative <piccc.net>.
His topic is "The Morality of Climate Change", and he offers this brief summary, "The development of our current industrial civilization has improved the lives of billions of people, but is very rapidly changing our world in ways that threaten to impoverish all future generations. This session will examine the causes and potential consequences of climate change, and explore the moral dimensions of our individual contributions to the future that we will collectively determine."
The presentation will run from 6:00 to 7:15 PM. You are then invited to linger for Evening Prayer from 7:30 to 8:00 PM. Please join us for a stimulating evening and bring your friends and family.
Writers' Workshop

Writers' Workshop will meet next on Monday, February 18, 2013, from 7:00 to 8:30 PM in the Boardroom at LCH. Additional meetings are planned for March 18, April 15, and May 13.
All are welcome. For information, please contact Kathryn Klingebiel through the Church Office (941-2566).
Committee/Interest Group Chairs
Lenten Soup and Salad Suppers

Please join in the fellowship of a simple soup and salad supper on Wednesday evenings during the season of Lent. This meal precedes a short worship service of word, music, and reflection of the Lenten season.
Supper will be served at 6:00 PM before the 7:00 PM service on the following dates: February 20 and 27 and March 6, 13, and 20. Sign-up sheets will be available in the courtyard for volunteers to contribute to each week's meal and also for help in setting up. See Mary-Jo Estes or Jeanne Castello for more information.
Food for Thought
Food for Thought will meet next on Saturday, February 23, at 6:30 PM at the home of Irmgard Hörmann, for potluck supper, video, and discussion. All are welcome. For information, please contact Kathryn Klingebiel through the Church Office (941-2566).
Evening Prayer
February 3 and 17 • 7:30 PM
Evening Prayer is a participatory half-hour service of hymns, prayers, readings, and choir music. The atmosphere is quiet and meditative. Evening Prayer will fall on the first and third Sundays of the month unless there is another scheduled worship opportunity such as vespers. The third Sunday Evening Prayer will be preceded by Exploring Boundaries and Beyond.
Letter from Jacob Burkman
Aloha to my LCH 'ohana. I want to thank you for all of your support as my home congregation during my seminary years. This part of the journey has now come to a conclusion, as I have accepted a call to serve as interim pastor (beginning as a term call with the possibility of moving on to a regular first call) of Hope Lutheran Church in Riverside, California (also Pacifica Synod--the same synod of the ELCA as LCH). Hope is a relatively small, but vibrant congregation that was started in orange groves in Riverside in the 1950's. I was really impressed with how open and understanding they felt during my interview and meet-and-greet section. It is a congregation that I feel will be a great opportunity for me as I continue to grow in my ministry experience. Mahalo to all the help that I have received from people from LCH.
You are all invited to my ordination into the Ministry of Word and Sacrament, which will be held on the evening of Thursday March 14 at Zion Lutheran Church (my internship congregation) near Pelican Rapids, MN, with Bishop Murray Finck of the Pacifica Synod presiding. If you are interested in attending (I realize it is a long trip), please contact me through the Church Office (941-25660 for more information (and for the possibility of participating in the service).
Mahalo nui loa,
Jacob Burkman
Office Closed February 18
Presidents' Day
What's New on the LCH Website?
Bill Potter, Webmaster

The beginning of the new year corresponds with the end of the Christmas season, so the first additions to the LCH website for 2013 were photos on the Congregational Life page of the rehearsal for German Vespers on New Year's Day and Pastor Jeff showing off the Magi at the crèche on Epiphany. Later in the month and photo was added for the wine tasting on Epiphany II.
Also in the Congregational Life section, the Mission Campaign page was updated to reflect donations through the end of 2012, and a new page was created with updates from the Hörmann Courtyard Task Force.
The new year also brought changes to the Music page. Following Kathy Crosier's retirement from the organ bench, a page was created to honor her many contributions to the congregation. A section was added to the Music page about New Music Initiatives, and a new page was begun for one of those initiatives—The Cantata Project. Watch for more information on these two projects.
Celebrating Service
The church council of LCH has decided to honor and celebrate the many ways that God is working in our midst. Each month, they are going to highlight a different person (or persons) who are helping to serve in the LCH ministries and beyond. These people are great witnesses to service and faithful living.
For this month's selection...meet Pam Buckley. Pam has been actively involved at LCH for many years in big and small ways. Pam has faithfully served year after year in the Punahou Carnival parking fundraiser for the youth of LCH, and also serves on the Stewardship Committee, helping to organize the yearly stewardship campaign. Our LutherFest event each year would definitely not be the great success it is without Pam's planning and positive attitude. These are just few of the many ways in which Pam serves and supports the LCH ministry. Thanks, Pam, for all that you do!
Much mahalo,
LCH Council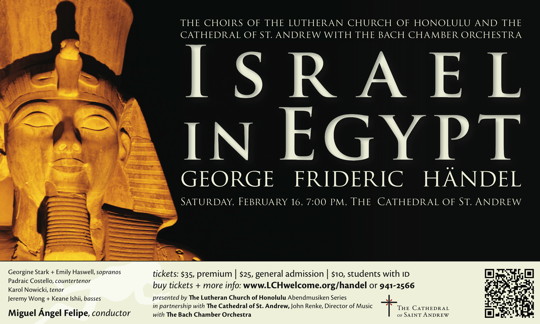 Follow this link to open a full-sized PDF version of this poster in a new window. Additional information Purchase tickets
Hapalua Half-Marathon
Join the Honolulu Navy League and help us raise $5,000 for Friends of Windward Wounded Warriors! Here's how it works:
Visit <TheHapalua.com>, click on the "Fundraising" tab in the top right, then click "Crowdrise Teams."
Follow the easy steps to join "Team Still in the Fight." It only takes five minutes.
Send your fundraising page to all of your friends and encourage them to fundraise and/or donate.
Once you've joined the team, re-visit <TheHapalua.com> to register for the half-marathon or create relay teams.
Use discount code "FriendsWWW" and for discounts on registration. All we ask is that you raise at least $75 if you join this team! If you aren't a runner, you can still walk or do a relay. Register multiple relay teams of 4–7 people, kids or adults, for "Team Still in the Fight" and pay only $40 per team. The relay consists of multiple 1.8 mile loops. See you at the race!
Email Tiffany at <tguillermo@honolulunavyleague.org> with questions!
Attendance and Offerings for January
Date
Worship Service
Attendance
Offering Fund
Offering Amount
January 6
8:00 AM Service
57
Offering
$3,934.00
10:30 AM Service
110
Sunday School Offerings
$1.00
Evening Prayer
21
Altar Flowers
$100.00
Total
188
Music Fund
$3,905.00
Wounded Warriors
$1,800.00
Mission Campaign
$200.00
January 13
8:00 AM Service
62
Offering
$1,363.50
10:30 AM Service
95
Sunday School Offerings
$12.50
Total
157
Angel Network
$20.00
Wounded Warriors
$150.00
Mission Campaign
$165.00
January 20
8:00 AM Service
72
Offering
$3,630.00
10:30 AM Service
77
Sunday School Offerings
$5.00
Evening Prayer
25
Music Fund
$200.00
Total
174
Mission Campaign
$499.00
January 27
8:00 AM Service
53
Offering
$3,360.00
10:30 AM Service
98
Sunday School Offerings
$7.00
Total
151
Social Ministries
$55.00
Mission Campaign
$225.00
Prayer Requests
Alicia
Elaine
Karen
Amy
Eric
Lani
Carl
Gene
Maggie
Chris
George
Stephen
Debbie
Gus
Susan
February Birthdays
Date
Name
02/01
Christian David A.
02/04
Robin Bush
02/07
Cheryl Crozier Garcia
02/12
Carolyn Koehler
02/12
Michael O.
02/14
Raymond B. Herradura
02/16
Judie O. Boutá
02/16
Colin Buckley
02/17
Jaylene H.
02/21
Jordan N.
02/21
Don Johnson
02/24
Teresa McCreary
02/25
Noelani Nitz
02/27
Elijah Kaeo, Sr.
02/28
Roy Helms
LCH Worship Participants
LECTORS
Sue Anderson
Juditha Murashige
Jimmy Castro
Amanda Lippert
COMMUNION
ASSISTANTS
Peggy Anderson
Kirstin Yost
Laurie Leach
Amanda Lippert
Mike Formby
Peter Lee
Adriane Clissold
Chuck Huxel
Peggy Anderson
Sheena Lim-Urban
Mike Formby
Laurie Leach
Carolyn Koehler
Adriane Clissold
Amanda Lippert
Kirstin Yost
ACOLYTES
Charles C.
Grant Y.
Dylan D.
Hunter N.
Sophie C.
Wyatt Y.
Charles C.
LAYING ON
OF HANDS
Stephanie Luuloa
USHER
Fred Benco
Fred Benco
Fred Benco
Fred Benco
LECTOR
Olivia Castro
Sara DeWitt Henry
Aaron Gould
Fritz Fritschel
Angie Niermann
DEACON
Mary Fastenau
Josie Bidgood
Frank Haas
Steve Jensen
David Henry
SUBDEACON
Ray Herradura
David Henry
Bob Zimmer
Mary Fastenau
Josie Bidgood
COMMUNION
ASSISTANTS
Randy Christensen
Bob Zimmer
Phyllis Hormann
Bob Tellander
Sue Haas
Randy Christensen
Bob Tellander
Frank Haas
Bob Zimmer
Ray Herradura
ACOLYTES
Miranda L.
Savannah M.
Lillie J.
Reid W.
Nathalie J.
Steve Jensen
Savannah M.
Max W.
Nathalie J.
LAYING ON
OF HANDS
Bob Zimmer
USHERS
Francisco Barajas
Chuck Huxel
Peter Flachsbart
Chuck Pearson
Nan Wond
Francisco Barajas
Chuck Huxel
Peter Flachsbart
Chuck Pearson
Nan Wond
Francisco Barajas
Chuck Huxel
Peter Flachsbart
Chuck Pearson
Nan Wond
Francisco Barajas
Chuck Huxel
Peter Flachsbart
Chuck Pearson
Nan Wond
ALTAR
GUILD
Josie Bidgood
Linda Miller
Lori Nishimura
Lois Watanabe
Josie Bidgood
Linda Miller
Lori Nishimura
Lois Watanabe
Josie Bidgood
Linda Miller
Lori Nishimura
Lois Watanabe
Josie Bidgood
Linda Miller
Lori Nishimura
Lois Watanabe
Josie Bidgood
Linda Miller
Lori Nishimura
Lois Watanabe
HeartBeat Deadline
Next HeartBeat Deadline is Tuesday, February 19!
Calendar: February 2013
Day
Date
Event and Time
Sunday
February 3
Angel Network In-Gathering
Holy Communion, 8:00 AM
Christian Education for all ages, 9:20 AM
Choral Eucharist, 10:30 AM
Leadership Roundtable, 11:45 AM
Poetry Group, 7:00 PM
Evening Prayer Service, 7:30 PM
Monday
February 4
Mutual Ministry Meeting, 6:30 PM
Wednesday
February 6
Hale Haumāna Dinner, 6:30 PM
Thursday
February 7
Book of Faith Bible Studies, 10:00 AM
Staff Meeting, 3:00 PM
LCH Choir Rehearsal, 7:00 PM
Saturday
February 9
Process Thought Forum, 9:30 AM
Young Folk Game Night, 7:30 PM
Sunday
February 10
Holy Communion, 8:00 AM
Christian Education for all ages, 9:20 AM
Choral Eucharist, 10:30 AM
Process Thought Forum (Rpt.), 12:00 NOON
Confirmation, 3:30 PM
Monday
February 11
All Staff Meeting, 9:30 AM
Worship and Music, 6:30 PM
Tuesday
February 12
Hukilau Pastors' Conference, 9:30 AM
Wednesday
February 13
Finance Committee Meeting, 12:30 PM
Hale Haumāna Dinner, 6:30 PM
Ash Wednesday Liturgy, 7:30 PM
Thursday
February 14
Book of Faith Bible Studies, 10:00 AM
LCH Choir Rehearsal, 7:00 PM
Friday
February 15
IHS Meal Preparation, 1:00 PM
IHS Meal Serving, 5:30 PM
Saturday
February 16
Israel in Egypt @ St. Andrew's, 7:00 PM
Sunday
February 17
Holy Communion, 8:00 AM
Christian Education for all ages, 9:20 AM
Choral Eucharist, 10:30 AM
Exploring Boundaries, 6:00 PM
Evening Prayer Service, 7:30 PM
Monday
February 18
Office Closed—Presidents' Day
Aloha Jam, 6:00 PM
Writer's Workshop, 7:00 PM
Tuesday
February 19
Heartbeat Deadline, 9:00 AM
Council Meeting, 6:30 PM
Wednesday
February 20
Lenten Soup & Salad Supper, 6:00 PM
Hale Haumāna Dinner, 6:30 PM
Lenten Service, 7:00 PM
Lenten Book Study, 7:30 PM
Thursday
February 21
Book of Faith Bible Studies, 10:00 AM
Staff Meeting, 3:00 PM
LCH Choir Rehearsal, 7:00 PM
Saturday
February 23
Capacity for Sustainable Ministry, 7:00 AM
One Pot One Hope, 9:30 AM
Sunday
February 24
Holy Communion, 8:00 AM
Christian Education for all ages, 9:20 AM
Choral Eucharist, 10:30 AM
Confirmation, 3:30 PM
Wednesday
February 27
Lenten Soup & Salad Supper, 6:00 PM
Hale Haumāna Dinner, 6:30 PM
Lenten Service, 7:00 PM
Lenten Book Study, 7:30 PM
Thursday
February 28
Book of Faith Bible Studies, 10:00 AM
Staff Meeting, 3:00 PM
LCH Choir Rehearsal, 7:00 PM
---

Copyright © 2013 Lutheran Church of Honolulu
1730 Punahou Street, Honolulu, HI 96822 • 808-941-2566
Comments welcome at webmaster@lchwelcome.org